ITALY
CAPRI
GRAND HOTEL QUISISANA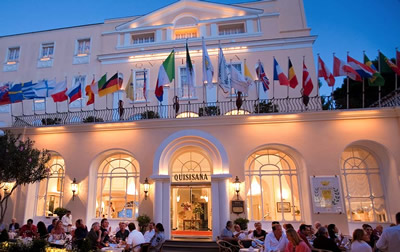 The Romans knew a good thing when they saw it. They looked upon the isle of Capri and were captivated by its charms. They built exquisite villas so that they could gaze across its rocks into the bluest of blue seas. Centuries later, in 1845, a doctor from Scotland, George Sidney Clark, realised that his patients would also benefit from this place's happy combination of sunshine, warmth and beauty. He built a clinic and called it 'Quisisana', which means 'here one heals'. Twenty years later the clinic became an hotel. As time went by, the hotel became grander and grander. Persons of means and taste began to make the crossing from Naples to enjoy its luxurious hospitality. Here Jean Paul Sartre thought his existentialist thoughts and Ernest Hemingway day-dreamed about bullfights. In 1981 the property was purchased by a native Capri family, and since then members of the Morgano clan have lavished extravagant care and attention on their prize. Today there is no question: the Grand Hotel Quisisana is one of the loveliest hotels in Europe. It is also one of my favourite hotels in the world.
At the quayside I was met by a porter from the hotel. He took my cases, and then I walked over to the funicular railway for the ascent up the cliff – having been directed first to buy my ticket from the office to the right of the quay. I could have taken a taxi, but the ride on the railway is cheaper and more interesting and it takes you closer to the hotel (for the island has many restrictions on motor cars). Then it was a leisurely stroll through the Piazzetta – the tiny, buzzing heart of Capri – past the jewellery and designer fashion shops, round the corner and there it was... the immaculate façade of the Quisisana, looming up with the sort of imperious grace normally confined to the gothic cathedrals of France. (Incidentally, I could use that word 'immaculate' repeatedly of the Quisisana. The hotel exterior is painted every year without fail, and its interior receives constant but discreet attention from a battalion of craftsmen.) And the Quisisana has the perfect location in Capri for lotus-eaters like me. I headed for one of the most inviting doorways in Italy.
As I entered, my eye was caught by the standards fluttering overhead. I was pleased to observe that they included the Papal flag. Inside, the marble floor, the crystal chandeliers, the sweeping staircase, the inviting sofas, the oil paintings and the pieces of fine antique furniture speak the message in unison: you are now in a proper grand hotel. As always, there were lots of smartly dressed members of staff to ease the progress to my billet.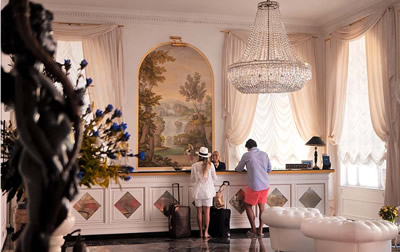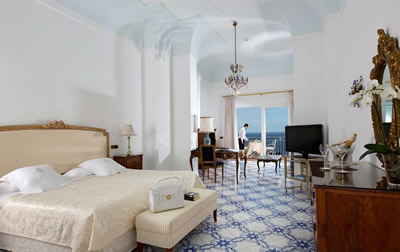 Room 125 was a Junior Suite and therefore 700€-1,100€ a night for two, including breakfast, according to season. In its hallway were doors to the bathroom and the bed-sitting room. The former boasted two wash basins, a tub with a jacuzzi facility, a separate shower, a loo, a bidet, lots of large, fluffy, white towels and the beautifully packaged Quisi toiletries. (The hotel has a famous spa and is justifiably proud of its Quisi range of beauty products.) The bed-sitting room I measured out at around 21 feet by 12 feet. Its sleeping and sitting areas were separated by a round arch. The pristine whiteness of its walls and of its blue and white floor tiles was matched by the white upholstery of the sofa. The fauteuil was covered in blue silk. There were two televisions, of course. Within the fitted wardrobes was a private safe. Through a sliding door of plate glass was my own terrace, about 25 feet in length, equipped with chairs and loungers. From here I could gaze through trees of pine and palm at the merging shades of blue of the sea and the sky. My moments of most exquisite pleasure were had when I woke each morning, touched a switch by my bedside and caused the electric blinds to rise gently to reveal another day of sunshine and beauty.
Later in the mornings, down in the large breakfast room next to the gardens, I enjoyed the kind of breaking of the fast you would expect of a grand hotel. Sitting on a white armchair, with white napery before me and members of staff, smart in their cream waistcoats, all around, I tucked into fresh pineapple and melon, slices of tart with wild strawberries, crisp bacon and baby plum tomatoes, and bowls of Allbran with banana, All these comestibles were secured from the extensive buffet and all were of the highest quality. To my table were brought pots of coffee, dishes of ice cubes and my concluding cappuccino. My days at the Quisisana began very well indeed.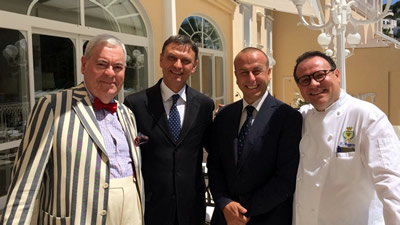 Whenever I stay here, I never fail to be impressed by the excellence of the members of hotel staff. They are smartly dressed, courteous, efficient and friendly. Indeed, anyone who wishes to know how a grand hotel should be managed should come here and observe them at work. The General Manager, Mr Nicolino Morgano, deserves high praise for keeping standards at the Quisisana so wonderfully high. Such standards mark out the great hotels. Mr Morgano heads a wonderful team, and my photograph shows me with three of them: (from left to right) Mr Aldo D'Enrico (the Food & Beverage Manager), Mr Gian Luca Salvia (the Director of Sales & Marketing) and Mr Stefano Mazzone (the Executive Chef). These are the Three Musketeers of the Quisisana. I salute them.
My days on Capri are usually spent quietly, with gentle outings to the Marina Piccola (where, according to the Noël Coward song, English ladies of a certain age used to find excitement – "In a bar on the Piccola Marina / Life called to Mrs Wentworth-Brewster") and Anacapri (from which I decline to find my own excitement by taking the terrifying chair-lift to the very top of the island). But I find there is much to be said for staying within the carefully tended grounds of the Quisisana. Everything is at hand. Even were I to lapse into my thespian manqué persona, a stage is available, for the hotel has its own Art Déco theatre, designed in 1929 by Giò Ponti.
For my dinners I went to the hotel's Rendez-Vous restaurant, where I ate in a sophisticated atmosphere of leather banquettes, glassware by Rogaska and crisp white napery. As always, Mr d'Enrico was on hand to ensure that every detail of my evenings was perfect. Executive Chef Stefano Mazzone, of a Sicilian family, produces dishes which are marked by skilful execution, wonderful presentation and robust, satisfying flavours. Superb spinach and ricotta tortelli with black truffle was brilliantly done, the pasta both translucent and yielding. Breast of Bresse chicken was stuffed with foie gras – a combination which has always melted my heart since I first tasted it as a youth in Avignon. Suckling pig had been roasted slowly to heighten its taste and tenderness, and the roasted lamb was also full of the most satisfying flavours. The soufflés – chocolate and lemon – were lovely, and the rum babà was as pretty as it was delicious. (Allow around 100€ for four courses.) You will eat well at the Quisisana.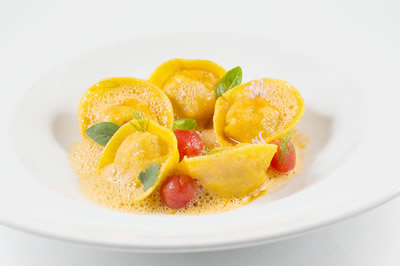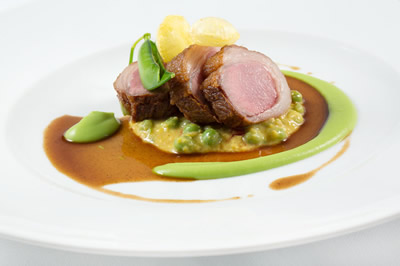 You will drink well, too. Mr D'Enrico has constructed a most interesting wine list. Its 528 offerings come from all over the world, but Italy and France dominate. Prices run from 28€ for a rosé from Campania to 5,540€ for 1996 Krug Clos d'Ambonnay champagne (with 2014 and 2015 Romanée-Coni attracting the discreet phrase, "price on request"). Other bottles to catch my eye were: Krug Grande Cuvée (275€), 1997 Ornellaia (1,100€), 2000 Margaux (2,275€), 2012 Masseto (795€) and 2001 Yquem (665€, half). And I always like to see a German sweet wine – here 2002 Silvaner Eiswein, Louis Guntrum (120€). From my own drinking, I must recommend to you two excellent reds: from Puglia, a gem of dense black fruit and residual sweetness (2013 Sessantanni – 56€), and from Umbria, a big, muscular heavyweight, its majesty long and lingering (2010 Negroamaro F, Feudi di San Marzano – 56€).
The Romans loved Capri, and so do I. And I love its grandest hotel. The Quisisana is an hotel of the old sort: comfortable, spacious, majestic, luxurious, beautifully furnished, diligently maintained and ideally located. It is famous and it deserves to be famous. Without doubt, the Quisisana will restore your belief in the concept of the Grand Hotel. What is more, it is on Capri. And Capri is a jolly good thing.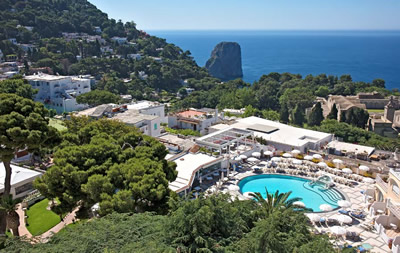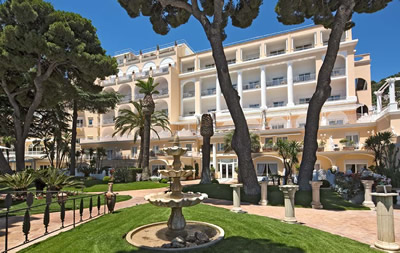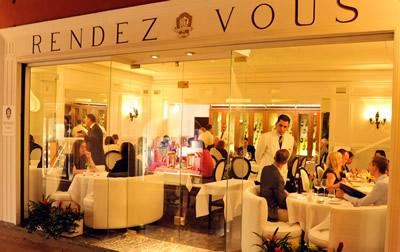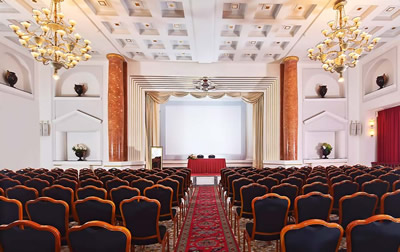 ---