ITALY
CAPRI
GRAND HOTEL QUISISANA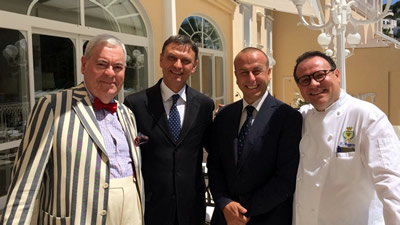 Any list of my favourite hotels in all the world would have, very near the top, The Grand Hotel Quisisana. Not once, during my numerous visits, has it done less than fill my heart with gladness. It is grand – of course. It is located on the very spot I want to be on Capri. Its level of luxurious hospitality makes me purr with contentment. Its standards in every department are of the highest. But, as always, the people matter most. That is why I present to you a picture of myself with three of the paragons of virtue who make The Quisisana not just another luxury hotel, but a very, very special luxury hotel. They are, from left to right, Mr Aldo D'Enrico (Food & Beverage Manager), Mr Gian Luca Salvia (Director of Sales & Marketing) and Mr Stefano Mazone (Executive Chef). Together with the brilliant General Manager, Mr Nicolino Morgano, these gentlemen ensure that nothing is ever 'too much trouble'. On this visit, my companion wished to practise some piano pieces. In the blinking of an eye, Mr Salvia had arranged for a baby grand (a Bechstein, no less) to be positioned in a private chamber for my friend's use. The Quisisana never disappoints.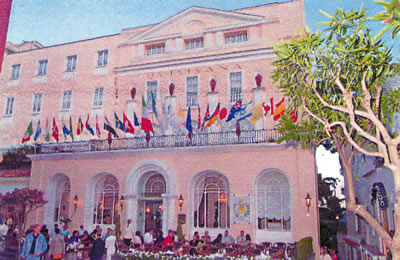 Indeed, I suspect that it has never disappointed in its entire history. And that history is a long one. It was in 1845 that a doctor from Scotland, George Sidney Clark, realised that his patients would benefit from Capri's happy combination of sunshine, warmth and beauty. He built a clinic and called it 'Quisisana', which means 'here one heals'. Twenty years later the clinic became an hotel. As time went by, the hotel became grander and grander. Persons of means and taste began to make the crossing from Naples to enjoy its increasingly famous charms. Here Jean Paul Sartre thought his existentialist thoughts and Ernest Hemingway day-dreamed about bullfights. In 1981 the property was purchased by a native Capri family, and since then members of the Morgano clan have lavished extravagant care and attention on their prize.
As usual, at the quayside I was met by a uniformed porter from the hotel. He took my cases, and then I walked over to the funicular railway for the ascent up the cliff – having been given a ticket by the same gentleman. I could have taken a taxi, but the ride on the railway is more interesting and it takes you closer to the hotel (for the island has many restrictions on motor cars). Then it was a leisurely stroll through the Piazzetta – the tiny, buzzing heart of Capri – past the jewellery and designer fashion shops, round the corner and there it was... the immaculate façade of The Quisisana, towering over its surroundings as proudly as a mediaeval cathedral towers over a little French city. In Capri this is the ideal location. I headed for one of the most inviting doorways in Italy.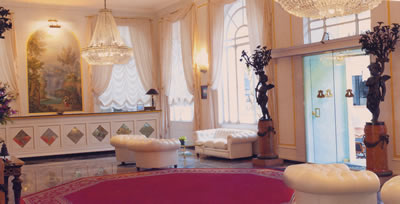 As I entered, my eye strayed to the standards of many nations fluttering overhead. Inside, the marble floor, the crystal chandeliers, the sweeping staircase, the inviting sofas, the oil paintings and the pieces of fine antique furniture spoke the message in unison: you are now in a proper grand hotel. There were therefore lots of smartly dressed members of staff to ease the progress to my billet.
Room 124 was on the first floor, a few steps up from the main reception area. It was a Junior Suite, and therefore 670€-990€ a night, bed and breakfast for two, according to season – which I regarded as very good value. I loved this sparkling apartment, with its glistening white tiles and highly polished wooden furniture. In the proper hallway (with coat hooks) was a sliding door into the bathroom, wherein I found a decent tub (with a Jacuzzi facility), a separate shower, two wash basins, a bidet, a loo and lots of the hotel's own 'Quisi' toiletries (of which my favourite remains the Perfumed Water). Through a normal door was the bed-sitting room: first the sleeping area, with a crystal chandelier, an antique chest of drawers, fitted wardrobes (with lots of hanging space and a large safe) and the first television; and second, beyond a high arch, the sitting room, with a sofa, a fauteuil upholstered in cream silk, an escritoire, another television and a sliding plate glass French window. Through this last was my private terrace, overlooking the exquisite gardens and the bluest of blue seas beyond. It was quite large enough for a table and chairs and for some of those 'loungers' for sun-worshippers. This was lovely accommodation, and I felt entirely 'at home' within its confines.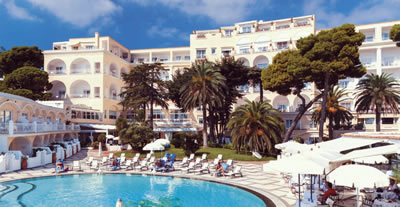 Quite properly, Mr Morgano insists that The Quisisana must remain at the very top level with regard to the hotel's facilities. An example, which – being technologically illiterate – I only discovered just as I was about to leave, was on my door into the corridor. I had my very own security camera. I pressed a button and, on a tiny screen, there appeared an image of the person waiting outside my door. This was something I had never encountered before. I was mightily impressed.
Breakfast at The Quisisana is impressive, too. The large and elegant chamber in which it is served can be opened to the garden, with all the added pleasure this proximity to nature affords. White is, again, the order of the day, with white armchairs, white crockery and white napery. Many smartly-dressed members of staff are always on hand, of course. The waiters were most helpful, and frequently hurried to relieve me of the plates and dishes which I had filled at the extensive buffet. I do like breakfast, particularly when all the comestibles are of such a high standard. Strawberries, chunks of pineapple, segments of melon, Corn Flakes, bacon, tomatoes, mushrooms, slices of crusty bread and fruit tarts – all made their way to my table. And from the kitchen were brought my customary pots of coffee, bowls of ice and that essential – the concluding cappuccino.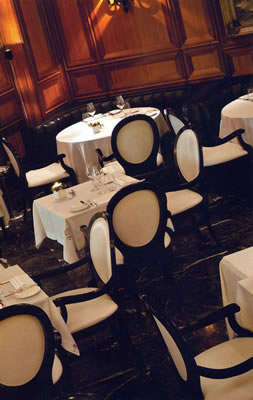 After these breakfast treats, my days on Capri were spent quietly, with gentle outings to the Marina Piccola (where, according to the Noël Coward song, English ladies of a certain age used to find excitement – "In a bar on the Piccola Marina / Life called to Mrs Wentworth-Brewster") and Anacapri (from which I declined to find my own excitement by taking the terrifying chair-lift to the very top of the island). But there was much to be said for staying within the carefully tended grounds of The Quisisana. Everything was here for me, even though I normally eschew the hotel's famous spa and the outdoor swimming pool. I liked just sitting on the terrace at the front of the hotel, with a pot of tea at my side, watching the people stroll by along the car-free street. And even had I lapsed into my thespian manqué persona, a stage would have been to hand, for the hotel has its own Art Déco theatre, designed in 1929 by Giò Ponti. Still, both my excursions and my inactivity served to stimulate my appetite. And that was as well, for dining at the Quisisana is always a joy.
Chef Stefano Mazzone is of a Sicilian family. He is a very talented chef, who cares passionately about his cuisine. He handles top quality ingredients with care and precision. I will share with you the highlights of my dinners, for culinary brilliance sparkled repeatedly.
Uova Primavera was a spring egg, poached and with vegetables, in a form delightfully subtle and luscious. A salt-baked onion and tortelli stuffed with cheese brought a pleasing variety of textures. Green Neapolitan lasagne was one of the finest versions of this classic I have ever encountered – the pasta of a perfect softness. Quail Rossini babà was exquisite in it presentation and the combination of the quail meat and the rich foie gras was ravishing. But the pinnacle of the gastronomic mountain was reached with the fillet of Kagoshima beef. Such beef, with its divine tenderness and fullness of flavour, was surely a foretaste of Heaven. Of the puddings, the chocolate cake with wild strawberries from the trolley remains a happy memory. (Expect to pay 90€-160€ for four courses.)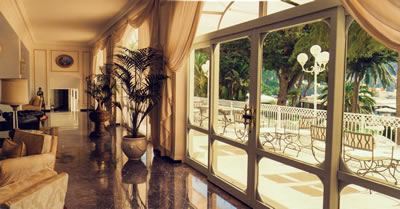 These dinners were had in the hotel's Rendez-Vous restaurant. This is a small, panelled room which has a glass wall to the street. Its discreet lighting, marble floor and black and white leather banquettes create an atmosphere which is smart and sophisticated. The good glassware is by Rogaska, the napery is white and the waiters and waitresses wear white jackets or white waistcoats. From the adjacent bar, pleasant music drifts in from the gentleman singer and his music centre. I liked particularly his rendering, in the style of Louis Armstrong, of the appropriate song, 'What a wonderful life'.
I was looked after by the Food & Bevrage Manager, Aldo d'Errico. He is a most splendid gentleman. He has been at the Quisisana for over twenty years, and embodies the commitment to service and tradition which marks out the greatest hotels. If Mr d'Errico looks after you, you are looked after very well indeed. On one evening I forgot my reading spectacles. In a moment, a box was produced with various pairs of glasses with different magnifications. Perfetto!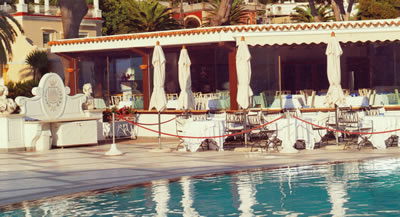 One of Mr d'Errico's great enthusiasms is wine, and the excellence of the cellar at the Quisisana is a tribute to his hard work and expertise. The list has 476 offerings. There are many Italian bottles, of course, but the French section is also impressive and the rest of the world is represented. Prices run from 28€ for a local white to 4,150€ for the 2006 DRC Montrachet and 5,540€ for 1996 Krug Clos d'Ambonnay champagne. 33 offerings from Mr Gaja include his 2010 Barbaresco (400€). Super-Tuscans include 1997 Ornellaia (1,100€), 2011 Solaia (455€), 2013 Tignanello (139€) and 2013 Sassicaia (315€). Grand clarets abound, with these three from the 1996 vintage: Haut Brion (590€), Latour (545€) and Cheval Blanc (650€). And if you have a longing for the best red from Australia, 2005 Hill of Grace (Henschke) is on offer at 1,090€. Of my own drinking, I can commend to you a good 2009 Taurasi, with a bold structure and an impressive depth of black fruit (Radici, Mastroberardino - 63€), and a marvellous Primitivo di Madura from the same vintage, which was smooth, ripe and earthy (Sessantanni – 51€). But my best bottle at The Quisisana was a red from Campania, with a thrilling damson-sweetness and a port-like weight. This was Rosso dell Luigi. It is a 'private wine', made by Professor Luigi Moro not for sale but to give to his friends – of whom, I was pleased to discover, Mr d'Errico is one. Superb.
'Superb' is a word which I use a great deal at The Quisisana. If you are ever tempted to lose faith in the standards of hospitality on offer nowadays, I suggest that you head for Capri and its most famous hotel. You will find an hostelry of the old sort: comfortable, spacious, majestic, luxurious, beautifully furnished, diligently maintained and ideally located. Soon, I predict, The Grand Hotel Quisisana will appear in the list of your own favourite hotels in all the world.
---
ADDRESSES
THE GRAND HOTEL QUISISANA
Via Camarelle 2, Capri 80073, Italy.
Telephone +39 081 8370 788
Fax +39 081 8376 080
Email: info@quisi.com
www.quisi.com
Open March to October
Double rooms from 320€ - 420€, according to season, including breakfast
See the hotel website for the rates for specific dates and for special offers