ITALY
ITALIAN LAKES
LAKE COMO
TREMEZZO
GRAND HOTEL TREMEZZO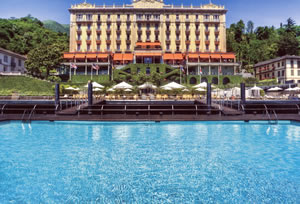 One way of judging a grand hotel is to see how it comes up to the mark for afternoon tea. You should therefore picture me, dressed – as I am often am when I visit Lake Como – in a striped blazer and a collar and tie, sitting in a yellow armchair on an elegant terrace, sipping from a porcelain cup the Earl Grey which I have just poured through a silver strainer. I am looking out across the water to the pretty little town of Bellagio on the opposite shore. It is an idyllic picture, is it not? This soothing experience was made possible because I was staying at the Grand Hotel Tremezzo, an imposing Belle Époque palace which, since it opened its doors in 1910, has tempted many of the great and the good within its portals – including, in 1934, Greta Garbo.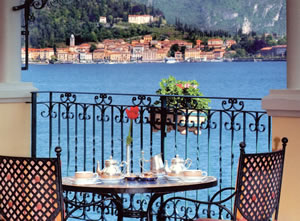 Famously, Miss Garbo wanted to be alone, but I was happy to linger within the Grand Hotel's public rooms, which include a billiards room, and be with those persons of taste and refinement who had also chosen Tremezzo for a few days of rest and refreshment. I found those rooms spacious, comfortably (and colourfully) furnished and entirely appropriate for so imposing an edifice (despite the presence of canned music). I did not join those of my fellow guests who splashed about in the three swimming pools, nor those who tested their skills on the clay tennis court. But I did allow myself the exertion of a few wanderings in the hotel's impressive gardens. They occupy twenty thousand square metres, and – in this locality – are exceeded in attractiveness only by those of the neighbouring Villa Carlotta, one of Lake Como's most famous tourist attractions.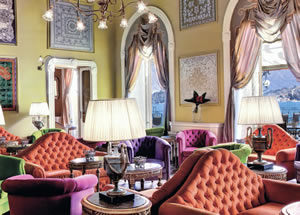 The hotel is owned by the De Santis family, and I had the good fortune to meet several members of the family, including the elegant Elena de Santis, the General Manager. Family hotels often – thankfully – exhibit the tastes and interests of their owners. Here there are works of art and pieces of antique furniture, which impart a pleasing sense of good taste and luxury. I was intrigued by the pictures which adorned the corridor to my room on the second floor. They were engravings of paintings by Anthony Van Dyck of King Charles I, his wife Queen Henrietta Maria and his sons, the future Charles II and James II. I found it most reassuring to find such devotion to the Royal Martyr by Lake Como.
Room 205 was a 'Deluxe Park View Double'. (You will need to consult the hotel website for the rates for specific dates, but think around 440€ to 580€ a night for two, according to season.) A small hall with a walk-in wardrobe off (with a private safe) led into a chamber of modest dimensions (about 13 feet by 12 feet) and bright colours (yellow, white and gold). It accommodated two easy chairs and a marquetry bureau, as well as the bed. The ten foot ceiling, the floor of light wood and some cleverly placed mirrors helped to create a sense of space. Lighting included spotlights, and the air conditioning was effective. Two French windows with 'Juliet' balconies looked out onto the gardens and – at an angle – onto the Lake. The bathroom was clad in dark green marble, and provided one wash basin, a loo, a bidet and a bath tub with a shower over.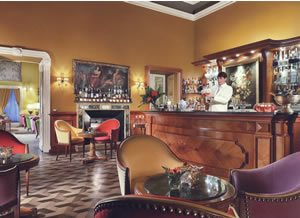 This was a corner room. I think I would recommend to you, dear Reader, that you pay the extra for a room with the blessing of a full Lake view.
I will now pay a small tribute to maitre d' Dario. He is a most splendid fellow, and looked after me – at both breakfast and dinner – with the utmost courtesy and consideration – for example, in the mornings, securing for me my orange juice squeezed al momento and bringing my onion omelettes from the Omelette Station. He deserves a gold star.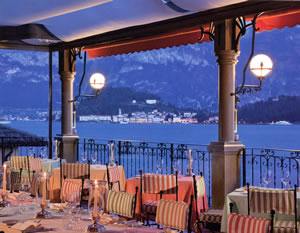 You will gather, I hope, that I enjoyed my meals at the Grand Hotel Tremezzo. They were all had in the Restaurant La Terrazza. From its eponymous terrace the view was that which I enjoyed over the daily ritual of tea – over the Lake to Bellagio – as handsome a panorama as you will find in the whole of Europe. From the breakfast buffet I secured comestibles of high quality, including bacon, tomatoes, croissants, dishes of pineapple and lots of naughty cakes. And to my table were brought silver pots of coffee, dishes of ice cubes and my concluding cappuccini.
In the evening the mood changed, with the waiters in black tie, the tables covered with green cloths, sparkling glassware by Schott and single candles twinkling on each table. My table was in the corner, whence my view of the opposite bank was unobstructed. It was a joy to see the sun set and the lights begin to appear in the town across the Lake.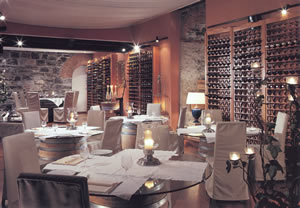 Little wonder, then, that I was in the right mood to enjoy the carefully prepared food of Chef Osualdo Presazzi, who has been manning the stoves here since 1992 (with Chef Gualtiero Marchesi now as a consultant). I began with scallops, gratinated with aromatic herbs and served with ceps. Scallops are a good test for any kitchen, and these were excellent – precisely cooked and admirably combined with the herbs and the mushrooms. Then my ravioli of vegetables and ginger flavoured butter was even better – light, delicate, subtle and utterly delicious. My main course was a substantial veal Rossini. Indeed, it was so substantial that I could not manage a pudding. But it was worth the enforced abstinence.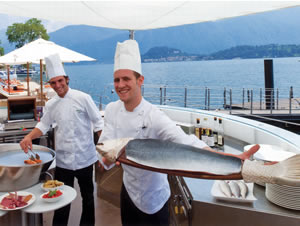 This was meat of the highest quality, and the foie gras, black truffle, spinach, pine nuts and raisins added lovely combinations of taste and texture. But perhaps my over-indulgence was because of the peas. As I never tire of saying, a gentleman can never have too many peas – as long as they are fresh and sweet. These were both. They came at my special request – so another of my gold stars must go to the restaurant.
The wine list has 175 offerings, including 7 half-bottles. All, except the champagnes, are Italian. 17 wines are offered by the glass, including Chianti Riserva Ducale, Ruffino, for 13€. Prices of bottles range from 26€ for a Tuscan white to 260€ for 2008 Solaia and 380€ for Cristal champagne. Other bottles to catch my eye were: Ornellaia 2009 (220€), Sassicaia 2009 (214€), Tignanello 2009 (120€) and Barbaresco, Gaja, 2008 (200€). A primitivo from Puglia (Villa Santera, 2011) looked a good bet at 32€.
So I return to my opening thought about afternoon tea. My experience of it here was marked by grace, charm and delight. And those qualities exactly sum up this palace on Lake Como. The Grand Hotel Tremezzo is gracious, charming and delightful.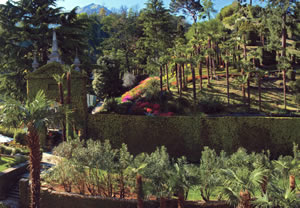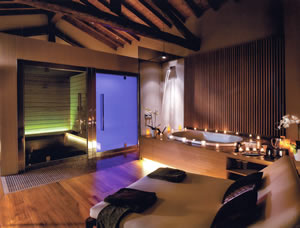 ---
ADDRESSES
GRAND HOTEL TREMEZZO
Vi Regina 8, 22019 Tremezzo, Lago di Como, Italy.
Telephone +39 0344 42491
Fax +39 0344 40201
Email: info@grandhoteltremezzo.com
www.grandhoteltremezzo.com
Double rooms from 340€-440€, according to season
Check the hotel website for the prices for specific dates and for special offers