Italy
NAPLES
GRAND HOTEL VESUVIO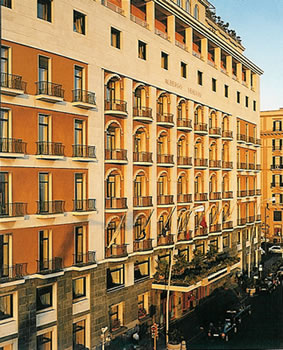 Naples offers some lovely experiences. Here are three of my favourites: a concert at the glorious San Carlo Theatre, a rum baba at the old-fashioned café on the corner of the Piazza del Plebiscito (opposite the Royal Palace) and a stroll through the Galleria Umberto 1 st (built in 1890 and surely the most grandiose shopping arcade in Europe). And let me add a fourth: a few nights at The Grand Hotel Vesuvio.
This famous hostelry has one of the most desirable locations in town. (And one of the most convenient. I could enjoy my first three treats after only a ten-minute walk from its entrance.) Right on the waterfront, its impressive façade faces the Santa Lucia Harbour – so that those guests with rooms on the front can rest their gaze on the mighty Castel dell'Ovo, before allowing it to wander out into the bay to the distant, shimmering Island of Capri. Given its strategic position, war damage was sadly inevitable, and so the original 1882 structure was rebuilt – with the addition of two extra floors – in 1950. Clearly, no expense was spared. I liked not only the sense of space in its large public areas, but also those hints of a restrained Classicism, which the re-builders used to suggest the continuation of tradition.
For a tradition there is. Oscar Wilde and Guy de Maupassant enjoyed the Vesuvio's luxurious hospitality, as did Errol Flynn, Pablo Picasso and Woody Allen – and nearly every other member of the great and the good who has passed through Naples in the past century or so. Enrico Caruso, who refused to sing in his home town after having received a roasting from an audience here early in his career, nevertheless managed to spend so much time at the Grand Vesuvio that he called it "my Neapolitan home".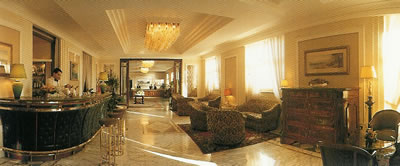 I was shown up to my room by one of the courteous gentlemen at the Reception desk. On the 6 th floor, room 627 was a Junior Suite, and therefore 600 euros a night, bed and breakfast for two. This was pleasing, air-conditioned accommodation. I was struck first by the highly polished parquet floor of the sitting room. I opened the sliding white doors and found it in the bedroom, too. In the bathroom it was replaced by green marble. Two television sets, yellow fabric on the walls, glass-topped tables, plenty of comfortable seating, excellent beds, and a proper dressing area with wardrobes – all made for a comfortable billet. But, of course, the best was through my two windows: that panorama for which Naples is famous.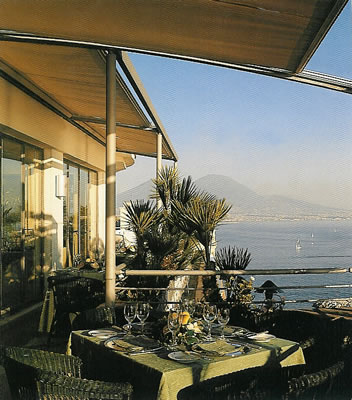 It was there again when I went for dinner. Up on the top (8 th) floor, the Ristorante Caruso exudes a modest air of Art Deco. Maitre d' Giovanni Felicella, impressive in his tailcoat, ensures that the style and service of a grand hotel are maintained – for which efforts he deserves our admiration. Waiters wear black tie, tablecloths are pale yellow, glasses are good (Spiegelau) and a guitar player provides harmonious background music. It is all highly civilized. The eponymous tenor was, of course, a famous lover of food. I think he would have liked my meal. I certainly did.
Chef Enrico Mori sends from his kitchen traditional dishes, properly cooked. A red pepper and aubergine 'casserole' with smoked cheese was yielding and luscious and an ideal opening shot. Black truffle risotto (ah, the aroma when the silver dome was lifted…) was soft and flavoursome. Beef fillet with wild mushrooms, grilled potatoes and a red wine sauce was a plate for a hungry trencherman, with a really substantial portion of the tasty meat. My concluding pineapple with tangerine sauce was flambéed by the table, and was as good as it was dramatic. (76 euros for these four courses.)
Apart from the bubbly (1995 Dom Perignon is 210 euros), the wine list is mostly Italian, with prices ranging from whites at 18 euros to 1997 Sassicaia at 400 euros. Tuscany is the strongest region – with 2000 Tignanello at 90 euros, the 1999 Biondi Santi Brunello di Montalcino at 120 euros and 2000 Solaia at 200 euros. But I stayed in the local Campania region. My white (Greco di Tufo 'G', Pietracupa, 2003 – 35 euros) was sharp, very dry and had that typical hint of sherbet; it was tip-top at cutting through the richness of the risotto. My red (Vigna Camarato, Villa Matilde, 2000 – 77 euros) was a massive mouthful of ripe black cherries and liquorice: a fine wine.
My breakfast experience was also pretty fine. In a light, airy room on the first floor (with more of the view), I was looked after by Armando with the utmost courtesy and attention. Like his colleagues, he wore a white jacket. He also achieved a first, by replacing my napkin halfway through the proceedings. This has never been done for me before at breakfast. Well done, that man. From the buffet I helped myself to good bacon and scrambled egg, brioche with ham, and slices of pineapple and melon. Armando rushed off and returned with a glass of freshly-squeezed orange juice. This was an uplifting start to the day.
Guide books are apt to call Naples the most beautiful city in the world. I am not sure about the superlative. But I am certain that Naples is a beautiful place – for a concert, for a rum baba or for some serious shopping. And, in The Grand Hotel Vesuvio, it boasts an hotel in which you will eat, drink, sleep and breakfast very well indeed.
---