AUSTRIA
VIENNA
GRAND HOTEL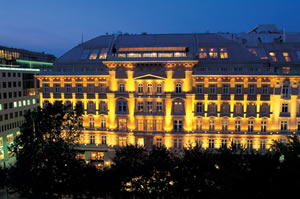 In a city packed with architectural magnificence, it might seem strange to trek into the suburbs to a cemetery and to a mental hospital. Yet that is what I did in Vienna. And thus did I see two of the greatest buildings produced by the Art Nouveau (Jugenstil) movement: the Karl-Borromäus-Kirche (1899-1902) at the Central Cemetery by Max Engele and the Kirche am Steinhof (1903-1907) by Otto Wagner. Both churches are masterpieces and both, in their unusual settings, are wondrous to behold. But there was nothing paradoxical about my hotel back in the heart of things. It was called The Grand, and it was grand.
Grand Hotels, after all, should be grand. Located on the Ring, the road which replaced the city walls in the 19th century, this Grand is but a handful of steps from the famous Opera House and only a leisurely stroll from the Gothic masterpiece which is the cathedral. Still, this excellent position was not the only reason for my visit. I was fascinated to see what had become of the noble pile which had opened in 1870 with one of the wonders of the age – a system of lifts worked by steam. I knew, too, that vast amounts of money had been spent over recent years to regain the hotel's former status as one of Europe's finest luxury hotels. As my taxi pulled up outside, I was full of anticipation.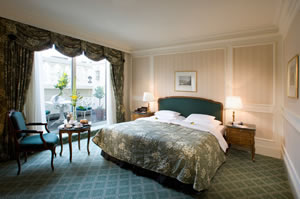 The first good sign was the doorman. Smart and efficient, he ushered me through the revolving door into the high and spacious lobby. Here I was surrounded by those things I want at a grand hotel: a marble floor, crystal chandeliers, polished mahogany and potted palms. In front of me a grand staircase swept upwards between fluted columns. A few moments with the friendly lady at the reception desk, and I was in one of the lifts. It was no longer operated by steam power, but it did deliver me very rapidly to the fourth floor.
Here I was billeted in apartment 407. This was a 'deluxe' room and therefore 460 euros a night for two, breakfast extra. Quiet, air-conditioned, exceptionally quiet (thanks to double-glazing of almost miraculous efficiency) and decorated in tones of cream, beige and brown, this accommodation had much to please me – not least its size. For a short stay, my belief is that a bedroom which measures 18 feet by 14 feet is well nigh ideal. And here it was, reached through a proper hallway (with fitted wardrobes, containing a private safe). Two fauteuils in striped gold velvet, a coffee table with a marble top and an elegant writing desk contributed a welcoming sense of comfort. In the marble bathroom, I liked the two wash basins, the separate loo (with a bidet), the heated bathroom mirror and the tub of generous proportions.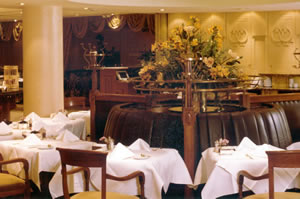 I have a tip for you, regarding breakfast. This is served in the Grand Café, on a level looking down upon the lobby. It is a fine space and I much enjoyed the comestibles on offer. Each morning I tucked into segments of fresh orange and melon, slices of cold roast beef, Sugar Puffs – a naughty treat, but why not? – and top class brioche, from the buffet, and wonderfully tasty crisp bacon, mushrooms and pots of hot coffee, brought from the kitchen – all for 31 euros. But my tip concerns the wooden seats, which certainly looked decent, but which I found had no support for my creaking lower back. The answer was to sit at one of the tables just outside the café entrance. Here the chairs were much better for me – so I suggest you follow my example.
As I lingered here after breaking my fast, I mused upon former guests of the hotel. They include nearly every person of note who has come to Vienna since 1870. Those of a spiritual bent will be pleased to know, I am sure, that the Aga Kahn and the Dalai Lama have both rested their heads here. And I was intrigued to learn that Johann Strauss celebrated his 50th birthday here in 1894 – doubtless, with a few waltzes.
Daytime for me in Vienna – when I am not speeding in taxis to out-of-the-way churches (found on this occasion, incidentally, with the help of the very helpful concierge at the hotel) – means leisurely walking along pristine streets between the famous cafés. My favourite café is the Central, housed in a 19th century building in the Romanesque style of such sumptuousness that it should be on the list of everyone interested in architecture. This, together with a couple of baroque churches and – if the season is right – a Christmas market, is quite enough to stimulate my appetite and make me impatient for a really good dinner. The Grand offers three dining rooms: Unkai for Japanese food, the aforementioned Grand Café for Austrian food and Le Ciel for French food.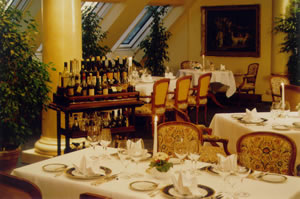 On this visit I did not have the opportunity to dine in-house. But I have previously eaten at Le Ciel. It is on the top floor of the hotel and from its windows can be viewed church domes and quaint rooftops. It is a place of columns, crystal chandeliers and tapered candles. Chef Jacqeline Pfeiffer deserves her high reputation and The Grand is fortunate to have her. The meal I enjoyed on a previous visit revealed a kitchen full of intelligence and flair. I remember, too, an interesting wine list of 400 or so offerings, with Vega Sicilia Unico from Spain, Harlan Estate cabernet from California and Sassicaia from Italy – as well the finest clarets from the famous vintage of 1982: Cheval Blanc, Lafite, Latour and Haut Brion.
When you visit Vienna, if you are interested in European architecture, you should venture out to those churches in the cemetery and in the grounds of the mental hospital. And, if you are interested in grand hotels which really are grand, you should stay at The Grand Hotel. You will not be disappointed.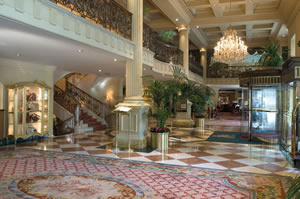 ---