United Kingdom
ENGLAND
SUSSEX
WEST HOATHLY
GRAVETYE MANOR
PLEASE NOTE: THERE IS NOW A NEW CHEF AT THIS HOTEL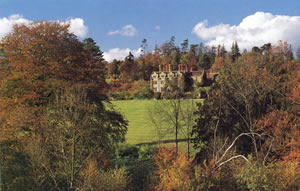 I am so pleased that Gravetye Manor is back to its wonderful best. I have known it for decades, and I first sought it out because it was famous for being one of the top handful of English country house hotels. It was also a reasonable drive for the Royce and myself, if we were starting from my London home. It was always very pleasing to know, once we had turned off the country lane and began to trundle down the long and winding drive, that the cares of the metropolis had been swopped for the plump cushions and swagged curtains of Gravetye. But difficulties descended upon it, and I began to fear for its future. But my recent visit has allayed my fears. Now, thank goodness, the beautiful house and its exquisite gardens are pristine again and Gravetye is once more an example of the best of British hospitality.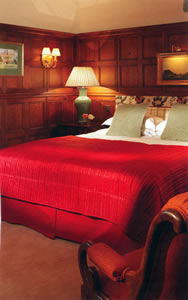 The original house was built in 1598. There have been additions over the years, so that now the hotel offers 17 rooms and suites, but these have been made so sympathetically that one has to look carefully to see the 'joins'. Richard Infield and his bride Katharine Compton were the first owners. Those of you of a romantic disposition may see their initials – R and K – joined over the main entrance from the garden. In 1884 the property was bought by the famous gardener, William Robinson. He devoted himself, until his death in 1935, to the creation at Gravetye of the "English natural garden" which still surrounds the house. He is also responsible for the look of much of the interior, for he installed many of the chimney pieces and much of the panelling we see today. A subsequent owner, Peter Herbert (who retired in 2004), turned it into a famous hotel. And the current renaissance began when Jeremy Hoskins, a long-standing patron, acquired the property in 2010.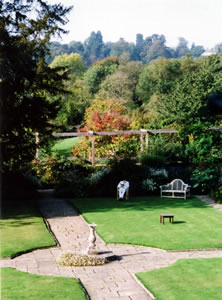 As soon as I walked into the impressive entrance hall, I could sense that all was well. It was clear that the place was being well cared for, and that meant it was immediately welcoming. I was soon being shown up the handsome staircase to the first floor by one of the friendly members of staff. (Actually, I found all the members of staff pleasant and helpful. They reflect well upon the General Manager, Amy Gleadow.) Here, in the corner of the original building, was my billet – and a jolly fine billet it was, too. Its name was on the door, 'Bay' – which I took to be a reference to a bay tree. All the rooms have such names. More prosaically, it was an 'Exclusive Deluxe Double' and therefore £355, bed and breakfast for two. This was a quintessentially English room.
With its stone fireplace, mullioned windows and wooden panelling, 'Bay' was the sort of room for which everyone who likes the idea of a country house hotel longs. It measured about 15 feet square, and therefore accommodated with ease a writing desk, two easy chairs, a long window seat, an oval table and some bookshelves (with various tomes, including the short stories of Oscar Wilde). A walk-in wardrobe contained coffee-making facilities, as well as a refrigerator stocked with bottles of complimentary soft drinks. In the small bathroom were toiletries by Charlotte Rhys.
Best of all were the views, which I have tried to capture in the photographs. On one side – for this was what I believe estate agents call a 'double-aspect' apartment – were the unspoilt valley and the hill beyond; and, on the other side, was a combination of lawns and flowers so delightful that one might have thought it the work of fairies. (In reality, of course, it is the product of much hard work by the team of talented gardeners.) Lucky are those of us who have known this garden as a setting for afternoon tea and for the pre-prandial snifter. It is, indeed, the glory of Gravetye.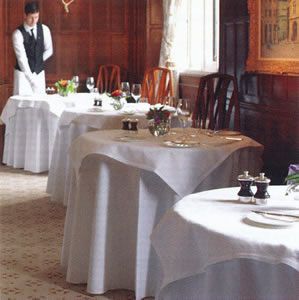 Back inside, the restaurant is housed in another panelled room – a handsome chamber wherein waiters and waitresses in white aprons, white damask napery and good Riedel glassware create a stylish atmosphere for the cuisine of Chef Rupert Gleadow (who is the brother of the General Manager). He offers a set lunch for £25, a set dinner for £37 and a seven-course tasting menu for £65. I stuck to the carte (from which three courses are £55). Mr Gleadow's food is carefully prepared and based upon good ingredients. I found in my dinner an approach to presentation which pleased my eye and a skill with flavour combinations which pleased my palate. My opening course of butter poached langoustines with tortellini, broccoli and caviar brought soft pasta and tasty prawns. A truly splendid piece of meat followed. The texture and richness of the loin of venison was accompanied to great effect by thyme boudin, turnip gratin, butternut squash and sloe gin sauce. The finale maintained the standards, for this trio of banana, with salted caramel ice cream, was complex and luxurious in the mouth.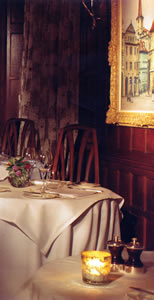 The wine list offers 250 bottles and 23 halves, and spans the New and Old Worlds. It also does something rather sensible, which is to match dishes on the menu with particular bottles of wine. Prices range from £22 for a 2009 Australian Semillon to £742 for 1998 Yquem and £825 for Cristal rosé champagne. Other bottles to catch my eye were: 1990 Lynch Bages (£480), 2005 Chateau Grillet (£116), 1975 Cos d'Estournel (£340, magnum) and 2010 Cloudy Bay sauvignon blanc (£60). From my own drinking, I will recommend to you one of the cheapest bottles on the list – a splendid Chilean camenère, full of earthiness and dense black fruit, a joy for just £22 (De Gras, 2010).
I returned to the restaurant for breakfast. There is no grill, so I had brought to my table – still wearing a smart white tablecloth – a dish of raspberries and strawberries, a bowl of Corn Flakes, a plate of bacon, sausage, poached egg, tomatoes and mushrooms and a rack of hot toast, as well as a large pot of coffee and my customary bucket of ice cubes. This was a good start to my day.
One of my pictures shows the view from the entrance hall, as I was about to leave. You will see that it is very English: the noble shape of the doorway, the gravel drive, the dog hoping for a walking companion, the Rolls-Royce waiting contentedly for its next drive. This is England as it should be. And it is Gravetye Manor as it is. Welcome back, old friend. It is good to see you looking so well.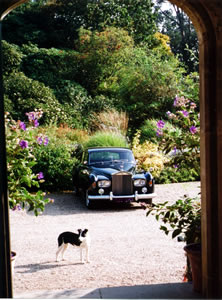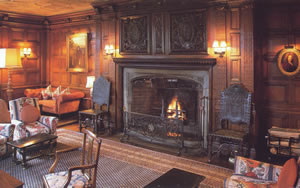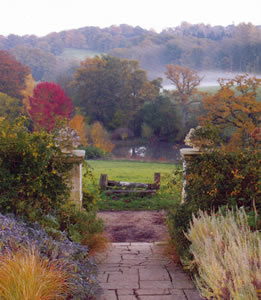 ---