ITALY
VENICE
THE GRITTI PALACE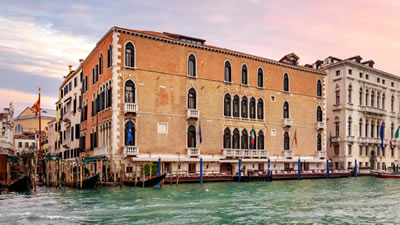 There is no doubt that The Gritti Palace is one of the world's great hotels. It is also one of the most famous, although it combines its fame with the kind of discretion which, doubtless, is welcome to its many important guests. It embodies the grandeur, the beauty and the style of La Serenissima. Small wonder, then, that I have loved The Gritti Palace for many, many years. Indeed, it has long been my belief that there is only one thing better than arriving in Venice, and that is arriving in Venice when you know you are staying at The Gritti. A few years ago this glamorous lady (for are not all grand hotels ladies?) was 'restored'. Yet the restoration, which cost many millions of pounds, was so discreet and so expert that – and I mean this as the highest compliment – it is now as if nothing had happened. Perfection still reigns. And the welcome I received on my recent visit was still as warm and as genuine as always – as genuine as the fine pieces of antique furniture which continue to decorate its sumptuous salons.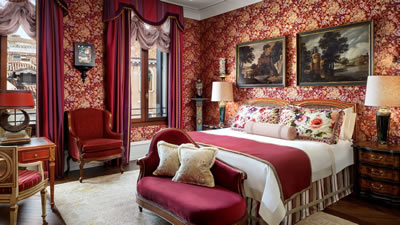 My accommodation included one of those magnificent salons. Apartment 316 is The John Ruskin Suite – a 'Patron Suite' and therefore with a nightly rate which begins at 5,700€, and rises according to season. (John Ruskin was the architectural historian and critic in the 19th Century, whose writings – not least The Stones of Venice – had a massive influence on the Gothic Revival in England.) As I hope you can see from the photographs, this is the sort of billet which gladdens the hearts of readers of Bown's Best.
The suite is on the third floor, at the corner of the building. As I entered, I felt a tingle of excitement, for I love proper hallways. This one even had a stand for my umbrella. Then there was my sitting room: a chamber of startling opulence. From its high ceiling hung a sparkling chandelier of Murano crystal. On its walls were examples of exquisite stucco work. I liked particularly the large painting of a true Venetian occasion: the ecclesiastical procession which still takes place each July from the church of Santa Maria del Giglio (just outside the hotel) over a temporary bridge of boats to the other side of the Grand Canal and the basilica of Santa Maria della Salute. This inspiring picture set off the figured silks and the gilt-wood which adorned the sofa and the numerous easy chairs.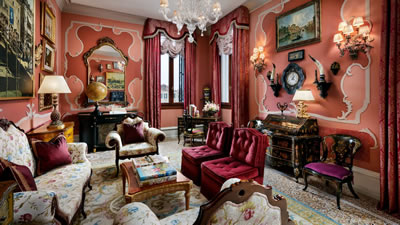 The tall curtains of heaviest silk brocade glided back, at the touch of a button, to reveal the windows and their views of the Grand Canal, the most beautiful and admired waterway in the world. And my view out was not at just any part of the Grand Canal. For on the other side of the water was the aforementioned Santa Maria della Salute, one of the visual gems of the city and the masterpiece of Baldassare Longhena. The church was built between 1631 and 1681, in thanksgiving for the deliverance of Venice from the plague, and it still sends the heart soaring heavenwards. It was a real privilege to be able, each morning, to open these windows to let in not only the cool breeze from the Canal, but also the sound of the bell, summoning the faithful to Mass at the Salute.
More than a century before the Salute was begun, the Doge of Venice, Andrea Gritti, chose this spot for his palace. Now it offers its hospitality to visitors. As you will have gathered, the rooms at The Gritti are superb. They include, for those of you who like to entertain, the Penthouse Suite – which I have inspected – with a spiral staircase, leading to a huge terrace which can accommodate 250 guests.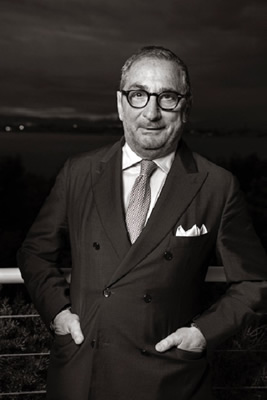 In my bedroom I found another pleasing confection of sparkling crystal, shimmering (red) silk and gleaming gilt. The bed was supremely comfortable, a feature which becomes more and more important to me as the years pass. I welcomed, too, the extensive hanging space, for I do not travel lightly. And the bathroom was as all bathrooms should be: ravishing. Half a quarry of grey and red marble must have been used in its creation. Ablutions are important, so I appreciated these surroundings as I soaked in the proper bath, used the separate shower or washed in one of the basins. Acqua di Parma toiletries were provided. One of the potions put out for me was 'anti-ageing cream'. I hope it has been efficacious.
An 'ipod' was available in my Drawing Room, so I was able to put on that most suitable of music for a Venetian afternoon, Monteverdi's setting of Vespers, and relax in perfect peace with my afternoon pot of Earl Grey. This refreshment was brought to me by a most charming waiter, who was clearly used to dealing with those of taste and refinement. He was typical of the members of staff I invariably encounter at The Gritti. The Hotel's General Manager, Paolo Lorenzoni (pictured), has every reason to be proud of his team. Many have been at the hotel for many years.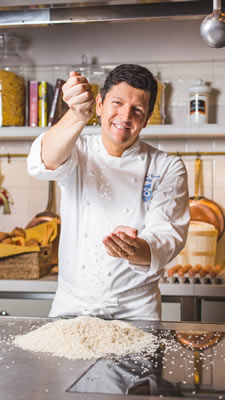 The dining room at The Gritti is on the ground floor and is called the Club del Doge. Within, it has a floor of marble, paintings of food and wall lights of crystal. And when the weather is warm, there is the lure of the terrace, from which diners can enjoy the view across the water I had from my room. Aware of the evening chill, I sat within, where I was looked after with exemplary kindness by maitres Domenico Piemontese and Angelo Napoletano (both smart in black tie).
The kitchen at The Gritti is the domain of a fine Executive Chef, Daniele Turco (pictured), who is both talented and engaging. Having worked in Malta, Sicily and Istanbul, Mr Turco is full of enthusiasm for his craft. Indeed, he conducts cookery schools at the hotel, to impart his skills to guests. (Ask for details of dates and prices.) His cooking is marked by clarity and intelligence, with good ingredients carefully combined and expertly handled. His menu was full of dishes I could happily have chosen. His is the Cuisine of Enjoyment. Laus Deo!
After a particularly impressive amuse-bouche of red mullet, my dinner proper began in a refined, pretty and delicate manner – with a poached egg, baby spinach, chestnuts and mandarin. This was an exquisite combination, precisely realised and presented in a manner which was a treat for the eye as well as the palate. Then came tagliatelle, made with chestnut flour and served with pheasant ragout and pomegranate – soft, luscious pasta and a satisfying medley of tastes. My main course was a substantial piece of beef loin, carved by the table and served with green beans and roasted potatoes. Meat as succulent and flavoursome as this makes me realise how difficult it would be to embrace vegetarianism. Its quantity here meant I was in no position to tackle one of the tempting puddings. (These three courses were 135€.)
Most of the 249 offerings on the wine list are Italian, although there are also some lovely champagnes to tempt the Francophile. Prices run from 40€ for a local rosé to 4,000€ for 1970 Dom Pérignon Oenothèque. Other bottles to catch my eye were: Krug Grande Cuvée (407€), Solaia 2014 (455€), Masseto 2013 (1,200€), 2014 Luce (230€), 2009 Tignanello (350€) and my favourite Italian bubbly, the Anna Maria Clementi franciacorta (2007 – 220€). I was grateful to Domenico Piemontese for pouring into the Spiegelau glasses some good wines. These included the 2015 vintage of that ever-reliable, full-bodied chardonnay by Antinori, Cervaro della Sala (135€) and a highly regarded Brunello di Montalcino from Castello Banfi. Of the 2004 vintage, this Riserva Poggio all 'Oro (290€) now has an impressive depth of black fruit and plenty of spice, although it will not reach its peak for some years.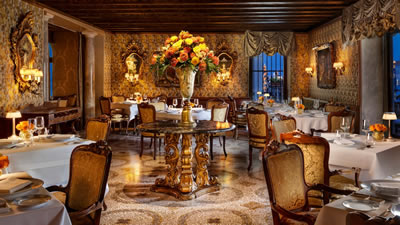 I returned to the Club del Doge early each day, where – surrounded by Bernardaud crockery, silver coffee pots and fine linen – I tucked into morning comestibles of the highest quality. Mushroom omelettes, buckets of ice cubes, jugs of fresh orange juice and my concluding cappuccini were brought from the kitchen. Dishes of pineapple, melon, raspberries and strawberries, bowls of Corn Flakes, plates of cheese and ham and slices of indulgent pastry tart, I secured from the buffet.
I loved these breakfasts. And I loved, once more, my whole experience of staying next to the Grand Canal. Those of us who love Venice love this historic mansion. For there is no doubt whatever: The Gritti Palace is one of the world's great hotels.

---
ADDRESSES
THE GRITTI PALACE
Campo Santa Maria del Giglio 2467, San Marco, Venice 30124, Italy.
Telephone +39 041 794 611
Fax +39 041 520 0942
Email: grittipalace@luxurycollection.com
www.thegrittipalace.com
Double rooms from 665€, according to season, breakfast extra (53€ per person)
Check the rates for specific dates
Ask about special offers