ITALY
VENICE
HOTEL GRITTI PALACE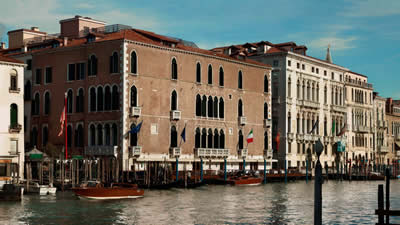 Those of us who love Venice must also love The Gritti Palace. For it is the quintessential Venetian hotel. Like the city it adorns, it is grand, beautiful, luxurious, stylish and unique. Hotels simply do not get any better than The Gritti. It is no wonder, then, that I have loved The Gritti Palace for many, many years. Indeed, it has long been my belief that there is only one thing better than arriving in Venice, and that is arriving in Venice when you know you are staying at The Gritti. Of course, as one of the most famous hotels in the world, The Gritti – like a glamorous woman of a certain age – is used to dealing with admiration. She knows she deserves it, but still she responds with a delicate and becoming modesty. If I may be permitted to say this about a lady, she has been 'restored'. Yet the restoration, which has cost many millions of pounds, has been so discreet and so expert that – and I mean this as the highest compliment – it is as if nothing has happened. Perfection still reigns. And the welcome I received on my recent visit was still as warm and as genuine as always – as genuine as the fine pieces of antique furniture and the gilt-framed Old Masters which continue to decorate its sumptuous salons.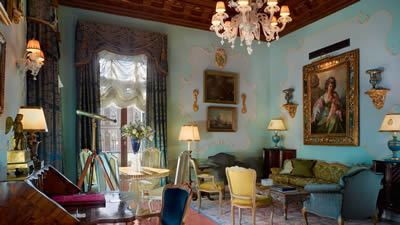 My accommodation included one of those magnificent salons. Apartment 210 is called 'Punta della Dogana'. It is a 'Patron Suite' and costs 6,200€-7,300€ a night for two, according to season, breakfast extra. It is on the second floor, at the corner of the building. As I entered, I felt a tingle of excitement, for my sitting room was a chamber of startling opulence. From its 12 foot ceiling hung an eight-light chandelier of sparkling quality, walls of pale blue were decorated with exquisite stucco work, figured silks and gilt-wood adorned the sofa and the numerous easy chairs, and all about were fine oil paintings. (Thank goodness The Gritti has not – like so many other hostelries – sent its pictures to the auction house and substituted ghastly copies.) This room easily accommodated a round dining table and four dining chairs.

The tall curtains of heaviest silk brocade glided back, at the touch of a button, to reveal two French windows with balconies. And there was the Grand Canal, the most beautiful and admired waterway in the world. And my view out was not at just any part of the Grand Canal. For on the other side of the water was Santa Maria della Salute, one of the visual gems of the city and the masterpiece of Baldassare Longhena. The church was built between 1631 and 1681, in thanksgiving for the deliverance of Venice from the plague, and it still sends the heart soaring heavenwards. It was a real privilege to be able, each morning, to open these windows to let in not only the cool breeze from the Canal, but also the sound of the bell, summoning the faithful to Mass at the Salute.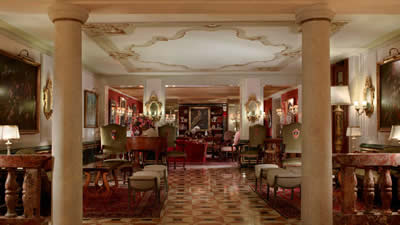 More than a century before the Salute was begun, the Doge of Venice, Andrea Gritti, chose this spot for his palace. Now it offers its rooms to visitors. As you will have gathered, these rooms at The Gritti are superb. They include, for those of you who like to entertain, the Penthouse Suite – which I inspected – with a spiral staircase, leading to a huge terrace which can accommodate 250 guests.
In my own bedroom I found another pleasing confection of sparkling crystal, shimmering silks and gleaming gilt. And the bed was supremely comfortable, a feature which becomes more and more important to me as the years pass. The hanging space could, perhaps, have been more extensive (for I do not travel lightly), but this slight inadequacy was forgotten when I saw the bathroom. Half a quarry of dark green marble must have been used in its creation. Ablutions are important, so I appreciated these surroundings as I soaked in the proper bath, used the shower or washed in one of the basins. Acqua di Parma toiletries were provided. These included, on my pillow at bed time, a potion I had not encountered before, but which I certainly need – 'anti-ageing cream'.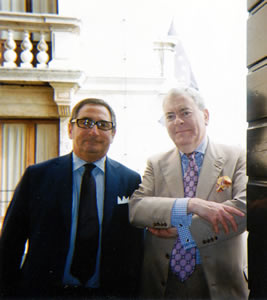 An 'ipod' was available in my Drawing Room, so I was able to put on that most suitable of music, Monteverdi's setting of Vespers, and relax in perfect peace with my afternoon pot of Earl Grey. This refreshment was brought to me by a most charming waiter, who was clearly used to dealing with those of taste and refinement. He was typical of the members of staff I invariably encounter at The Gritti. The Hotel's General Manager, Paolo Lorenzoni (pictured, with your correspondent), has every reason to be proud of his team. Many have been at the hotel for many years. The concierge desk was particularly helpful, telephoning to the various places I wished to visit on this trip. (I would recommend that you always use the expertise of the concierge in Venice: guide books can be very unreliable about opening times.) After a day of leisurely sightseeing, it was a real joy to return to this palatial apartment, indulge in a long bath and then dress in a good suit – the while pondering on the gastronomic pleasures to come downstairs.
The dining room at The Gritti is on the ground floor and is called the Club del Doge. Within, it has a floor of marble, ancient paintings of food and wall lights of crystal. But the lure of the terrace overcame me, for upon it I could enjoy the same view as I had beheld from my room. Yes, the day's heat had waned, but a cleverly placed overhead heater ensured I was in no fear of a chill. Here I was looked after with exemplary kindness by maitre d' Martino Martelotto (from Puglia) and Mauro, the waiter.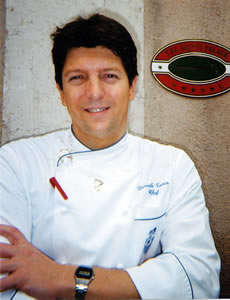 The kitchen at The Gritti is the domain of a fine young Executive Chef, Daniele Turco (pictured). Having worked in Malta, Sicily and Istanbul, Mr Turco is full of enthusiasm for his craft. Indeed, he conducts cookery schools at the hotel, to impart his skills to guests. (Ask for details of dates and prices.) His cuisine is marked by clarity and intelligence, with good ingredients honestly handled to reveal their true flavours. His menu is full of dishes I could happily have chosen. I certainly enjoyed my eating here.
My dinner began in a refined, pretty and delicate manner – with white truffle atop tartare of Fassona beef. Then there was more of the divine fungus, and some Parmesan, with some gorgeous home-made tagliolini. My meat dish was super lamb – tender and tasty chops, covered with pistachio nuts. This meat was so good that I could not resist picking up the bones, at which point – of course – a finger bowl was brought so that I could cleanse my fingers. I finished with a substantial Grand Marnier soufflé, with vanilla ice cream and chocolate sauce. (These four courses were 206€.)
Most of the 216 offerings on the wine list are Italian, although there are also some prestigious French bottles to tempt the Francophile. Prices run from 36€ for a local white to 4,000€ for 1970 Dom Pérignon Oenothèque. Other bottles to catch my eye were: Krug Grande Cuvée (407€), Ornellaia 2010 (420€), Solaia 2011 (418€), 1995 Lafite (2,450€), 2007 Haut Brion (1,352€) and 2008 Margaux (1,980€). Flaviano Scaratti, from Brescia, is a knowledgeable sommelier. I was grateful to him for recommending a lovely Italian bubbly. I am becoming a real fan of Franciacorta, because of its smoothness and fragrant nuttiness, and this one was a particularly fine example (Franciacorta Satèn, Contadi Castaldi, 2010 – 80€).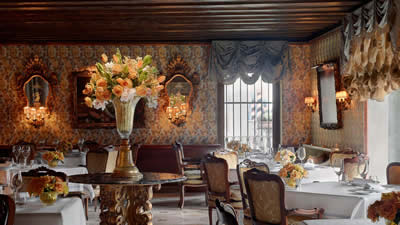 I returned to the Club del Doge early each day, after my night's rest. As the warm sun had already done its work, I was able to enjoy one of the morning joys of Europe: breakfast on the terrace of The Gritti Palace. The tourists floating past on the Grand Canal frequently took photographs of those of us fortunate enough to be indulging in this privilege. Shielded from the sunshine by a white blind and soothed by the sound of the water gently lapping against the hotel's walls, I tucked into food of the highest quality. Mushrooms on toast and crispy bacon, silver pots of coffee, buckets of ice cubes, jugs of fresh orange juice and my concluding cappuccino were brought from the kitchen. Dishes of pineapple, melon, raspberries and strawberries, bowls of Corn Flakes and slices of indulgent pastry tart I secured from the buffet.
How I loved these breakfasts, and how I loved being at The Gritti. Its immaculate restoration has left me (almost) speechless in admiration for this great hotel. I left her as I always leave her – sorry to be parting, but glad that she will be there when I next need her. If you are heading for La Serenissima, remember the wise observation with which I began. Those of us who love Venice must also love The Gritti Palace.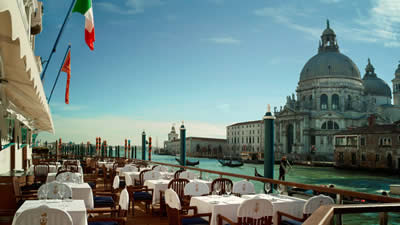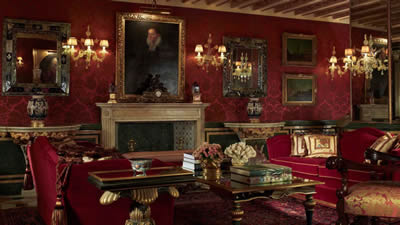 ---
ADDRESSES
HOTEL GRITTI PALACE
Campo Santa Maria del Giglio 2467, San Marco, Venice 30124, Italy.
Telephone +39 041 794 611
Fax +39 041 520 0942
Email: grittipalace@luxurycollection.com
www.thegrittipalace.com
Double rooms from 1,050 euros, according to season, breakfast extra (53€ per person)
Ask about special offers