United Kingdom
England
NOTTINGHAM
HARTS HOTEL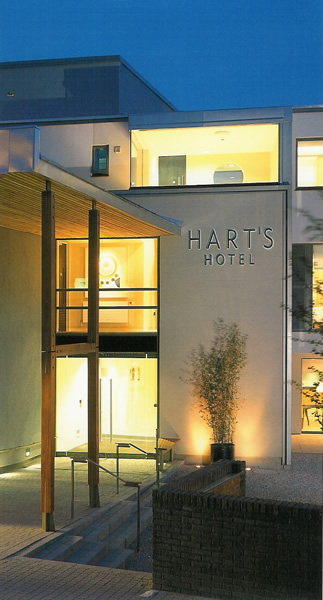 I last visited Nottingham with Auntie Maud. I was a small child, and we were on one of our modest day-outings. I can recall being excited by its grandiose town hall (white stone and heavy domes have always appealed to me), but being taken aback by the discovery that its 'castle' was not the mediaeval fortress of my imaginings. It was, and is, a Classical 17 th century mansion – built upon the foundations of a building which was torn down for harbouring supporters of Charles I in the Civil War. High on the hill above the city, the Castle is very close to the establishment which has just tempted me back to this sturdy town in the Midlands: Hart's Hotel.
Now let us be clear at the outset. Hart's is not one of the world-class, luxury hotels which usually appear in Bown's Best. Yet it deserves its inclusion. For it is a model of what a small, keenly-priced, contemporary hotel should be. Hart's is, indeed, a very good hotel. I was pretty sure it would be – otherwise I would not have trundled northwards from London for 120 miles in the Silver Cloud. For Hart's is the progeny of Tim and Stefa Hart. They run the wonderful Hambleton Hall in Rutland, and their name above the door of this new venture suggested to me that it would be something special. My expectations were reinforced by the knowledge that the General Manager was none other than Rupert Elliott, a charming fellow I had encountered previously at the said Hambleton and at The Stafford in London.
Aided by faxed directions, I pleased myself by arriving at the hotel gates without a single wrong turn. Gates at a city centre hotel? Yes, for I was entering a large complex of restored Victorian buildings – a remarkably quiet enclave right in the middle of town. All highly impressive, and evidence that Nottingham has come a long way since the days of my youth. A gentleman rushed up and guided me through the barrier of the car park and into the space reserved for me. I looked up at the hotel exterior. Designed by a local architect, Julian Marsh, it is clean, modern and stylish.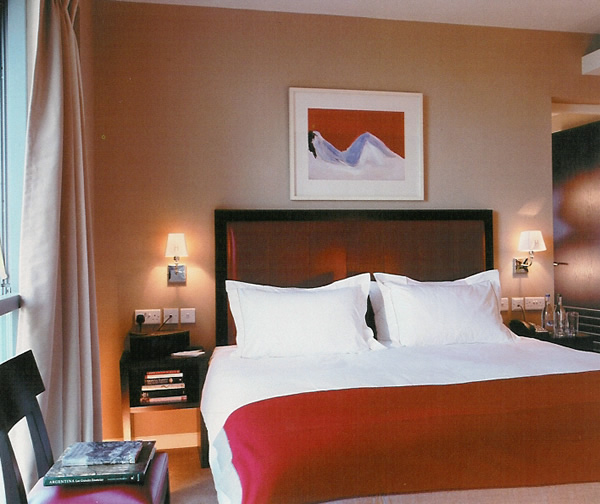 As is the interior décor, chosen by Stefa Hart. Of the 30 rooms, mine – number 4 – was a Garden Room and therefore priced at £172- £187 a night, bed and breakfast for two, according to season. Its size was modest, but the off-white walls, light wooden furniture and grey carpet created a restful atmosphere. I stowed my valuables in the safe, found Classic FM on the wireless and sat on one of the two upright chairs. Then I noticed the duvet on the bed. I understand that many people like this device: I cannot tolerate it. It causes me to over-heat during the night in a most alarming manner. I lifted the telephone and spoke to the friendly folk at the Reception desk. In a trice, the offending item had been replaced by sheets and blankets. This efficient level of service was maintained throughout my visit.
Now I was tempted through the French window and into the communal garden. I like gravel paths and well-tended lawns, and here they were – small and perfectly proportioned. I also like views, and from this vantage-point I could see for miles across the plain of Nottingham. Wooden chairs and circular sunshades were about, so my mind wandered to afternoon tea.
A squint at the half-hunter told me that, in fact, it was time to prepare for more substantial fare. So it was back inside and through the sliding door into the bathroom. Here was a most pleasant surprise. Many less expensive establishments economise on the size of the bath. But not, I am delighted to report, Hart's. Amidst the white and grey and chrome, I was able to soak under the spotlights in a tub of generous proportions. A decent cleansing always assists my appetite, and I was keen to do my dinner justice – for the restaurant at Hart's has a high reputation.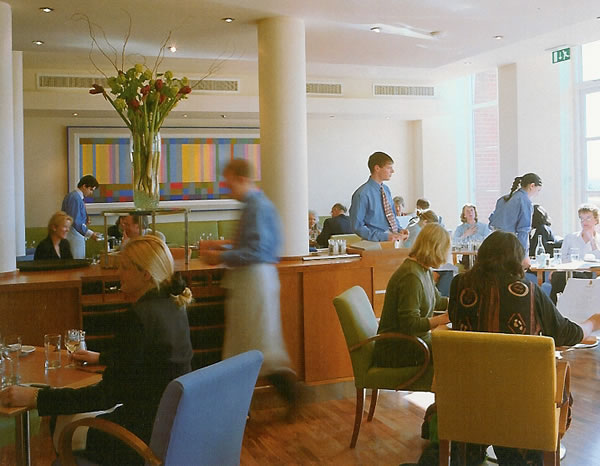 It is housed in a separate building, about thirty paces from the hotel's front door. It is a busy and buzzy place, much liked by the diners of Nottingham. Again, lightness is the decorative theme. The white chamber is enlivened by slender pillars, a polished wooden floor, scattered splashes of painted colour and the waiters and waitresses in their blue shirts and red ties.
Chef Allan Gleeson prepares some fine ingredients with considerable flair. I enjoyed his dishes not only for their well-judged balance of flavours but also for their careful and pretty presentation. Warm lobster salad with mango salsa came on a rectangular glass plate. The lobster was wonderfully soft and quite delicious. Deep-fried goat's cheese with rocket and Parma ham was less successful, for it was a little too large and a little too heavy for its own good. But with the tender, flavoursome, honey-glazed duck breast standards zoomed back up. With this I had a side dish of green beans and shallots, and I recommend that you do the same. These beans, halved length-wise, were quite the best green beans I have ever tasted. Remarkable. To finish, I bagged the last rhubarb crumble soufflé available that evening. Its popularity is well-deserved.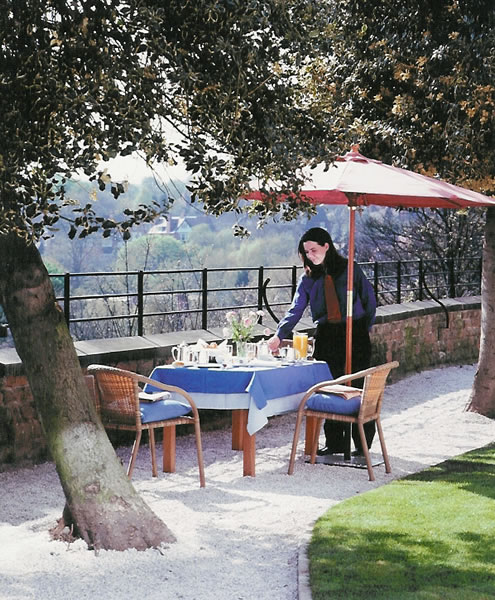 With a little pot of crème Anglaise and a scoop of rhubarb sorbet, it made a fine finale to a good meal. (£50.95 for these four courses.)
Forty whites and thirty-five reds make up the wine list, which is printed on one large sheet. Prices range from a red South African at £15.50 (The Ruins organic pinotage, Eilandia, 2003) to 1996 Dom Perignon champagne at £125. Most countries of the New and Old worlds provide offerings. The excellent Alamos chardonnay from Argentina in its 2004 vintage comes in at £21 and claret from the great 1982 vintage is represented by Chateau Lanessan at £69.
Breakfast in the garden would be a joy at Hart's, but the weather was cool, so I repaired to the hotel bar. Here, sitting on soft cushions on the banquette, I tucked into sausages, bacon, fruit salad and croissants, washed down with decent coffee. One of the nice young ladies turned off the music, so this was a most civilized start to the day.
Actually, I think civilized is the right word to sum up my experience of this hotel. I am glad that I have visited Nottingham once more. And I am glad that Nottingham now has Hart's. I think Auntie Maud would have liked it.
---
ADDRESSES
HART'S HOTEL
Standard Hill, Park Row, Nottingham NG1 6FN, England.
Telephone +44 (0)115 988 1900
Fax +44 (0)115 947 7600
Email: ask@hartsnottingham.co.uk
www.hartsnottingham.co.uk
Double rooms from £120, breakfast extra