United Kingdom
BUCKINGHAMSHIRE
HARTWELL HOUSE, AYLESBURY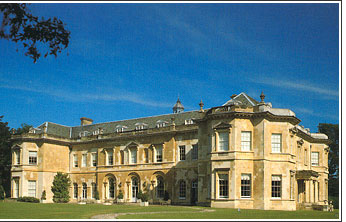 Fifty miles north-west of London is one of the loveliest hotels in England. If you like Georgian architecture (and who, in their right mind, does not?), you will love Hartwell House. It is just 2 miles from Aylesbury, in Buckinghamshire. But those 2 miles might as well be a thousand, thanks to the secluding effect of the 90 acres of Hartwell's wonderfully landscaped park. This is a merciful blessing, for Aylesbury is an awful place – the drab and dispiriting result of letting town planners and developers have their way.
But Hartwell is another world. I turned the Royce off the A418 and we trundled down a lane, over a bridge, through gates and headed down a gentle hill. To the left was an 18th century church – octagonal, with four towers, in the Gothick style – and then, past trees on my right, the House came into view. In the middle of an oval lawn, Frederick Prince of Wales, bestrode his horse. In the distance, a handsome bridge (the central span, I discovered later, of the old Kew Bridge) took the drive away over a lake. The Silver Cloud eased to a halt outside the main entrance, and she and I beheld the golden stone of the façade.
Not as completely Georgian as I had anticipated. In fact, it was clearly 'Georgianized' Jacobean. Indeed, a tour of the house revealed a most impressive early 17th century staircase. Yet so much work was done here in the following century – by men of the stature of James Gibbs and Henry Keene – that the whole place is imbued with light, Classical elegance. So let us not dwell on the building's origins – not least because the first owners, the Hampden family, caused a deal of trouble for our Royal Martyr, King Charles I. Instead, let me assure you that this important part of our architectural heritage is in good hands.
I am becoming something of a fan of Historic House Hotels Limited. The company specializes in taking on grand buildings which have fallen on hard times, restoring them with care and taste and then running them as hostelries. This would be an admirable enterprise, even if the resulting hotels were not of the top quality. But they are. As I walked through Hartwell's reception rooms – there are four and each is ravishing – I loved the rich confection of long-case clocks, fine rugs, polished mahogany furniture, ravishing drapery, plump sofas and expensive wallpapers. I stopped counting the oil paintings – all of decent quality – at forty.
Of these chambers the most remarkable is the morning room, with its 18th century plasterwork ceiling by Thomas Roberts of Oxford. For proportion and elegance, I judge you will not find a better room in any hotel in Europe. I found a pretty little settee and ordered some coffee, anxious to linger. My thoughts drifted to a previous occupant of the house… none other than Louis XVIII of France. While his country dallied with the diminutive Corsican, the exiled King and his court lodged here until 1814, and it was in Hartwell's library that Louis signed the document confirming his accession to the throne.
Coffee drunk, it was up to room number 9 on the first floor, over the main entrance. A 'Royal Twin' (and therefore £380 a night, bed and breakfast for two), this was a billet of impressive proportions. I estimated the length (into the stone-mullioned bay window) at 25 feet and the ceiling height at 12 feet. As downstairs, good taste was in evidence in the choice of furnishings: 2 wing chairs, a Georgian mahogany slope-front bureau, a Regency marble-topped circular table, an 18th century walnut chest-on-chest and a large wall tapestry. Good lighting came from 6 table lamps and 2 wall lights.
From the small selection of books, I picked up The First Time I… This remarkable volume, edited by the Honourable Theodora Benson in 1935, includes a chapter by Prince Leopold Loewenstein-Wertheim entitled, "The First Time I did the 'Goose-Step'".
In the bathroom was one wash basin, a bath which passed my 'tub test' (i.e. it was long enough to allow me the impression of floating), a cork floor, Crabtree & Evelyn toiletries (including a first for me – a tiny box of talcum powder) and really good 6 foot bath towels. In my ablutions, as with much else at Hartwell, I had the feeling of staying in a private country house. And, despite my intense scrutiny, I could find only three small imperfections with my accommodation: there was no shoe horn, there was a pedal bin in the bathroom (rather than a convenient open-topped bin) and the coat hangers – in the two walk-in wardrobes – were of the type with the top part of the hook forever attached to the rail. These last require a degree of hand/eye co-ordination which I do not always possess after a good dinner…
And it was a good dinner – in the Soane Room, a recent creation inspired by Sir John Soane's work in the 19th century at number 11 Downing Street. Below one of its three domes, I sat in a Georgian-style wooden armchair at a round table with a white tablecloth and a single Corinthian column candlestick. Dusk was falling, but I could still see through the window opposite the obelisk at the far end of the lawn. From the hall, there drifted in the pianist's version of 'Tea for Two'.
Chef Daniel Richardson's food does not attract the Michelin stars. Nevertheless, it is pleasingly straightforward, carefully done and prettily presented. Seared scallops with a tomato and shallot dressing, pan-fried sea bass on a dauphinoise potato with a port and truffle sauce, noisettes of local lamb with onion confit and mushrooms and a passion fruit soufflé – each dish had its merits, with the succulent sea bass and the tender lamb equal first in the gastronomic stakes. Three courses cost £46, four courses are £57.50 and five (including cheese) are £66. Coffee is included in these prices, although I was told espresso was not available. Service, from waiters and waitresses in waistcoats and bow-ties, is friendly and efficient. Gentlemen guests, I am pleased to report, are required to wear jacket and tie – and one fellow diner, I am even more pleased to report, was sporting his dinner jacket. Clearly, Hartwell brings out the best in people.
Drinking here can be very good indeed. But I must make a plea for better glasses. The ones provided are woeful (think of a rounded 'v' on a stem), and entirely inadequate for good wine. Which is a pity, because the cellar houses some lovely bottles from the New and Old Worlds. Clarets include 1981 Pétrus (£590), 1983 Haut Brion (£181), 1985 Palmer (£170) and 1996 Giscours (£87). For burgundy fans, there is DRC Romanée St-Vivant 1993 at £370. From Australia comes 1989 Penfolds Grange at £210 and from Austria a great sweet wine – Bouvier TBA 1995, Willi Opitz (£89, half).
Sommelière Nathalie Scattarelli brought me a 1999 Australian chardonnay with a toasty nose and some citrus fruit (Cape Mentelle - £34), and a red bordeaux from a great chateau but a difficult year – 1997 Lynch Bages (£70). I last tasted this a year ago at one of Alain Ducasse's establishments in France. It will not improve, but it is still a lovely mouthful – nutty, full of damsons, very long and structurally so different from New World wines.
As the Royce and I slowly lurched back up the hill to begin the journey back to London, I asked myself the question the poet Byron put to Louis XVIII in 1814:
Why wouldst thou leave
Hartwell's green abode…?
Why, indeed? For Hartwell House is a very, very good hotel.
---
ADDRESSES
HARTWELL HOUSE
Oxford Road, Near Aylesbury, Buckinghamshire HP17 8NL, England. (2 miles south-west of Aylesbury on A418.)
Telephone +44 (0)1296 747444
Fax +44 (0)1296 747450
Email: info@hartwell-house.com
www.hartwell-house.com
Double rooms from £235, breakfast extra
Enquire about short breaks