FRANCE
LILLE
L'HERMITAGE GANTOIS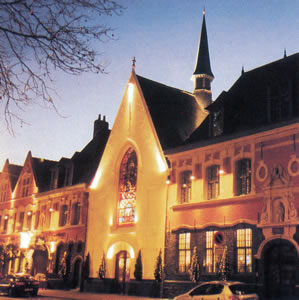 Lille is an interesting city, with an attractive centre of some grandeur. It is not, however, crowded with luxury hotels. But it does have one gem. The Hospice Gantois was founded in 1462 by Jean de la Cambe (whose nickname was Gantois) as a refuge for the sick and the elderly. For more than five hundred years, staffed by nuns, it fulfilled this admirable role in the heart of the city and, doubtless, brought relief and comfort to its inmates. In 1995 it closed, and a massive restoration began of its remarkable assembly of 15th, 17th and 18th Century buildings and courtyards. It re-opened in 2003 as the city's grandest hostelry, the Hotel L'Hermitage Gantois. In its former incarnation, it had been a place of pilgrimage, for its chapel contained important relics of St John the Baptist. Today, it attracts travellers who seek out only the finest places of lodging – travellers like myself.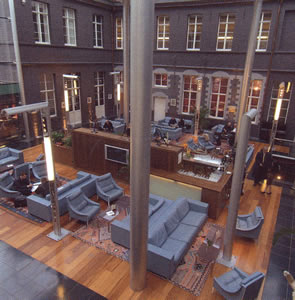 My journey, because of some unpleasant weather, had been rather stressful. But it was wonderfully reassuring to stride into this beautiful building and to be surrounded at once by multifarious signs of comfort and good taste. The combining of ancient buildings with modern décor and contemporary works of art is done particularly well by the French, and the public spaces of L'Hermitage Gantois provide conspicuous examples of their skill. And it was to be found in my accommodation, too.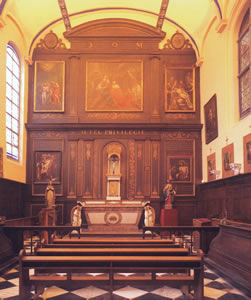 The hotel has 72 rooms. Mine was upstairs. But, before I ascended in the lift, I could not resist a brief tour of the ground floor – including, of course, the fine chapel, which must make a lovely (and convenient) setting for weddings. The whole property has a charming atmosphere of graciousness. I put this down to the lingering spiritual presence of those hard-working and caring nuns.
Suite 310 (439€-645€ a night for two, breakfast extra) had period style and modern furniture. The former was most conspicuous in ancient beams above my head and in the wooden paneling on the walls of both the sitting room and the bedroom, and the latter included a Perspex armchair and a writing table made of aluminium.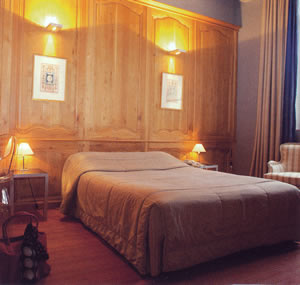 Both these rooms were about 12 feet square. A settee upholstered in velour of pale gold and a carpet of red (as well, of course, as a controllable heating and air conditioning system) established a warm and welcoming atmosphere. I particularly liked two unusual features. The first was a complimentary decanter of port. (I am not port's most enthusiastic fan, having drunk it excessively on too many occasions as an undergraduate. But it was good that it was offered.) The second was something which I had never encountered previously. There was an umbrella provided for my use. Nothing remarkable about that, you might justifiably opine. But attached to the gamp was a message, "Emportez moi!" or "Take me away!" So I did. In the grey-tiled bathroom was my private safe, as well as a tub of decent size (over which was the shower) and a wash basin of the ultra modern sort, which meant it did not have a plug. The loo was in a cloakroom off the hall.
I liked this suite very much, and was almost tempted to stay in it for breakfast (21€). But I am a gregarious sort of chap and I like to break the fast in the public arena. I therefore went down to the Restaurant and found exactly what I expect in France – a buffet stocked with comestibles of the very highest quality. There was, unfortunately, canned music, but one of the friendly waitresses responded to my entreaty and changed it from ghastly 'pop' to pleasing Classical. Thus mollified, I tucked into Corn Flakes, bacon and scrambled eggs, excellent breads, fruit salad, croissants, orange juice and coffee. Thus did the morning hours drift by in a most satisfactorily manner.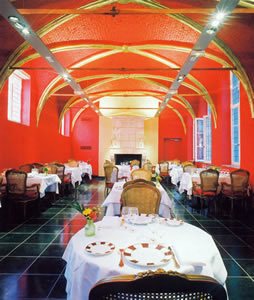 I had not heard much about the restaurant, so I was unprepared for the truly splendid dinner I enjoyed in the evening. Chef Olivier Malewicz is clearly a gentleman of real talent, and the four courses which came to my table were certainly of a standard to make the Michelin inspectors think seriously about awarding one of their coveted stars. Two set dinners are offered: one with three courses for 52€ and another with 5 courses for 72€. My four dishes from the carte were 95€.
I began with some lovely dried Spanish ham, Cecina from Léon, stuffed with vegetables and served with a thick and luscious velouté of cep mushrooms. This alerted me at once to the intelligence and ability of the kitchen, and prepared me for the next course, which was certainly the highlight of the meal: chicory cappuccino (think of a soup) with crunchy potatoes flavoured with truffle. This was absolutely delicious, with each element precisely cooked and contributing to the overall balance and harmony of the whole. And the wild sea bass – with delicate and yielding flesh, embraced by chicory butter and salsify – was nearly as good, even if the accompanying light spinach mousse was a distraction. I finished with a proper soufflé, this one of Grand Marnier – with an intoxicating nose.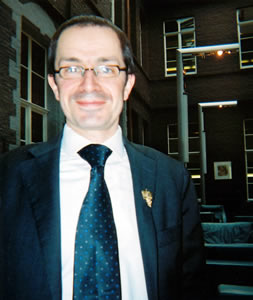 These delights I consumed in a vaulted chamber decorated in red, seated in a fauteuil covered in scarlet velvet, not far from a real fire in a stone fireplace, and with the notes of a saxophonist drifting in from the adjacent covered courtyard. These were enough reasons to be pleased.
But there was another one. The wine list was not long, with just 73 still wines and prices running from 31€ for a red Loire to 690€ for the 1994 Chateau Margaux. But it did strike me as interesting – with 1990 Ch. Pape-Clément (430€), 2004 Corton Charlemagne, Vougeraie (240€) and 2007 Ch. Giscours (125€). Then I saw the reason for the excellence of the selection: the Restaurant Manager.
I last encountered Nicolas Laurent (pictured) when he was the Sommelier at La Tante Claire, the former restaurant of Chef Pierre Koffmann in London. A sommelier at a three-star restaurant knows his wine, and I could always rely absolutely on Mr Laurent's palate to deliver me delicious drinking to go with the superb food at 68 Royal Hospital Road. Now, at L'Hermitage Gantois, when he recommended a white burgundy for only 44 euros, I could not wait for him to start pouring it into my glass. It was spectacularly good – bright gold, with a smoky nose, discreet fruit, a tight, elegant structure and beautifully judged acidity (Bourgogne Hautes Côtes de Nuits, Les Dames Huguette, 2008). It was a privilege to drink such a wine with the sea bass. I must have thanked this fine gentleman so many times over the years. And now I thank him again. Well done, Monsieur Laurent.
There is plenty to do and to see in this city in northern France. And now there is another reason for a visit – a fascinating place to stay with a truly excellent restaurant. The Hotel L'Hermitage Gantois will certainly tempt me back to Lille.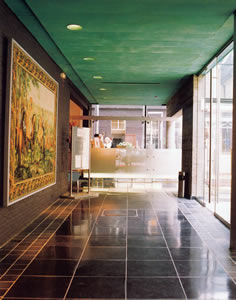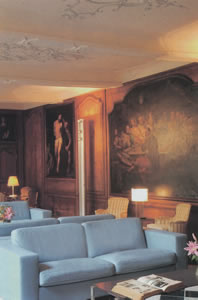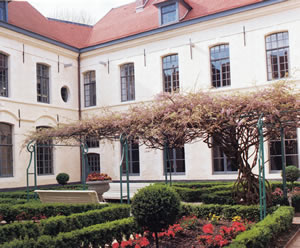 ---
ADDRESSES
HOTEL L'HERMITAGE GANTOIS
224 rue de Paris, 59000 Lille, France.
Telephone +33 (0)3 20 85 30 30
Fax +33 (0)3 20 85 31 31
Email: reservation@hotelhermitagegantois.com
www.hotelhermitagegantois.com
Double rooms from 159€-295€, breakfast extra (21€), according to season
Ask about special offers