UNITED STATES
CALIFORNIA
CARMEL
HIGHLANDS INN & PACIFIC'S EDGE RESTAURANT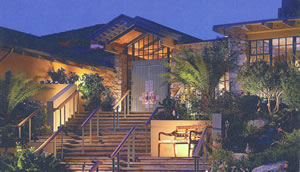 I used to know the Highlands Inn years ago, when it was the venue for the wonderful Masters of Food & Wine event. (That particular jamboree has long since moved elsewhere, and transformed itself into something much bigger and rather different.) I therefore have the fondest memories of this elegant hostelry, which overlooks the Pacific Ocean and is only one mile from the Point Lobos nature reserve. It was intriguing to return as a 'normal' guest. The buildings, which sprawl up the hillside, were much as I remembered them – very Californian, in their use of wood and natural materials. The members of staff at the front steps were still just as keen to whisk away my Cadillac. But what struck me most about what I found was the continuing excellence of its cellar. And, I should add, the brilliance of one of its sommeliers.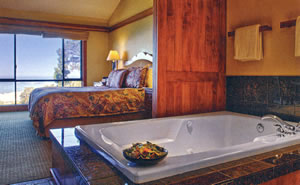 The turning off Highway One is sharp and takes one up a decent slope. I noticed at once that a handful of hotel rooms jutted out above the road. These rooms had not impinged upon me before. When I checked in, I found that I was billeted in one of them – room number 540 ($400 -$500 a night for two, breakfast extra). It had balconies front (over the road) and back (next to the swimming pool), but I fear the former was affected by traffic noise and the latter afforded no privacy. The room itself was of modest size, with only one chair (at the desk) – so I brought in one of the wooden balcony chairs. The bathroom was also small and the wash basin was located in a carpeted area next to the fitted wardrobes.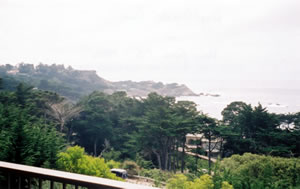 The best features of this accommodation were the working fireplace and the superb view of the sea (pictured). The latter is shared by every room at the Highlands Inn. I would therefore strongly recommend that you go for one of the more expensive rooms, further up the hill. These are impressive, as I know from my previous visits. In such quiet, spacious and welcoming surroundings you will appreciate more fully what the Highlands Inn has to offer. They are also arranged so that you can get your car close to them. (My room was quite a trek from where I had to leave my car with the gentlemen who ran the valet parking.)
Less formal eating (at breakfast and lunch) is done at a dining room called the California Market. Here I breakfasted, and breakfasted well. (Allow $35-$40.) Seated at a table on its terrace, I had the most engaging view of the coast. The sun shone and my waitress was friendly, as I tucked into toast, orange juice, poached eggs and bacon – all of them very good indeed. I did ask whether my coffee might be served in a cup and saucer, but it seemed that mugs were de rigueur.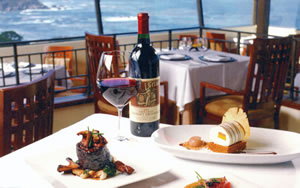 In the evening, at the Pacific's Edge Restaurant, Mother Nature was again kind. Through the huge plate glass windows she treated me to a magnificent sunset of profound redness over the Pacific. "Red sky at night: shepherd's delight." And this little shepherd boy was delighted. Indeed, I felt privileged to look upon such Majesty.
Upon the white cloth of my table stood Spiegelau glasses. Bart, my waiter – smart in his uniform of a blue shirt and a blue apron – was careful to re-fold my napkin when I left the table for a moment. My numerous fellow diners all seemed to be enjoying themselves. The atmosphere was good. Executive Chef Matt Bolton sends from his kitchen substantial dishes which are straightforward in conception and careful in execution. I enjoyed a brussel sprout salad with a cider-bacon vinaigrette, heirloom tomatoes with summer truffle and garden herbs, rack of lamb with ratatouille and plum-ginger upside down cake. (Allow around $80 for four courses.)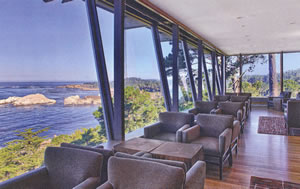 The wine list overseen by Wine Director Paul Fried properly attracts much praise. Among its 1,700 offerings from around the world are 30 German dry whites and nine vintages of Opus One. Prices range from $40 for a Spanish white to $3,200 for the 2006 DRC Montrachet and $5,500 for 1982 Lafleur à Pomerol. 1990 Mouton Rothschild is $950, 2000 Cheval Blanc is $795, 1987 Solaia is $450 and 1982 Penfolds Grange is $850. And here we come to the brilliance of the sommelier, Don Mallery. For my white he brought me exactly what I wanted: a gorgeous German riesling of only 9·5% alcohol with suggestions of apple, almond and apricot and with that nose of petrol I like so much (Schloss Schönborn-Erbacher, Marcobrunn spätlese, 1988 - $90). And then came the revelation. I was thinking about the usual Californian cabernet sauvignon, but Mr Mallery persuaded me to try a red zinfandel. Now, like most people, my experience of this grape has been off-putting, and my memories were all of fierce, unyielding, coarse fruit. But what was poured into my glass was superb: a perfectly structured, complex wine, bursting with ripe back fruit, with layers of smoke, leather and chocolate (Carol Shelton, Wild Thing, 2006 - $40, half). I shall never dismiss zinfandel so lightly again. And for this moment of revelation, I thank Mr Mallery and the Highlands Inn.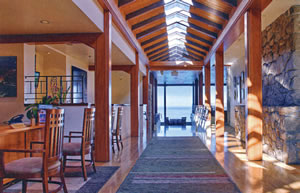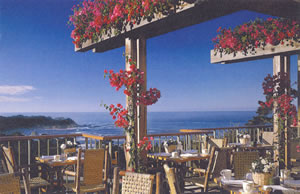 ---
ADDRESSES
HIGHLANDS INN
120 Highlands Drive, Carmel, California 93923, U.S.A.
Telephone +1 831 620 1234
Fax +1 831 626 1574
www.highlandsinn.hyatt.com
Double rooms from $400-$500, breakfast extra
Check rates for specific dates on the internet