United Kingdom
ENGLAND
SUFFOLK
IPSWICH
HINTLESHAM HALL
PLEASE NOTE - THIS HOTEL IS NOW UNDER NEW OWNERSHIP & MANAGEMENT.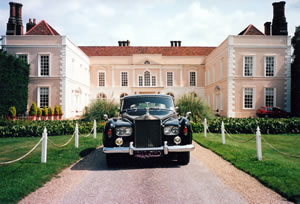 One of the loveliest hotel suites in England is to be found in the Suffolk countryside, not far from Ipswich. I have had the good fortune to stay in many grand suites in many fine hotels, but this is the first I have encountered with a magnificent ceiling of white stucco dating back to the 1680s and with a dressing room which was once – during the brief and inglorious reign of King James II – a Catholic chapel. And, to make this set of rooms even more remarkable, the price to stay in it is something of a bargain. To enjoy this marvel of English hospitality, you must make your way to Hintlesham Hall.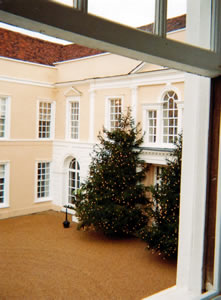 Hintlesham Hall is, as it should be, in Hintlesham – a village which is just far enough from Ipswich to preserve a real sense of being in the countryside proper. It is a quintessential English manor house, a happy medley of architectural features from the Tudor, Elizabethan, Stuart and Georgian periods. As you can see from the photographs, the Classical proportions of the main façade make an harmonious backdrop for my elderly motor car. It has 33 rooms, some in the main house and some in the converted stable block. Within the estate's 175 acres are a health and beauty centre and a golf course. Its owner and Managing Director, since 2003, has been Dee Ludlow. I am happy to report that she has maintained and enhanced the lovely sense of welcome for which Hintlesham is justifiably renowned. She is a splendid lady, and her instincts as an hotelier are exactly right. Thus, for example, at Hintlesham Hall you will find absolutely no canned music – anywhere. For which blessing, I say, "Three cheers for Dee!"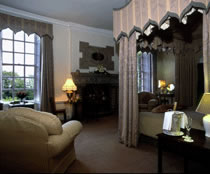 And she deserves a further three for providing for her fortunate guests room number eleven. 'Room number eleven' does not sound very impressive, does it? So let us use its other name – The Braganza Suite. It occupies the first floor of the right hand wing as you look at the main façade of the building. I reached it by walking across the Long Gallery. The handsome door admitted me to the suite's drawing room. And there was the ceiling – a creation of the finest workmanship and measuring (as, of course, does the room) about 15 feet by 30 feet. I hope my pictures give some impression of the magnificence of this space. With its marble fireplace, oil paintings, casement windows, sofas and pieces of period mahogany furniture, this room lifted my spirits and delighted my eye. There is even a 'secret' door to the right of the fireplace. (The space behind it is currently just a cupboard, but it would make a wonderful walk-in wardrobe or a lavish drinks cabinet.)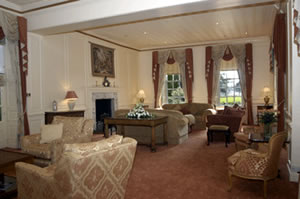 From the drawing room a door led to the aforementioned dressing room, about 12 feet long, once thought to have been the chapel of the Recusant owners. Thence it was into the light and spacious bedroom, wherein were two wing chairs upholstered in striped velvet, three casement windows and a fireplace with a mantel in the Classical style. The adjacent bathroom was well equipped, with a free-standing bath, a large walk-in shower, a loo, one wash basin and the suite's third television.
And the price of all this? £550 a night, bed and breakfast for two – which must count as one of the hotel bargains of Britain. (Other double rooms at the hotel are priced from £160.)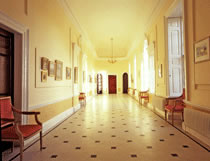 Hintlesham Hall is not one of those establishments which import the City into the Country. The place has a 'lived in' air, and it was not difficult for me, at various moments during my visit, to imagine that I was staying at a private house rather than at an hotel. This was particularly true when I sought out afternoon tea (£15). I had arrived well in time for the afternoon ritual, so at four o'clock I made my way downstairs, to one of the sitting rooms (the hotel has several, all generously stocked with comfortable sofas and gilt-framed paintings) and selected a quiet corner. Here I tucked into sandwiches (those with cream cheese and chives were particularly good), strawberry tartlets, chocolate éclairs and scones with raspberry jam.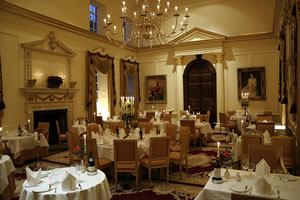 My next eating was done in the Salon (pictured). I sat at table number three, next to the fireplace, and admired the Salon's proportions. It was a decent setting for dinner. Crisp white napery and good glassware set the proper tone. I asked for the huge chandelier to be dimmed, and thereafter – with the single candles on each table lit – the atmosphere was both formal and relaxed, as it should be in a dining room. I looked around and thought that I was in as respectable a gathering of diners as I had encountered in many a year. They probably would never have dreamt of breaking the hotel rule against mobile telephones in the restaurant, but I was glad that the prohibition was in place. It should be enforced everywhere. (I also ate in the panelled Parlour, a smaller but equally elegant chamber.) The service – from René d'Arachny, the Maitre d', and from Yuri (from the Ukraine) and the other waiters in their black waistcoats – was correct and friendly. (Incidentally, Mr d'Arachny, despite his exotic name, is very English.)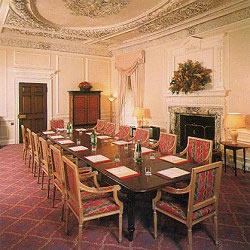 Chef Alan Ford cooks with confidence and skill. This is not the land of Michelin stars, but it is the land of honest, enjoyable, straightforward food marked by clear flavours and careful presentation. Indeed, he puts the following message in the menu card: "If you would like any ingredients on the menu cooked simply and plainly, please just ask."
Allow me to share with you the highlights of my dinners at Hintlesham. (A 3 course set dinner is offered for £33, and three courses from the carte for £45, with some dishes attracting supplements.) Charred haunch of venison, flavoured with cumin and served with sweet shallot purée, cranberry and watercress, was a well-judged starter based upon tasty and tender meat. Caramelized scallops were precisely cooked, and a carpaccio of grilled vegetables was prettily served on a white rectangular plate. Breast of Gressingham duck came some of the most delicious carrots I have eaten for a long time. Taking Mr Ford at his word, I asked for the fillet of beef to be presented simply, with chips and fried onions. And so it was, and it proved a substantial and thoroughly enjoyable dish. Of the cheeses, the Stilton and Cheddar were both excellent; and, of the puddings, my favourite was the delightful passion fruit pannacotta with fresh mango and mango fizz.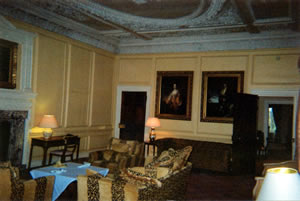 There are 300 bottles and 30 halves on the wine list, and most parts of the wine-growing world are represented. Prices are friendly, ranging from £21 for a 2006 Première Côtes de Blaye to £550 for 2000 Cristal rosé champagne. Krug Grande Cuvée is £195 and a half-bottle of 1997 Yquem is £160. There are some interesting clarets – such as 1998 Lynch Bages (£105), 1986 Latour (£390) and 1990 Pichon Lalande (£230). I tried two German dry rieslings. The 2009 Kabinett, Klusserather St Michael, Mosel (£22) was straightforward with tiny hints of desirable petrol in the nose, and alcohol of just 9.5%. The alcohol level of the 2008 Piesporter Michelsburg was even lower (8.5%) and proved fresh, bright and particularly good with the cheese. I stayed in Bordeaux for my reds: a stern and muscular Margaux (Paveil de Luze, 2006 - £54.50) and a wonderful 1998 St Julien, drinking beautifully now, with a gorgeous nose of ripe damsons, blackcurrants and damp oak (Ch. Les Fiefs de Lagrange - £62).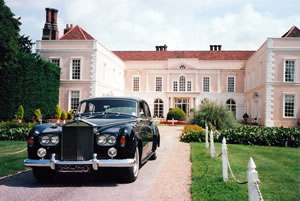 At breakfast I found that the Salon looked as good in the day as it had done in the evening. I tucked heartily into the (very good) fresh fruit salad, secured from the buffet table, and into bowls of hot porridge and plates of splendid crisp bacon, brought from the kitchen by the waiters. They also kept me well supplied with cafetières of coffee and my customary, concluding cappuccinos. This was a good and leisurely way to start each day.
In fact, my whole stay was both good and leisurely – and made very special by my discovery of one of the loveliest hotel suites in England. Thank you, Hintlesham Hall.
---
ADDRESSES
HINTLESHAM HALL
Hintlesham, Ipswich, Suffolk IP8 3NS, England.
Telephone +44 (0)1473 652334
Fax +44 (0)1473 652463
Email: reservations@hintleshamhall.com
www.hintleshamhall.com
Double rooms from £160, including breakfast
Ask about special offers