RUSSIA
ST PETERSBURG
HOTEL ASTORIA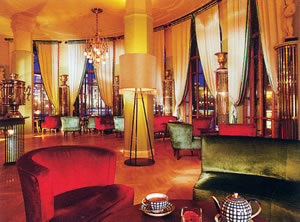 As long as you can cope with the two unpleasant aspects of a trip to St Petersburg – the tedious and time-consuming business of obtaining a visa and the hellish battle to get through the airport when you leave – the city offers boundless joys of the most civilized kind. We all know of The Hermitage, of course (ah, those Impressionists, at the memory of which I can still sigh), but there are a hundred other palaces besides the Winter one, all slotted in carefully by the canals and the parks. We should, truly, all visit this place, for it is one of the great cities of Europe. And a stay at the Hotel Astoria is pretty good, too. It is one of Rocco Forte's hotels and therefore, as you would expect, its location is splendid: in St Isaac's Square, overlooking the eponymous cathedral.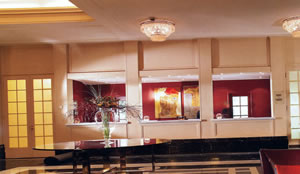 Built in 1912 to a design by Fyodor Lidval, the hostelry stands up well to the domed grandiosity of its 19th century ecclesiastical neighbour. Externally, it is stern, dignified and upright. 1912 was not the ideal moment to be brought into the world, of course. The First World War was about to begin, and the Revolution was only five years away. And, as we know, the Bolsheviks were never quite as keen on luxury hotels as they should have been. But now, in happier times, the Astoria thrives, and its two hundred rooms are frequently occupied by important persons from around the world. Internally, after it became part of the Forte Collection in 1997, it was decorated by Olga Polizzi. Upon entering, I was immediately struck by the light elegance of the public areas. There is modernity, but the sense of the past has not been lost. This is why I think it appropriate to bring before you a couple of pictures of the hotel from the 1930s.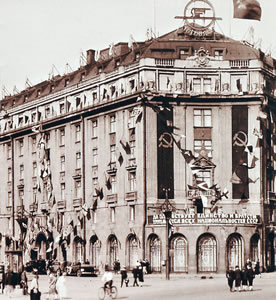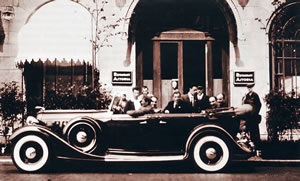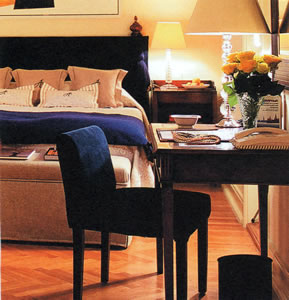 I was soon up on the third floor (the American numbering is used, so this was what we English would call the second floor), walking along the sombre corridor to room 325. This was a Junior Suite and therefore 60,000 roubles a night for two, breakfast extra. Off the long hallway were a walk-in wardrobe and a glass-panelled door to the bed-sitting room. This was a large chamber indeed – I estimated the size to be 25 feet by 12 feet – in white (the walls), brown (the parquet floor) and dark blue (the three-piece suite). Its air conditioning was quiet and efficient (important features, for St Petersburg can be very hot, as well as very cold), and the atmosphere was that of cool minimalism, softened by the warmth from the light of five table lamps. In the smallish bathroom of grey marble were one wash basin, six spotlights and a tub of good size. On the television was a system of music which enabled me to wallow in the lush melodies of Ravel and Gershwin, and thus create an atmosphere of happy comfort.
But one aspect of the apartment did trouble me: the apparent lack of privacy. The two large windows of the bed-sitting room looked out into a central well and there were windows opposite. There were no net curtains, so it seemed that it was either darkness and privacy (with the heavy curtains drawn) or daylight and no privacy. It is much to the Astoria's credit that, when I explained my concern to the front desk, enormous trouble was taken to find net curtains of the right size and have then fitted especially for me within three hours of my arrival. For this I give the establishment top marks – as I do also to the ladies of the Housekeeping department, who slaved mightily to make my bed soft enough for my wretched back, eventually installing no fewer than nine duvets under the bed's bottom sheet.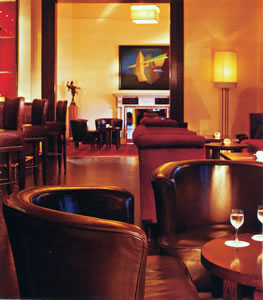 The lady at the Concierge desk also proved helpful, with regard to taxis. You should be advised that, if you flag down a taxi on the streets of St Petersburg, you will need to negotiate a price for the journey before you set off. If you do not, you must be prepared for a shock when the driver – without benefit of meter – makes up a fare when you reach your destination. The answer is either to use the hotel car or to have the hotel ring City Cars, 20 minutes before you want to set off, and arrange a taxi for a set price. (I made it my habit also to have the return taxi booked at the same time.)
I soon mastered this routine and set about my daily sightseeing. Yet I did not do so before a hearty breakfast.
It is a truth which should be universally acknowledged that the second and subsequent breakfasts in any hotel are always better than the first. (This is one reason why no hotel should be judged on the basis of a single night's stay.) A good breaking of the fast requires a relaxed and settled frame of mind. The first encounter with the breakfast room is unlikely to give you the best table or the finest selection from the food available. On my second and subsequent mornings, at a corner table in the hotel's Davidov Restaurant, with a view of St Isaac's Cathedral, I tucked into fresh melon, crisp bacon, onion omelettes, chunks of a version of warm bread and butter pudding and slices of tip-top crusty bread, washed down with iced coffee. (This last is my own conceit: a pot of hot coffee and ice cubes in my coffee cup.)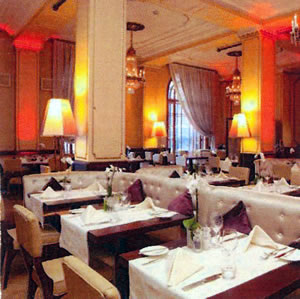 I returned to the Davidov Restaurant and to the same table for dinner. Now the columns, the polished parquet floor and the crystal chandeliers seemed to make a bolder statement. The members of the waiting staff, in their black uniforms – particularly a bright young fellow called Sasha – were friendly, efficient and courteous. But, for once, try as I might, I could not get the ghastly canned music turned off. (I proved similarly impotent in the mornings.) This is something the management of the Astoria needs to address. Canned music – particularly if it is of the 'pop' variety – is not appropriate for a good restaurant at any time of day, and when diners request silence, they should not have their request refused.
Chef Leonid Ivanov cooks his high quality ingredients with skill and care. I began with sea scallops with lemongrass, pear and pine nuts, an effective combination – new to me – of pleasing tastes and textures. The sautéed foie gras came with apple and raspberry, but even here there a bit of a surprise – beetroot sauce. My rack of lamb was a tasty piece of meat, and the concluding crème brûlée from the pudding trolley was well done. (These four courses were 3,200 roubles.)
I counted 284 offerings on the wine list, which whizzes around the world to good effect. Its strengths are in France and Italy. Prices range from 1,600 roubles for a Sicilian Nero d'Avola to 345,000 roubles for 1990 Cheval Blanc. Other bottles to catch my eye were: 1995 Ornellaia (65,000R), 1998 Solaia (51,000R), 1990 Palmer (51,000R) and 1997 Grange (33,000R). My own drinking comprised two excellent Chileans: a big, round, vanilla-laden chardonnay (Errazuriz Max Reserva, 2007 – 2,950R) and a well-balanced, tannic cabernet with lots of black fruit (Undurraga Founder's Collection, 2006 – 3,050R).
I enjoyed my time at the Hotel Astoria. It offers fine service and comfortable accommodation in a fine location. So, isn't it time you thought of a trip to St Petersburg? As a modest encouragement (I hope), I present to you a photograph of myself outside the Winter Palace.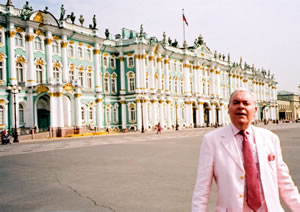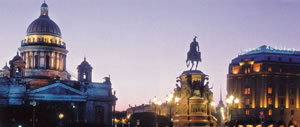 ---