Italy
RAVELLO
HOTEL CARUSO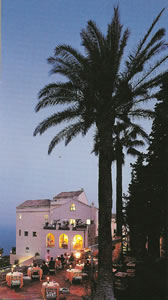 Occasionally, it pleases me to call to mind some of the better combinations I have encountered in my travels. I cannot help but smile when I remember that gin and tonic and that perfect Greek temple – in Agrigento, in Sicily. And then I always feel warm and comfortable when my thoughts drift to that rugged coastline and that most luxurious of log cabins – at Big Sur, in California. Now I have a new pairing to add to my list of 'greats': the view of a bird and the surroundings of a prince. This magical marriage sounds like the stuff of fairytales. In fact, it is on offer to all those lucky enough to stay at the Hotel Caruso, in Ravello.
The Amalfi Coast is one of the prettiest parts of Italy. Even if you have never been there, you are likely to have seen some of its wonders, for the makers of films and the advertisers of motor cars have long used its winding roads and impressive cliffs to add glamour and romance to their productions. 1,200 feet above this stretch of sea perches the exquisite confection of ancient churches and palaces which is Ravello. A thousand years ago one of those palaces was built by the D'Afflitto family. Much altered over the centuries, the building was opened as an hotel in 1893 by a gentleman called Pantaleone Caruso. Soon it was attracting guests of the very grandest sort. Eventually, they would include Greta Garbo, Humphrey Bogart, Jackie Kennedy... and me.
Of course, a great deal has happened to the hotel since Signor Caruso opened its doors. Most importantly, its current owners have poured $30 million into its restoration. 18th century frescoes have been uncovered, Norman arches have been repaired, hand-made tiles have been laid and 12th century stonework has been cleaned. As I hope my pictures convey, the result is truly wonderful. Elegance, history and good taste have combined to produce surroundings which are welcoming, comfortable and beautiful. The interior designer, Federico Forquet, is to be congratulated on the sensitivity with which he has respected the integrity of this important building.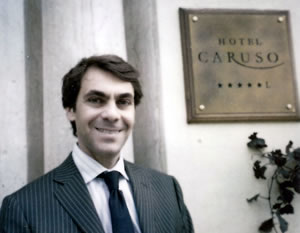 My taxi took about an hour and a half to get from the airport in Naples. On my arrival I was greeted by an old friend. I have conversed with Giampaolo Ottazzi at several of the finest hotels in Italy. Now, I am pleased to report, he is the General Manager here. Without doubt, the Caruso is in good hands. The picture was taken at the entrance to the hotel. This is not, you should note, any old entrance. It is, in fact, the entrance portal which once adorned the 12th century church in Pontone, and it is guarded by two 13th century stone lions.
Signor Ottazzi showed me to one of the hotel's 50 rooms. This was number 45 – a Deluxe Double and therefore 902 euros a night, bed and breakfast for two. This apartment of white and light blue was a model of cool sophistication. Off its proper hallway was a cloakroom (with a loo and shower) which was larger than some hotel bathrooms I have known. In the bathroom itself, 14 spotlights shone down upon the gleaming white marble and upon the large tub. I particularly liked the temperature control on the bath taps. Unlike most of these arrangements, it was completely effective and made the preparation for my bathing simplicity itself. I approved, too, of the roomy separate shower, the two wash basins and the separate loo with bidet. Toiletries were by Bulgari and Penhaligon and the bath robes were by Frette.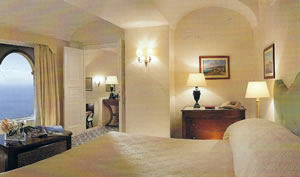 Bedrooms should be restful, and this one was. The bedside lamps were dimmable, so I could easily create a sense of calm and serenity. Equally important, the air conditioning was both effective and quiet. I am not one for watching television in my hotel room, so I like the receiver to be hidden away – as it was here, only rising electrically from its cabinet when I pressed the appropriate button. Yet the most restful aspect of this billet was through its large windows – the view. A door led onto my loggia, equipped with a table and chairs, and here it was my custom to sit, gazing down to the sea, as the waves swirled about the unyielding rocks far below. Sometimes it did, indeed, seem that I was hovering high over the water, sustained only by the breeze and by invisible wings. After the view of a bird, I would go inside, back to the comfort and luxury fit for a prince.
These joys were part of breakfast, too, for the weather was sufficiently clement for the breaking of the fast to be done on the terrace of the restaurant, with the same panorama set out before its fortunate occupants. From the buffet I took to the yellow tablecloth, in bowls and on plates of bright colours, melon, pineapple, stewed apples and croissants, and the waiters brought bacon and mushrooms and pots of hot coffee.
It became my custom to linger over these comestibles and after them to meander through the hotel's lovely gardens and walk by its 'infinity' swimming pool (pictured), surely one of the loveliest in the world. But one day I decided upon a spot of exertion, and therefore hurried myself along to be ready for the morning departure of the Caruso's shuttle 'bus. This whisked me to Amalfi, where I was escorted to the hotel's launch, for a gentle cruise along the coast, to and from Positano. I have seldom spent two hours more pleasurably. And, what is more, the Caruso provides this little adventure for its guests without any charge at all.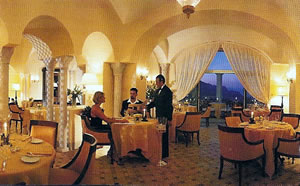 Dinner did, of course, cost a few euros. Again, from the restaurant terrace, my eyes were captivated by the scene below. But this time the fascination was in the twinkling of distant lights against the surrounding blackness. On each table a single candle flickered, as waiters in black ties and white jackets brought out dishes from the kitchen of Chef Mimo di Raffaele. I began with carefully cooked medallions of lobster, effectively combined with green beans and pomegranate. Then it was pasta, of the al dente sort, in the form of rolls, filled with ricotta cheese and citrus fruit and made tasty by excellent lamb ragoût. My meat, by special request (for the kitchen is happy to accommodate such fancies, if possible), was a fine piece of beef fillet, simply grilled, with chips – my time on the sea having stimulated a desire for some red meat. I finished with a grape and almond tartlet with orange caramel sauce. (These four courses were 126 euros.)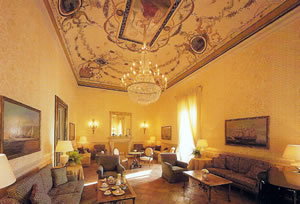 Sommelière Marianna Cappotto proved to be a splendid young lady, thoroughly knowledgeable about the 300 wines on her list. She told me that she had worked in California - at Valentino in Santa Monica, which has one of the world's greatest collections of Italian wine. All the bottles in her cellar - apart from the champagnes (1999 Dom Pérignon is 200 euros) - are Italian. The list gives the percentage of each grape used for each wine, which I find helpful. She poured into the Riedel glasses (from the Vinum range) two marvellous bottles. For the white, the local Greco di Tufo (Vigna Cicogna, 2005 – 68 euros) was big, bold and oaky – quite unlike the delicate, floral versions I have drunk before. For my red, it was the brilliant Luce, from Tuscany. This was the 1996 vintage (110 euros), ready for drinking now, with lots of perfume and hints of farmyard in the nose and that typical depth of black fruit in the mouth.
As my taxi took me back to Naples, I pondered over this admirable property, which has rightly taken its place among the ranks of Europe's great hotels. It had left in my mind a happy memory of a spectacular combination. I found a piece of paper in my pocket and wrote down these words: The Hotel Caruso offers the view of a bird and the surroundings of a prince.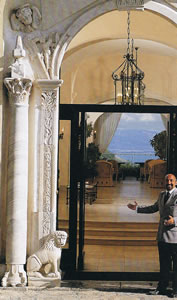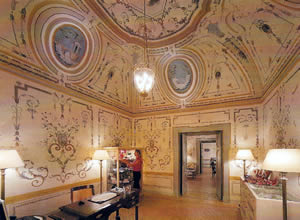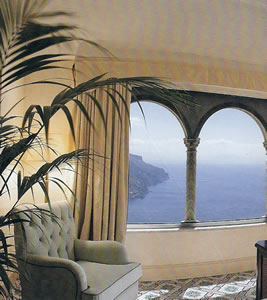 ---
ADDRESSES
HOTEL CARUSO
Piazza San Giovanni del Toro 2, 84010 Ravello, Italy.
Teephone +39 089 858 801
Fax +39 089 858 806
Email: info@hotelcaruso.net
www.hotelcaruso.com
Double rooms from 737 euros, including breakfast
Open March to November