SWITZERLAND
GENEVA
HÔTEL D'ANGLETERRE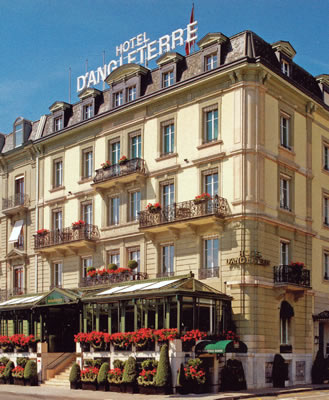 Geneva is famous for the manufacture of watches and jewellery. It is appropriate, therefore, that the hotel which many regard as the best in the city is rather like a beautiful jewel box. With just 45 rooms, the Hôtel d'Angleterre is small for a luxury city hotel, but the smallness adds to its charms. Built in 1872 by a Swiss architect, Anthony Krafft, it fits discreetly into the range of similar buildings on the quai du Mont-Blanc. Indeed, discretion is one its prized characteristics. It is certainly offered to those many important guests who climb the steps from the street to immerse themselves in salons decorated with silk brocades, fine marble and gleaming ormolu. The founder of the Scouts, Lord Baden Powell, used to stay here, as did Tarzan actor Johnny Weissmuller (although probably not with Cheetah) and the man who brought the Soviet Union into the modern world, Michaïl Gorbachov.
I was taken in one of the two tiny lifts up to the third floor, to apartment 329, a 'Premium Room' and therefore 976CHF a night bed and breakfast for two. Regular readers will know that I care about corridors, and here they were good: not too long, and stylishly decorated with wallpaper of dark green and highly polished mahogany doors.
A proper hallway, wherein were fitted wardrobes and a personal safe, led into my bedroom, a silk-lined chamber of various shades of gold. I liked the hint of Art Deco in the mirrored chest of drawers. Plenty of natural light came from the two windows, one of which was of the French persuasion and led to my own little balcony. Artificial illumination was provided by wall lights, three table lamps and dimmable overhead spotlights. There was enough space to accommodate a sofa, an easy chair and a writing table in the Empire style. The blinds on the windows were moved by electricity, and a cd player was linked to the television, so that I could observe my daily diet of Elgar. As I do not always want to summon Room Service for my cups of tea, I was pleased to find tea- and coffee-making facilities thoughtfully provided.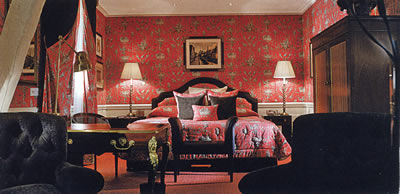 Evidence of attention to detail was also to be found in the bathroom – a confection of striped wallpaper and beige tiles. Here were Penhaligon's toiletries, two wash basins, a tub of adequate size with a shower over, a pair of scales and lots of white, fluffy towels.
From the moment of my arrival, the friendliness of the staff struck me. Jean-Vital Domézon, the General Manager is, clearly, the head of a well-run establishment. The members of his team are numerous, efficient and helpful. They hurried to open doors, smiled and – very important – remembered my name. These modest actions – or the lack of them – make such a difference to the tone of any hotel, and the tone of the Hôtel d'Angleterre is very good indeed.
This was particularly evident at breakfast. I am not one of Nature's morning people. I do not care to be in close proximity to my fellow guests when I am breaking my fast. And I like silence. The hotel's breakfast room is separate from, but adjoins the main restaurant, Windows. I therefore took myself off into the latter, empty room, to sit in solitary splendour. I am pleased to report that the members of the waiting staff (particularly Sylvain from St-Etienne) accommodated my desires with the utmost courtesy and kindness – bringing me the crockery and cutlery I needed, turning down the canned music in my area and fetching my hot food from the kitchen. All the breakfast comestibles were of the highest quality, but I must make a special mention of the fresh fruit on the buffet. The raspberries, chunks of pineapple, slices of orange and pieces of melon were exceptionally good. I also tucked into good brioche and lots of crusty bread with marmalade. All this was washed down with silver pots of coffee. My days started well at the d'Angleterre.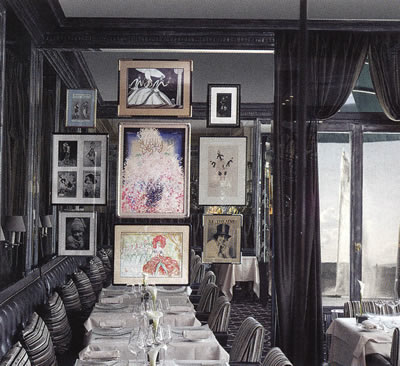 I returned each day to the Windows Restaurant for dinner. The name of this dining room suggests that its chief feature is the view of the Lake through the plate glass. But, in the evening, I found there was much to engage the eye within, as well as without. My picture conveys some sense of the opulence and sophistication of the setting. Lots of cleverly placed mirrors multiplied the patterns of black and white and silver and, aided by the pink napery, provided a sense of happy theatricality. It seemed entirely appropriate that many of the pictures on the walls were of the legendary cabaret star, Mistinguett. Villeroy and Boch glassware sparkled under the spotlights. Banquettes are good for my back, as long as there are lots of cushions, and they were here in abundance. The service – orchestrated by Florian and Rony – was correct, friendly and charming.
Chef Michaël Coquelles (pictured) takes the finest ingredients and cooks them simply and expertly. His cuisine is intelligently conceived and hugely enjoyable. Allow me to share with you some of the highlights of my meals. Home-smoked Scottish salmon was of supreme quality, and came with a well-judged combination of caviar, rösti potatoes, cheese and herbs. Terrine of duck foie gras was balanced precisely by Granny Smith jelly and crispy beetroot. Slow-cooked lamb shank was made even more luscious by leek and date gravy. A whole turbot, plated by the table, yielded ravishing flesh. And a small but lovely raspberry and bergamot soufflé with Sichuan pepper sherbet was irresistible. (You should allow around 120CHF for three courses.)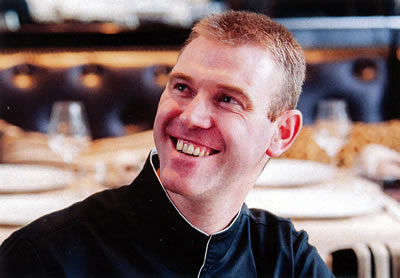 The wine list has 225 offerings, which include some lovely French and Italian bottles. Prices start at 60CHF for a local red and end at 14,700CHF for the 1929 Yquem. Those of you who would like to organise a serious tasting of the very best clarets of the 2000 vintage will be pleased to know that the following are available at the d'Angleterre: Pétrus (6,500CHF), Cheval Blanc (2,800CHF), Margaux (1,900CHF), Lafite (3,000CHF) and Mouton-Rothschild (2,400CHF). Other bottles to catch my eye were: 1997 Masseto (1,500CHF), Krug Grande Cuvée (480CHF) and the 2008 Drouhin Montrachet (850CHF).
Sommelier Thomas Soriano made two admirable recommendations. The 2011 Meursault was exactly right for the turbot, an elegant and balanced combination of vanilla and discreet fruit ('En la Barre', Antoine Jobard – 190CHF), and the 2011 Genevan red was just right for the lamb, its sweet and spicy nose giving way to a sterner texture in the mouth (Dom. Les Balisiers Lune Roússe, Christophe Pillon – 60CHF). This was delightful drinking.
Indeed, my whole stay was a delight, for the Hôtel d'Angleterre combines intimacy and exclusiveness with all the prestige and elegance of a grand palace. It is truly the jewel box of Geneva.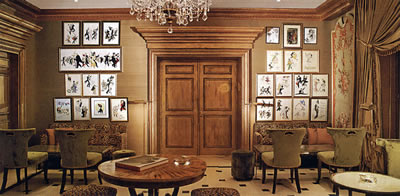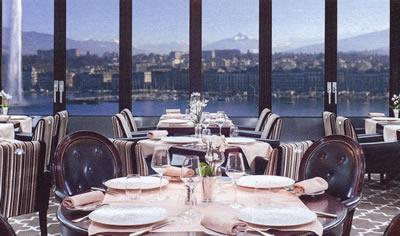 ---