ITALY
VENICE
HOTEL DANIELI
PLEASE NOTE: The Danieli is now a Marriott hotel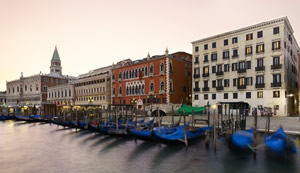 Like Caesar's Gaul, the famous Hotel Danieli in Venice is divided into three parts. The oldest of the three palazzi is in the middle, and contains the entrance from the street. This doorway is tiny, and the splendours within are therefore unexpected. The entrance hall might be a film set: a spectacular assembly of marble columns, stone arches, a sweeping staircase and huge chandeliers of Murano crystal. Here one certainly knows one has 'arrived'. Those who built on this lavish scale in the 14th century clearly knew how to make a statement about power and wealth. Their family name was Dandolo. The location of their palace, right next to that of the Doge himself, indicates that they were people of considerable status. Even so, Giuseppe dal Niel, when he opened his hotel in this building in 1840, preferred to call it by his own name – or rather, by his nickname, Danieli. (In this central palazzo the designer Pierre Yves Rochon has just restored the magnificent Royal Suite and created three other 'signature' suites - the Diva, the Soprano and the Princess – for those of today's visitors who require the very grandest accommodation.)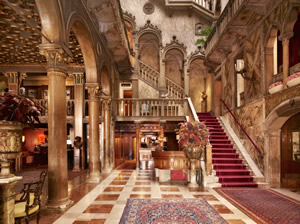 Given its magnificent location and its commitment – from the very beginning – to absolute luxury, Mr dal Niel's establishment prospered, and the second palace was built (on the right) in the 19th century. Finally, in the 1940s, the third part of the trinity arrived on the left. It was here that I was billeted. This newest building has recently been renovated, in a style which displays fully the Venetian love of red and gold, while still manifesting a pleasing lightness of touch. As soon as I stepped from the lift onto a spacious landing with pieces of high quality furniture, I decided that the renovation had been a real success.
Within room 303 (a 'Luxury Double Lagoon View' and therefore 1,415ε a night for two, breakfast extra – but check on the hotel website for the rates for specific dates) my judgement was confirmed. The designer, Jacques Garcia, has done a fine job. Although this air-conditioned chamber was not immense – I estimated about 15 feet by 12 feet– a real sense of luxury was created by the mahogany panelling (up to the dado rail), the polished wooden floor, the curtains of crimson satin, the feathered cornice in brown and gold and the figured damask on the bowed doors of the fitted wardrobe. Two upright chairs upholstered in red velvet and a chair at the writing desk provided the seating and three (dimmable) table lamps, a standard lamp, two wall lights and two reading lights over the bed provided the lighting. I still found it a bit dark for my taste, so a word to the concierge brought another standard lamp. Of course, there was a private safe and, of course, the blinds were operated by electricity. My bathroom was clad in black, green and grey marble, was lit by spotlights, and had enough space for a tub of decent size (with a shower over), one wash basin, a loo, a bidet and that most frightening of machines – a pair of scales.
In my customary, helpful way, I will offer two modest suggestions to make this accommodation even better. First, the bottom drawers in the wardrobe might be removed, to facilitate the hanging of longer garments, like dresses and overcoats. And second, a hook might be provided in the little hallway – for one's hat and umbrella. (And, while I am making helpful suggestions, someone really ought to sort out the canned music in the hotel's public areas. I prefer there to be no music myself, but – if there must be some – it certainly ought to be better than the stuff I had to keep asking the charming members of staff to turn down in the sitting rooms and in the restaurant. They seemed as embarrassed by it as I was annoyed, but – ever discreet – they declined to tell me who had chosen it. It would hardly grace a second-rate business hotel in an industrial suburb: to the wonderful Danieli it is insulting. I made my views about it known, so perhaps by now it has gone.)
Best of all about my room, I need hardly record, was the view through the two windows. It tempted me to sit and gaze across the waters to the monastery church of San Giorgio Maggiore and to the Redentore church, and be reminded yet again of the genius of Andrea Palladio. How much the world owes to this son of a miller, born in Padua in 1508. Architecture would be infinitely poorer without him. The Danieli affords its privileged guests the opportunity of looking out upon two of his finest works.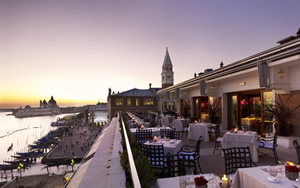 Each morning it was with a sense of excitement that I pressed the button to take up the blinds and to reveal this ravishing panorama. And I did not need to abandon it for breakfast, for the hotel restaurant was on the top floor, above my apartment. The maitre d' at breakfast showed me each morning to a table with a vantage point which enabled me to see an additional church – the domed extravagance which is Santa Maria della Salute. To my table I brought from the buffet – in fine white crockery – prosciutto and melon, bacon, scrambled egg, sausages and mushrooms and chunks of really sweet pineapple. And the waiter brought to me pots of good coffee and glasses of tip-top spremuta d'arancia. (It is now my custom always to request this fresh squeezing of oranges.) My days at The Danieli started very well indeed.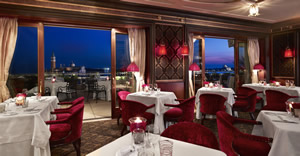 And they concluded in fine style, too, for it was to the same Ristorante Terrazza I returned to dine in the evenings. This used to be one large room, but it has been turned into a number of smaller chambers, with much use of mirrored walls and ceilings. Decorated in warm colours and lit by wall lights with red shades, these spaces I found welcoming and intimate. Now the tablecloth had turned to beige, and upon it sat good glassware by Schott and a silver tub of red roses. The genial maitre d', Giorgio Maniero, ensured that the service (from waiters in black tie) was both friendly and efficient. Mr Maniero is one of those very good, old-fashioned maitres we English like so much.
Chef Gian Nicola Colucci (from Turin) offers a menu of traditional dishes, skilfully cooked and carefully presented. I began with Piedmont beef carpaccio with an aromatic salad, which was properly balanced. Tagliolini, served at my request with mushrooms, was luscious, tasty and delicious. But the star of the evening's show was undoubtedly "the grilled fish from the market" – a lovely turbot, boned by the table and served with broccoli, roast potatoes and onions. This was exactly what I wanted to eat in a grand hotel restaurant. I finished with a variety of goodies from the sweet trolley. The meringues with strawberries were particularly good. (Allow around 170ε for four courses.)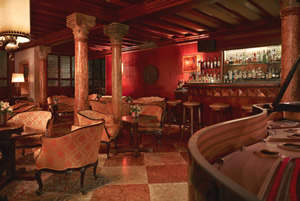 The wine list is arranged by grape variety. Its 243 offerings are mostly Italian, but some good French and New World bottles are allowed to intrude. Prices range from 37€ for 2010 Syrah Cusumano to 7,900€ for the 2008 Pétrus. Other bottles to catch my eye were: Sassicaia 2009 (360€), Solaia 2008 (420€), Haut Brion 2009 (3,950€), Gaja's Barbaresco 2008 (320€), Cloudy Bay sauvignon blanc 2011 (80€), Dom Pérignon 2003 (390€) and Krug rosé (850€). I drank a lovely, rich, buttery and vanilla-laden chardonnay from Antinori (Bramito del Cervo, 2011 - 49€) and a refreshing, well-balanced, sparkling rosé from the Trento region (Ferrari Perlè, 2006 - 90€).
The Danieli deserves its fame. Its location is perfect; its buildings are remarkable; its staff is first class; its hospitality is generous; and its standard of luxury is among the best in Venice.
---