FRANCE
THE FRENCH RIVIERA
ST TROPEZ
HÔTEL DE PARIS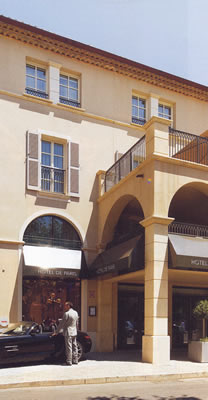 It was a wonderful privilege to be able to stay in a five-star hotel in the very centre of St Tropez. No steps, no hills, no long treks, no waiting for a shuttle 'bus – just a moment's stroll along a pretty street and I was exactly where I wanted to be, next to the harbour. This is what – uniquely – is offered by the Hôtel de Paris. And this is what I enjoyed each day: a leisurely stroll in the sunshine to my seat at the Café de Paris (no relation), opposite the yachts of the visiting rich. Much is said and written about the importance of location, but that of the Hôtel de Paris is beyond splendid. It is almost miraculous, and afforded me immense pleasure. I love St Tropez. And now I love the Hôtel de Paris.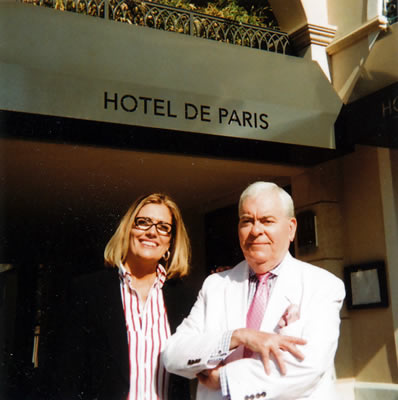 The original hotel opened in the 1930s, but it has been completely rebuilt and its 90 rooms offer luxurious comfort in a style (the work of interior designer, Sybille de Margerie) which is decidedly modern. The establishment is well run and all members of staff I encountered were friendly and efficient – a tribute to the charming General Manager, Danielle Lagrange (pictured, with your correspondent). The public areas, too, are impressive, particularly the entrance hall, which is large, light, calm and elegant. Exhibitions of art are held here. And the hotel claims that its suspended, glass-bottomed swimming pool is the only one in the world.
My own accommodation was on the second floor, to which I ascended in one of the swish glass lifts. Room 205 was a 'Prestige Suite', and therefore 800€-1,550€ a night for two, which I judged good value. Its décor reflected the discreet modernity of the rest of the hotel. In the hallway a loo to one side was matched by a small kitchen to the other. In the sitting room were a low sofa and a wicker-work 'throne', as well as a large wall-mounted television. Then the dressing area (with fitted wardrobes and a safe) gave onto the bathroom. Here I found a decent bath tub, a separate shower and one wash basin – the last designed to function without a plug. The toiletries were by Clarins. (There is a Clarins Spa at the hotel.) Finally came the bedroom, with a bed made comfortably soft for me and with the second television set.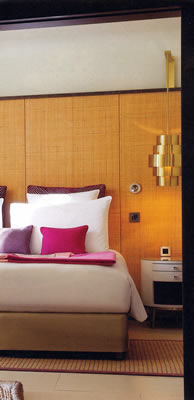 The views from the windows were of the surrounding streets, and across to the Maison de Chanel, which looked sumptuously inviting for those tempted to splash out on some of its expensive perfumes. There can be a lot of traffic on this corner, but the double glazing was so effective that I heard not a single sound from the motor cars down below. This, combined with very efficient air conditioning, ensured my total comfort.
I should mention at this point the room service at the hotel. I am not really a user of room service, but here I discovered that it was overseen by Jean-Jacques Zanghi. The excellent Mr Zanghi I first encountered at the Chateau de la Messardière. It was comforting to know that he was in charge of providing any comestibles I might have wanted delivering to my suite.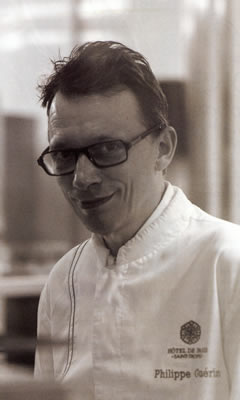 Another old acquaintance was Chef Philippe Guérin (pictured). I was looking forward to trying his cuisine again, because I remembered his inspired cooking in Vence at the Château du Domaine St-Martin. He remains a brilliant star of the kitchen, and I was much impressed by my dinners at the Restaurant Le Pationata on the ground floor. This is warm room of silver, black and gold, with its tables set with Limoges porcelain and Schott Zwiesel glasses. Its service is ably orchestrated by Restaurant Manager Anthony Grifoni.
Allow me to share with you the highlights of my meals. Red mullet with artichokes was a dish both beautifully presented and precisely cooked. Provençal vegetables, stuffed with veal and served in an oval iron pot, were absolutely delicious. Chicken breast with truffle was yielding and full of flavour. A veal chop, sliced by the table and served with gnocchi with sage and Parmesan, was near-perfect meat. And a rhum baba with pineapple and Chantilly cream was a well-realised version of this classic. (Allow around 70€ for three courses from the carte. A three-course seasonal menu is offered for 50€ and a five-course tasting menu for 90€.)
Sommelier John Borel (pictured) presides over a list with 392 offerings. Most are French, and they include 19 half-bottles. Prices run from 34€ for a 2011 Spanish rioja to 25,000€ for a jeroboam of 2002 Cristal Or Limited Edition champagne. Other bottles to catch my eye were: 2001 Lynch Bages (329€), 1998 Margaux (1,280€), 2001 Haut Brion (1,280€), 1988 Cheval Blanc (2,690€, magnum), 1996 Pétrus (2,990€), 2006 La Tâche (2,320€) and 2010 Grange des Père (165€). Among the wines I enjoyed here was a modestly-priced white burgundy, recommended by the knowledgeable Mr Borel, which proved a very good example of that marriage of a full body with discreet fruit which so charms my palate (Rully 1er Cru, Gresigny, P & M Jacqueson, 2013 – 54€).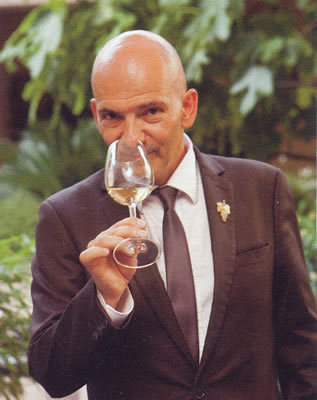 I broke my fast each morning on the terrace next to the swimming pool at the top of the building, where there was a view over the roof tops to the harbour. I awarded a gold star for the service here, for the splendid Alain – who looked after me so well – even sent out to the shops for a packet of Allbran, when I remarked to him that it was not offered on the buffet table. All the food was of high quality: the croissants, the dishes of raspberries and strawberries, the apple art, the cheeses and the smoked salmon. And the hot food brought from the kitchen was just as good: pots of coffee and plates of bacon, poached eggs and mushrooms. Then, as always, there was my concluding cappuccino. These breakfasts were highly enjoyable.
Indeed, the whole of my stay at the Hotel de Paris was highly enjoyable. Its accommodation is comfortable, its service is top rate, its food is lovely and its location... ah, its location is magnifique.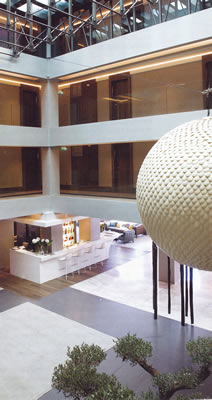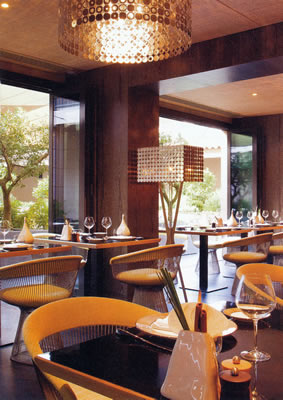 ---
ADDRESSES
HOTEL DE PARIS
1 Traverse de la Gendarmerie, 83990 St-Tropez, France.
Telephone +33 (0)4 83 09 60 00
Fax +33 (0)4 03 09 60 20
Email: contact@hoteldeparis-sainttropez.com
www.hoteldeparis-sainttropez.com
Double rooms from 270€