Switzerland
LAUSANNE
HÔTEL DE VILLE – PHILIPPE ROCHAT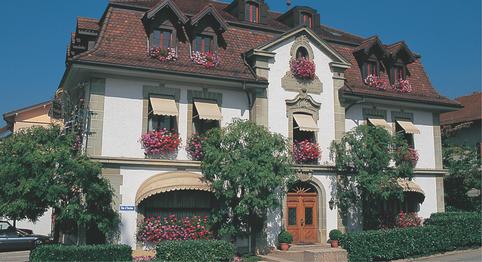 Which is the best restaurant in Europe?
We need to ponder before we can attempt an answer to this important question. In particular, we need to set our order of priorities. Architecture, setting, atmosphere, noise level, table size, table arrangement, glassware, cutlery, crockery, quality and colour of the napery, skill and knowledge of the staff, dress of the staff, standard and breadth of the wine list and its arrangement, the pacing of the service, even the type and behaviour of the other diners – all these contribute to what we might call the 'restaurant experience' and help to determine how we rate a particular dining room. And you will notice that I have not even mentioned the food. But it is to those of you whose first and overwhelming priority is the quality of what appears on the plate that I wish to address this article. Because, for you, I am going to answer the question with which I began.
How do you like town halls? For it is to a modest municipal building in the village of Crissier, just outside Lausanne in Switzerland, that we must go. It is, of course, no longer a seat of local government. Instead, it is the workplace of one of the world's great chefs. This is a chef who (let us whisper it in awe) does not spend his days with accountants and property developers, planning the next expansion of his gastronomic empire and the opening of his next 'outlet'. Instead, he is in his kitchen twice a day, from Tuesday to Saturday each week, cooking lunch and dinner for some of the luckiest diners on this planet. This a master who works at his last and perfects his craft. For that I salute him. His name is Philippe Rochat.
Monsieur Rochat came to the Hôtel de Ville in 1980 to work for its former owner, the great chef Fredy Girardet. When that noble teacher handed over the keys to his pupil 5 years ago, he remarked, "Rochat est l'héritier de ma philosophie". That was a noble tribute, and fully deserved. But the disciple is no mere imitator of his master. He is his own man, developing the menu and – of course – ensuring that standards are so high that year after year the number of Michelin stars twinkling overhead never falls below the magic three.
Before going in for dinner, I spent a few minutes in the kitchen. It was not only spotless (I would expect nothing else at this level); it was also remarkably quiet. No noise and no tantrums: a sign of iron discipline and shared purpose among the 23 chefs who cook for just 70 guests. On the bookshelf was a copy of Ma Cuisine by Escoffier – a reminder that the food here is unashamedly French in inspiration. And there is no 'fusion' nonsense. Monsieur Rochat explained to me his simple, classic approach. "I take the best produce of Europe and use it in season. What I cook is what I myself want to eat." The same no-nonsense determination is also evident in his non-culinary enthusiasm: long distance skiing.
My meal was magnificent. Lobster tail in tarragon jelly was gloriously soft, sweet and refreshing all at once. A dish of frogs' legs with macaroni, mushrooms, shallots and foamed cream was of a heavenly lusciousness. Red mullet was pan-fried and served with tomato and olive oil, and demonstrated how wonderful simplicity can be when the execution is exactly right. And then one of the finest dishes in the world (first enjoyed by your correspondent in the time of Girardet): roast duck with a Brouilly sauce – expertly carved next to the table by the splendid maitre d', Louis Villeneuve. Few things in life are perfect. This is one of them. Quite how the kitchen achieves this miracle, I do not know. (I have asked, but the description of what is done does not reveal the secret.) Yet once the first sliver of meat, soaked in the intense, dark sauce, is in my mouth, my taste buds recognise that perfection has, indeed, been achieved.
To conclude, the lightest and most ethereal of crêpes soufflés with wild strawberries. And then 3 scoops of sorbet (banana, strawberry and melon) and 3 of ice cream (pistachio, caramel and vanilla) – each spoonful so delicious that only physical necessity made me stop eating.
These six dishes from the carte cost £162. This is a lot by most standards. But these are not most standards. When you consider the quality of the food and the brilliance which has gone into its preparation, this is a small price to pay. And the many-coursed set meals – at £97 and £108 – are tremendous value.
So what of the other aspects of dining here? The dining room is less austere than in the Girardet era, but it is still somewhat spare – an oblong space, brightly lit with rough, off-white walls on which hang half a dozen modern pictures. The knowledgeable waiters wear black tie and are so numerous that they can sometimes seem to outnumber the diners (although the restaurant is always fully booked). The tablecloths are beige, the armchairs are dark brown, there are no candles and the napkins are replaced if you leave the table.
French and Swiss wines dominate the cellar, but the New World and the rest of Europe is represented. Red bordeaux is the section for those of you with deep pockets, and includes classics like 1945 Mouton Rothschild at £3,300, 1961 Lafite at £1,300 and 1961 Margaux at £1,320. Sommelier Fréderic Compain introduced me to a Swiss grape, petite arvine, for my white (Sélection Philippe Rochat, Clavien, 1995 - £40) – mineral, fresh, with a hint of citrus. For my red he recommended, as a fine partner for the duck, a big Frenchman – a 1995 Côte Rôtie of dense purple colour with a vegetal nose, heavy tannins and deep black fruit in the mouth (La Landonne, Rostaing - £84).
So – for those of you for whom the quality of the food is the absolute priority – you now know which is the best restaurant in Europe. Happy eating!
---