FRANCE
CANNES
HOTEL GRAY D'ALBION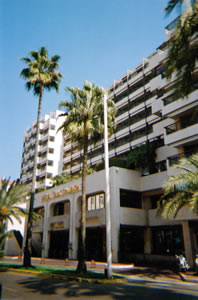 I am not one of the world's experts on the environment and sustainability. Nevertheless, my father – who was a devoted apiarist – taught me one important lesson about Mother Nature. It is this: bees are A Very Good Thing. My delight was therefore unbounded when, standing at the reception desk of the Hotel Gray d'Albion in Cannes, I became aware that the television screen upon the wall was showing a hive of bees. Why was this? It was because the hotel keeps its own small colony (four hives) of our buzzing friends on the roof and a camera transmits to the receiver downstairs live pictures of their comings and goings. Indeed, when I arrived in my room, I found waiting for me a pot of the honey made by those very bees. For this alone, I became a fan of this particular hostelry. But, of course, there is more.
English people should, in any case, be drawn here by the name, which is inspired by the white cliffs of Dover – 'gray' coming from 'craie' (chalk) and 'albion' from 'alba' (white). The location of the Gray d'Albion is good, being just a couple of minutes stroll from the Croisette, Cannes' elegant seaside promenade. The building is modern and contains 199 rooms (including 8 suites). It was all thoroughly renovated in 2009.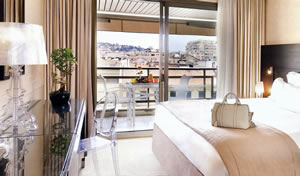 My room, number 924, was on the 9th floor and was a 'Junior Suite Executive'. (Its price starts at 335€, but you will need to check the rates for specific dates on the hotel's website.) This was a rectangle, about 18 feet long, with the bathroom and the fitted wardrobes carved out of the space. Its colours were beige and brown. A sofa and two chairs provided the indoor seating, and a further two chairs (at a table) were available for my outdoor relaxation on the balcony. The view (pictured) was over the rooftops of Cannes. The bathroom was modest in size and decorated with orange-brown tiles. It contained one wash basin, a loo, a bidet and a tub of a good length (with a shower over).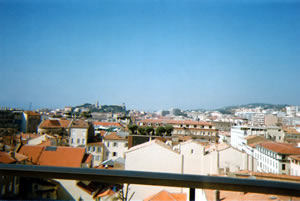 As my visit was in the low season, the hotel's two restaurants – one at the hotel's private beach and one in the main building – were closed for lunch and dinner. But I did have breakfast at the latter, named 38 The Place, on the first floor. Here the quick-witted Renée looked after me, and brought to my large round table the requested pots of coffee and dishes of ice cubes. From the buffet I obtained Corn Flakes, pineapple, orange, kiwi, grapefruit, croissants, crusty bread and supplies of bacon, tomatoes and scrambled eggs. All these comestibles were of a high standard.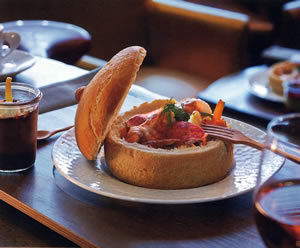 Although the main dining rooms were dark in the evenings, I am not a man to miss my dinner. So I went to the hotel bar, named Jane's, and ate well (and cheaply). The bar was warm and dark, as all bars should be, and the barmen were smart and friendly, as all barmen should be. A bottle of champagne seemed to be the right tipple, so that is what I had – the reliable and well-balanced Pommery (90€). After that, it was a red Côte du Rhône – a lovely mixture of black fruit, cinnamon and leather – for only 7.50€ a glass (Belle Ruche, Chapoutier).
My eating began with a plate of good, meaty, smoked salmon, with toast and a little salad (25€). Then it was a paincocotte (a bread pie) filled with veal stew, which was simple, well-done and satisfying. The pudding was a luscious raspberry tart with almond pastry. The main course and the dessert together were just 19€.
This meal was straightforward, enjoyable and something of a bargain – just like the Gray d'Albion itself. Like those wonderful bees, I was happy to stay.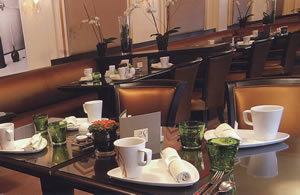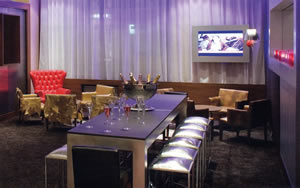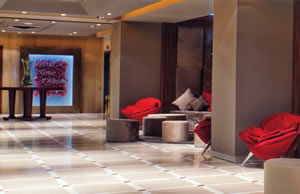 ---