ITALY
SICILY
TAORMINA
HOTEL IMPERIALE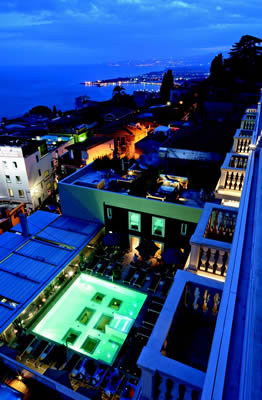 If you are going to Taormina – which, surely, one day you must, given its idyllic position, balmy climate and ancient ruins – you must decide whether you want your hostelry to be traditional or modern. If it is the latter, there is only one place for you to stay – the Hotel Imperiale. With its glass front and acute angles, it must be the only modernist building in town. Its location is convenient, for it is only a three minute stroll (even for me) down the hill to the main pedestrian street, the place of designer shops and cafés, the Corso Umberto. It has a spa, a swimming pool and – most important – a young and well-motivated staff, and from its huge 7th floor terrace you can enjoy views over the sea to the mainland of Italy.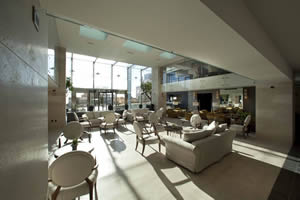 The entrance lobby is so large that one supposes that the hotel must have hundreds of rooms. In fact, it has just 63. I was in one of those designated an 'Exclusive' room – number 401, on the fourth floor. (As usual nowadays, you will need to check room prices for specific dates on the hotel website.) This was smart and comfortable accommodation. A hallway with fitted wardrobes (wherein was a private safe) led to the bedroom, a room of about 13 feet by 11 feet. On its dark wooden floor stood two easy chairs in green spotted silk and a writing desk in silver. The walls were off-white, with a contrasting wall of green silk above the bed. On the wall-mounted television I was pleased to find some Classical music. Strangely, there were no mirrors in the bedroom, so I took the shaving mirror from the bathroom and put it on the writing desk.
Two French windows led to two balconies with balustrades. From these I could look down at the hotel swimming pool or straight out to the roof tops of the town, the Greek Theatre and the distant sea.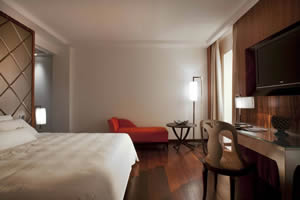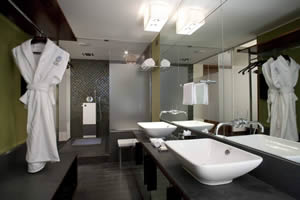 A sliding door from the hallway led into the spacious bathroom. Here were two square wash basins (without plugs – an aspect of modern design I still cannot understand), a tub of good size, a separate shower and a separate loo. The spotlights, frosted glass, silver-framed mirrors and light green walls made this bathroom an impressively elegant chamber for my pre-prandial ablutions.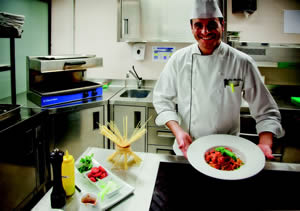 I always make an effort to dress well for dinner, so I was in a decent suit and wearing a starched collar when I went down to the mezzanine floor to the Anfiteatro Restaurant. With its colour scheme of browns and greys, its grey napery and Spiegelau glassware and its floor of smoked oak, I found this open dining room with views over the town a pleasant setting in which to eat the food of Chef Onofrio Brucculeri.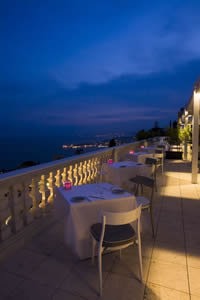 I began with cured ham from Nebrodi, which was good, tasty meat. It was served with ratatouille, a combination new to me. I think I would have preferred something with a bit more power to stand up to the strength of the ham. I was much happier with the subtle and effective combination of flavours in the next dish – tomato confit ravioli with red onions from Tropea. The soft texture of this pasta was particularly appealing. Better still, was the roasted black pig (also from Nebrodi) in a crust of pistachio nuts. With this I asked for green beans, fried onions and roast potatoes, all of which were excellent. I ended with some good vanilla and strawberry ice cream. (These four courses were 79€.) The service from my waiter, Sergio, was excellent.
The wine list comprises 140 offerings, all of them Italian except the champagnes. Prices run from 20€ for Sicilian white and red (Principe di Sicilia) to 530€ for a 1998 Barolo (Monfortino, Conterno Giacomo). Other bottles to catch my eye were: 2009 Planeta chardonnay (44€), 2000 Sassicaia (180€), 2003 Masseto (280€) and 2000 Ornellaia (170€). I quaffed a very decent Sicilian nero d'avola, with a huge depth of black fruit (42€).
I returned to the restaurant for breakfast. The very kind members of staff put together two tables to accommodate the large number of plates and bowls I brought from the buffet. I was impressed by the high quality of the brioche, for I like my morning croissants. The other comestibles were good, too: pineapple, melon, kiwi fruit, apple cake, crusty bread, Corn Flakes and tomato omelettes (the last cooked to order).
If you want your hotel in Taormina to be modern, the Imperiale awaits your visit. It is a comfortable, well-run establishment with a definite sense of (modern) style.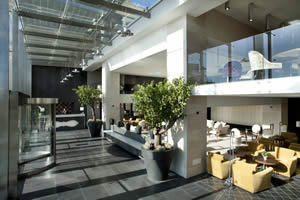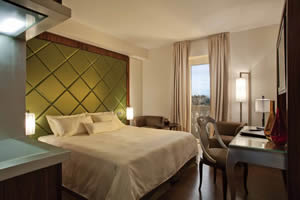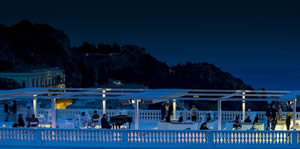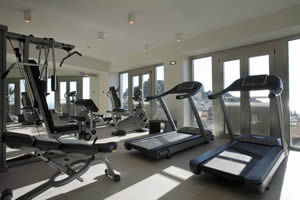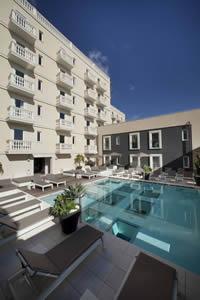 ---
ADDRESSES
HOTEL IMPERIALE
Via Circonvallazione 11, 98039 Taormina, Sicily, Italy.
Telephone +39 0942 625202
Fax +39 0942 625978
Email: info@imperialetaormina.com
www.imperialetaormina.com
See the hotel website for the prices of rooms on specific dates