FRANCE
FRENCH RIVIERA
CAP D'ANTIBES
HÔTEL IMPÉRIAL GAROUPE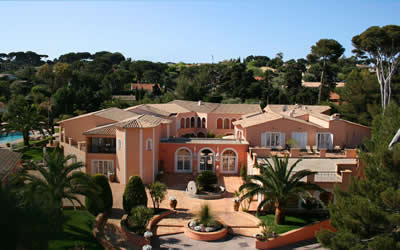 There is a lot to be said in favour of the seriously rich. For example, they tend to live in the prettiest places. One such is the Cap d'Antibes, as lovely a piece of land as you will find on the French Riviera. It sticks out into the Mediterranean in a jaunty, nautical manner and its carefully tended palm trees and manicured lawns provide a delightful setting for the villas and mansions of the wealthy. Hidden among them is a hostelry which shares the comfort and sophistication of its neighbours. It, too, is in the style of a low-built Mediterranean villa. Within its gardens of ancient olive trees and carefully tended lawns stands a sculpture of wings in white marble. This charming retreat is the Hôtel Impérial Garoupe.
Getting out of my hired conveyance in this blessed spot, I felt immediately a sense of calm retreat. (Motor cars, quite properly, are not allowed to disfigure the scene for long. Within minutes, mine was whisked away by a porter, to be stored out of sight in the underground garage.) The sea (and the hotel's private beach) is reached by a three minute stroll along a pretty private pathway. The Impérial Garoupe is a small hotel, with 30 rooms, 4 suites, 1 apartment and a private villa. Its style is what I call 'comfortable contemporary', with none of those impractical irritations which sometimes spoil modern design. All the billets have private terraces or balconies with views of the gardens or the swimming pool.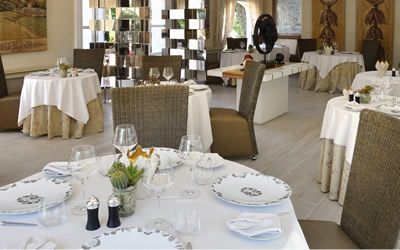 I was in number 30, on the first floor, one of the suites. (These cost 540€-2,300€ a night, bed and breakfast for two, according to season.) From its corridor hall, doors opened into the loo, the bathroom, the sitting room and the fitted wardrobes. These doors were of dark wood. There was much such wood about, offset by the white walls – which were covered with a mystery material. I could not decide whether it was cotton, silk or padded paper. The sofa and armchairs were covered in burgundy, a colour which contrasted pleasingly with the pink of the fresh roses in the vase upon the coffee table. Lighting was from table lamps and spotlights.
Double doors opened into the bedroom, wherein the bed was of that degree of delicious softness my ailing back enjoys. Two sets of French windows provided access to my own loggia, overlooking the shrubs and lawns outside. The bathroom – clad, as all bathrooms should be, with pink marble – offered a tub of decent size, a separate shower, two wash basins and plenty of toiletries by L'Occitane.
I must say a word about the service at the Impérial Garoupe. I can record that I found it as good as I had expected. And I had expected it to be very good indeed, because the General Manager is Mr Gilbert Irondelle, and he is the son of the famous Director of the nearby Eden Roc – one of the most admired hotels in the world. So all was courtesy, friendliness and efficiency.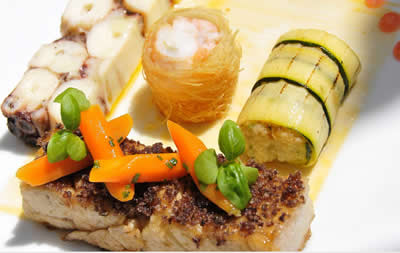 My dining was done in the Restaurant Le Pavillon. This is a separate building in the grounds, with an elegant interior and a terrace shaded by trees. Here I was looked after by the fine young Assistant Maitre d' and Sommelier, Benjamin Monteverdi (a graduate of the Restaurant Paul Bocuse near Lyon), who kindly turned off the canned music for me.
From his kitchen Chef Pierre-Alain Garnier sent to my table a splendid meal (three courses are 85€). He takes ingredients of the highest quality, cooks them with impressive skill, combines them with intelligence and serves them with an eye to the prettiness of his plates. You will eat well at the Impérial Garoupe.
I began with a dish which was superbly conceived and executed. An egg was cooked at 63 degrees, and then served with butternut purée, fried mushrooms, nuts and a bacon sauce. This was thrilling in its precisely judged lusciousness. Next came some really good chicken – both the leg and the breast – with a jus made with honey. And I finished with a splendid strawberry millefeuille with red pepper sorbet.
The wine list has 100 offerings, and all but five are French. Prices begin at 45€ for a Provençal rosé. You will need to keep your wits about you. For example, two great clarets of similar quality (and usually similar price) are on the list at 980€ (2001 Margaux) and 2,375€ (2002 Latour). Other bottles to catch my eye were: Krug Grande Cuvée (515€), 1989 Mouton Rothschild (2,110€), 2003 Cheval Blanc (2,160€) and 2004 Sassicaia (540€).
Breakfast was a pleasant occasion, for it is served in the courtyard – to the sound of a dribbling fountain, which depicts a trio of well-fed cherubs frolicking in the water. Here I enjoyed le petit déjeuner continental – croissants, brioche, bread, butter, fruit salad, orange juice and coffee. Each element was, of course, admirable.
And that is my word to describe the Hôtel Impérial Garoupe – admirable. It is a charming and sophisticated retreat in an area of great beauty and great wealth.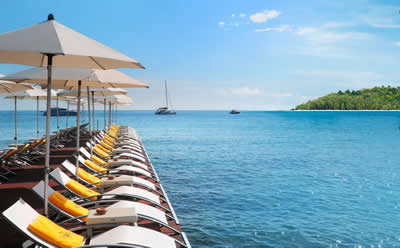 ---
ADDRESSES
HÔTEL IMPÉRIAL GAROUPE
770 chemin de la Garoupe, Juan-les-Pins 06600, France.
Telephone +33 (0)4 92 93 31 61
Fax +33 (0)4 92 93 31 62
Email: cap@imperial-garoupe.com
www.imperial-garoupe.com
Double rooms from 300€-780€, according to season, breakfast included
See the hotel website for special offers