ITALY
ROME
HOTEL D'INGHILTERRA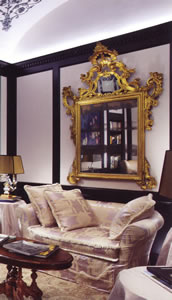 Deep in the panting heart of Rome there lies the Hotel D'Inghilterra. I suspect this place has always been used to entertaining persons of taste and refinement. In the 17th century the noble Torlonia family built it to house their guests. In 1845 it became an hotel. Here have stayed Mark Twain, Gore Vidal, Gregory Peck and the Duke of Edinburgh. (And, had history permitted, would they not have made a fine quartet at dinner?) Now there come folk from all over the world – the sort who like their billets to be quiet and discreet and yet who want to be in the centre of the sights and surrounded by the most exclusive shopping.
My taxi pushed its way through the crowds surging up the via Condotti towards the Spanish Steps, turned into the deserted via Bocca di Leone and stopped almost immediately. Is it not strange that a dozen steps can take you from bustle to calm? In through the flag-bedecked classical entrance and I was immediately struck by the welcoming scale of my surroundings – and by the friendliness of the staff at the Reception desk and at the Concierge desk.
Within moments I was on the 2nd floor at my billet, room 264. This was a 'double Deluxe'. Its bedroom measured about 15 feet by 10 feet – dimensions which, with its high ceiling, meant it felt spacious enough for my visit. Its window gave onto a side street. In the bathroom I found lots of marble, a bath tub with a shower above, one wash basin, the loo and the bidet. I was happy here, but I know that the hotel has some very attractive Junior Suites and an impressive Penthouse Suite with a huge terrace (the former cost from 550€ a night and latter comes in from around 2,000€ a night), so it might be that the readers of Bown's Best will want to consider lodging in these higher categories of accommodation.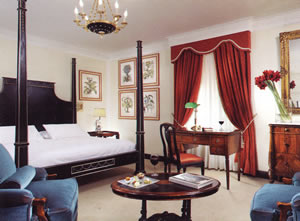 The three small, plush and colourful public sitting rooms at the Inghilterra are delightful. They struck me as the ideal setting for afternoon tea. So, each afternoon, have tea I did. As the longcase clock in the hall – a handsome period piece, made by a Mr Douglas of Dumbarton – struck four, I was to be found in a comfortable armchair, sipping my Earl Grey from a porcelain cup. (Incidentally, I really must congratulate the General Manager, Mr Massimo Colli, and his team for making sure that the clock always works and always shows the correct time.)
Such civilised occasions made the Inghilterra a charming and comfortable base from which to explore the Eternal City. Certainly, I was able – as each of my excursions neared its end – to look forward with real pleasure to returning to my temporary Roman home. And, after a good night's sleep within bed linen of the highest quality, each morning I was also able to look forward to a jolly good breakfast.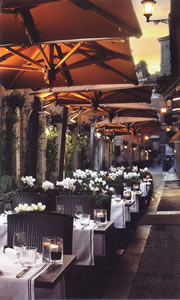 I have never understood those who rush through the breaking of the fast as if, each and every day, they are late for the express train to Moscow. For me, it is a treat to be experienced carefully, slowly and with meticulous attention to detail. I therefore need a table of decent size and an atmosphere of calm. Thanks to a little forward planning and the kindness of the friendly staff at the hotel's dining room, the Café Romano, I had both. I was therefore able to tuck into plates of bacon and scrambled eggs, dishes of melon and pineapple, slices of apple tart, good brioche (croissants and pain aux raisins) and chunks of crusty bread with marmalade made by Wilkin & Son of Tiptree. All these were washed down with jugs of coffee, lots of ice cubes and – as always – my concluding cappuccino.
The Café Romano changes its atmosphere in the evenings – with the help of flickering candles on white damask tablecloths. Looked after very well by Angelo, the friendly Maitre d', I tucked in heartily to my dinner. Chef Antonio Vitale, from Naples, prepares traditional Italian food and serves it in generous portions. His approach suits me very well. The ravioli with broccoli sauce and crisp bacon was full of good, robust tastes, and the pasta was as I like it – soft and yielding. Sliced fillet of beef, with mushrooms and chips, was also tip-top: the sort of food one eats with simple enjoyment. Approaching my limit, I finished with a dish of good ice cream – vanilla, hazelnut and strawberry. (These three courses were 53€).
The cellar offers Italian wines and French champagnes. Prices are friendly, and run from 29€ for an Umbrian white to 400€ for 1995 Krug. Other bottles to catch my eye were a quartet of super-Tuscans – 2011 Solaia (270€), 2014 Tignanello (140€), 2012 Ornellaia (192€) and 2013 Sassicaia (205€) – and the 2015 vintage of that ever-reliable white from Antinori, Cervara della Sala at 70€.
These are the sort of bottles I like to drink at home. And that was entirely appropriate, given the homely atmosphere of this establishment. Indeed, as I left, I thought that the Hotel d'Inghilterra was rather like a private club for those who value traditional good taste, and want to find it deep in the panting heart of Rome. It is a home from home.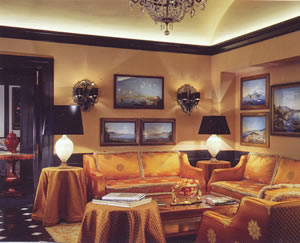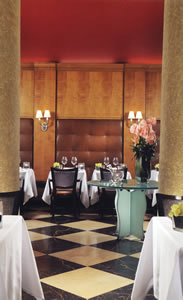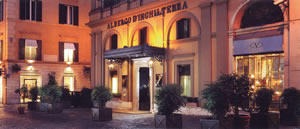 ---