Italy
SARDINIA
COSTA SMERALDA
HOTEL MELIÁ POLTU QUATU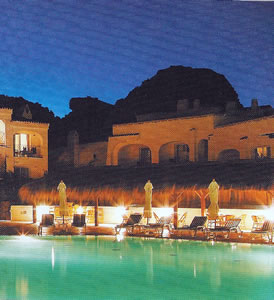 One of the many pleasures of visiting the finest hotels is the surprise encounter with an old friend. I last met Hermann Gatti when he was the Manager of the delightful Villa Cipriani in Asolo. He was the last person I expected to encounter as I drove my hire car along the smooth roads of the Costa Smeralda. I knew, of course, that in this area I would be surrounded by those who like the good things of life – for the Emerald Coast of Sardinia is a magnet for lotus-eaters from around the world. But Signor Gatti was not in my mind as I negotiated the sharp turn, the narrow lane and the electric barrier which led me into the exclusive precincts of the Hotel Meliá Poltu Quatu.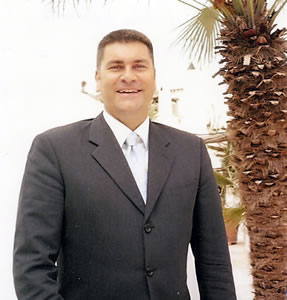 Yet there he was, smiling his big smile and ready to welcome me to his new domain. My camera was to hand, so I am able to reproduce for you here a photograph of this excellent gentleman, who is now the General Manager of this excellent hotel. He has a fine property to manage. It is a pretty essay in white. Its architect, Jean-Claude Le Suisse, has arranged its pristine buildings, some of them with roofs of palm fronds, around two azure pools. One of them has a waterfall, and I will indulge myself by showing you a picture of your correspondent in front of this feature. You will note that I am wearing a striped blazer, of which I am rather fond.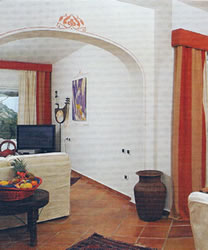 To one side of the hotel there is a backdrop of cliffs. To another there is the village of Poltu Quatu itself, a tiny bundle of narrow lanes and designer shops. And then there is the natural glory of this place: a narrow fjord, with views – through the masts of the moored yachts – out to the islands of La Maddalena. This is a spot truly blessed.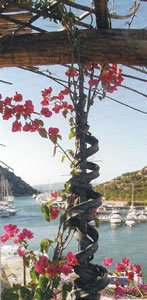 I was surprised to learn that the hotel had 142 rooms: the sense of calm repose which pervaded the establishment had led me to suppose there were far fewer. My own, number 2208, was a 'superior' and therefore 371 to 681 euros a night, bed and breakfast for two, according to season. This accommodation was cool and spacious, with white walls, furniture in bleached wood and brown floor tiles. My sofa and two easy chairs were blue. Three table lamps and one standard lamp provided the lighting. A sliding French window led to my terrace, overlooking the larger of the two swimming pools. Here I was able to sit in a wicker chair and observe the exertions of others.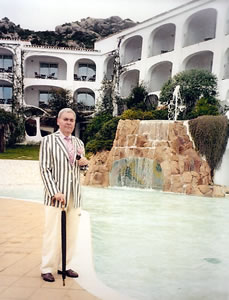 I pondered whether I should potter over to the hotel's Wellness Centre and allow myself to be applied with mud and hot stones. I know that there are many folk who delight in such treatments. But I decided to potter down to the sea instead. Even at my leisurely pace, it took all of ninety seconds to reach the edge of the water. Its gentle lapping soothed me and made my thoughts turn to food. Back, then, to the cream and brown tiles of my bathroom and to the pre-prandial shave and soak. I selected a good tie and a starched collar, for I had already noted that the hotel's restaurant, La Bahia (pictured), was a chamber in which a little sartorial effort would be appropriate.
This dining room curves around the end of the building and its many windows take full advantage of its position over the sea. Maitre d' Cesco Viviani showed me to a table upon which stood good Schott glasses and a single, fat candle. Signor Viviani looked after me very well throughout the evening, as did his colleague, Vincenzo – who ensured that my ailing back was eased with numerous extra cushions. I enjoyed this and my subsequent visits, not least because of this kind and careful service.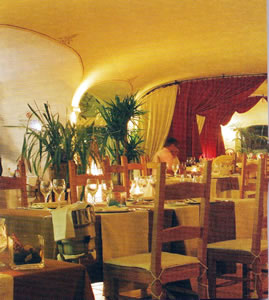 Francesco Scala (pictured) is a talented chef, who likes clear, pronounced flavours.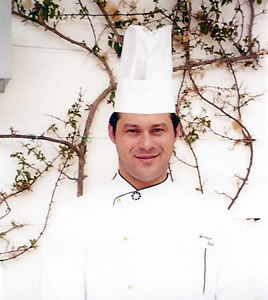 He knows that top quality ingredients are essential, so he makes sure that he finds them. And he has an eye for careful and attractive presentation. From the various dishes I tried, I would commend to you beef fillet carpaccio, with rocket and Grana cheese (a lovely plate of green, gold and dark red), pappardelle with a wild boar sauce (full of robust taste), grilled lamb chops (meat both local and tender) and myrtle parfait (prettily presented in a long white dish). (Expect to pay 55-65 euros for four courses.)
The wine list gives the grape varieties of each wine. This is courteous and helpful. There are one or two French bottles – so that can start your evening with 1998 Dom Pérignon champagne (310 euros) and end it with the grandest of pudding wines (1995 Yquem – 910 euros). But, as you would expect, most of the offerings are Italian. The following caught my eye: 1996 Barolo Monfortino Riserva, Conterno (690 euros), 2000 Syrah, Planeta (72 euros), 2001 Tignanello (160 euros) and 2001 Ornellaia (290 euros). I tried some Sardinian wines and I would urge you to try them, too – not least because they represent remarkable value for money. My white was crisp and elegant, with plenty of sherbet on the nose (Vermentino di Sardegna, Giunco, 2006 – 31 euros), and my red was packed with ripe damsons and blackcurrants (Perdera, Argiolas, 2005 – 27 euros).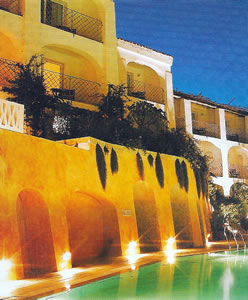 If you like your mineral water, you are in luck. Sixteen types are offered and each is fully described. Thus, for example, we are told that Badoit is "low in mineral content" and is "very good with elaborate meat dishes". This interest in water is to be encouraged.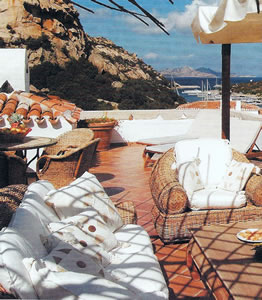 My mornings began in the other restaurant, next to the swimming pools. Once again, Vincenzo was on hand with his cushions. He also brought to me plates of good bacon and poached eggs. From the buffet, I secured supplies of cheese, ham and pineapple. All these were washed down by pots of proper coffee and by my concluding cappuccinos. These days started well.
Indeed, my days here started, continued and ended well. For the Hotel Meliá Poltu Quatu is a well-run, stylish and comfortable hotel, in a wonderful location, which offers good service and excellent food. And I know that, with Hermann Gatti as its General Manager, it is in very good hands indeed.
---
ADDRESSES
HOTEL MELIÁ POLTU QUATU
Località Poltu Quatu, 07020 Porto Cervo, Sardinia, Italy.
Teleohone +39 0789 956 200
Fax +39 0789 956 201
Email: melia.poltu.quatu@solmelia.com
www.solmelia.com
Double rooms (including breakfast) from 211-451 euros, according to season