FRANCE
PARIS
HOTEL NAPOLEON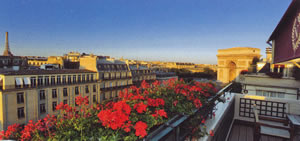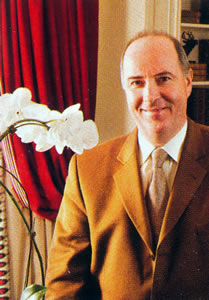 In the history of wedding presents, there is one which strikes me as particularly gracious and generous. In 1925 Alex Kliaguine, a businessman born in Russia, met and fell in love with a young French student. Three years later they married and, to mark the happy occasion, Mr Kliaguine gave to his blushing bride a new seven-storey hotel in Paris – The Napoleon. Wonderfully located on the avenue Friedland, very close to the Arc de Triomphe, it soon became one of the swish and fashionable places to stay in the French capital, and its one hundred rooms (half of them suites) began to be enjoyed by the likes of Errol Flynn, Ernest Hemingway, Salvador Dali and John Steinbeck. The high reputation it established in the 20s and 30s continues to this day, which is why I decided to pay a visit.
Of course, the hotel has been renovated and restored several time since it opened in 1928. Its interior design is now by Elisabeth Malphettes, and she has done an impressive job in retaining the traditional sumptuousness of the property, while introducing some elements of today's lighter approach. Pictures of the Emperor and his supporters abound, as you would expect, and they seem at home amidst all the fine fabrics, the gilt, the crystal and the polished mahogany. The colours are warm and welcoming, two epithets which – together with helpful – I am happy to apply to the members of staff. The General Manager, Ludovic Corpechot (pictured), can be proud of his team. I know that I am not always the easiest of guests, but all my requests and requirements were met with smiles and efficient action.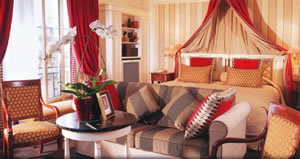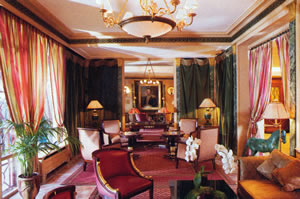 My room was on the 5th floor and at the back of the building (thus ensuring absolute quiet). Number 520 was a senior suite, and therefore 792€-892€ a night, bed and breakfast for two. It was bright, elegant and well-equipped. Its wallpaper was white and striped, and its carpet was black and patterned. The sitting room and bedroom were separated by sliding doors and each was about 12 feet by 9 feet. They were reached by a corridor hall (off which was a fitted cloakroom) lit by spotlights. Well-placed mirrors increased the sense of space.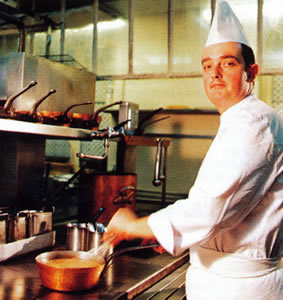 Lighting came from chandeliers, a table lamp and wall lights. A French window led to a Juliet balcony in each room. A sofa, two easy chairs, a writing desk and two televisions created the sense of a comfortable apartment. In the pink and white bathroom I found more spotlights, a tub of acceptable size, a separate shower, one wash basin and that dreaded device – a pair of scales. (I know I am too old to be intimidated by these machines, but I still prefer to have them put out of sight.)
Eating at The Napoleon is done in the Bivouac Café. This space has dark paneling, delightfully painted ceilings, discreet lighting, potted palms and a beautiful wooden floor with fine rugs. With its low seats and sofas, it is a restaurant or a lounge bar, according to the time of day. Its more formal persona appears at weekday lunchtimes. Sadly, I was not able to sample this aspect of the kitchen's efforts. But I did look at the menu, and the meal I would have chosen will give you an idea of the attractive dishes which are offered by Chef Olivier Legentil (pictured): Royal Gala apple and warm foie gras tarte tatin, deer filet mignon strips with parsnip gratin and a white chocolate tear with meringues and chestnut cream.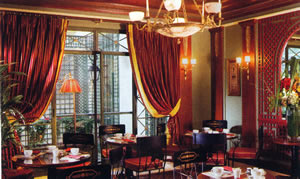 My own meal was on a weekend evening, and so the fare was simpler. Still, I tucked in happily to a large and pretty goat's cheese salad, a decent piece of grilled salmon with green beans and mashed potatoes and a straightforward tarte tatin with vanilla ice cream. These three dishes (63€) were washed down with a crisp 2008 Chassagne Montrachet (Faiveley - 78€). The wine list has 80 offerings, nearly all French, and prices run from 28€ for a white from the Loire to 340€ for the 2002 Dom Pérignon.
I have already mentioned the excellence of the staff, but I must do so again with regard to breakfast. For, although most of my comestibles were secured from the buffet – including some very tasty bacon and lovely scrambled egg – the smiling courtesy with which the waiter (I fear I did not note his name) brought me repeated pots of coffee and dishes of ice cubes was above and beyond the call of duty.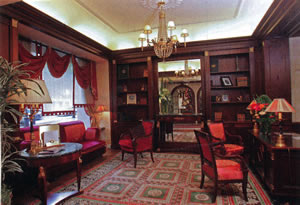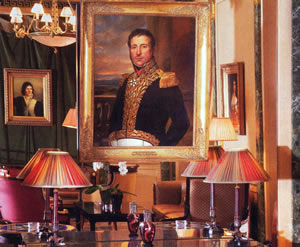 The Napoleon is a good hotel. Its location, level of comfort and style of service combine to make it one of those Parisian hotels to which one would always be very happy to return. What a splendid wedding present it was.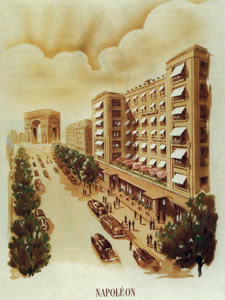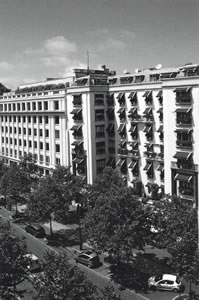 ---
ADDRESSES
HOTEL NAPOLEON
40 avenue de Friedland, 75008 Paris, France.
Telephone +33 (0)1 56 68 43 21
Fax +33 (0)1 56 68 44 40
Email: napoleon@hotelnapoleon.com
www.hotelnapoleon.com
Double rooms from 440-540€, according to season, breakfast extra (26€)
Check the hotel's website for specific dates and for special offers