FRANCE
NICE
HOTEL NEGRESCO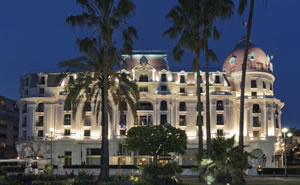 Is it a palace? Is it a museum? No, it is an hotel. But it is a very special hotel. It is the Hotel Negresco. Yet the questions are not foolish. The Negresco was built as, and remains to this day, one of the great 'palace hotels' of the French Riviera. And its collection of art – comprising not only paintings, but also drawings, prints, bronzes, statues, clocks and tapestries – is one of which any museum would be proud. As befits such a place, Kings, Queens, Princes, Grand Dukes, Presidents, film stars and artists have thronged its majestic halls. The eponymous Mr Henri Negrescu – the spelling is correct, for the gentleman was from Romania – founded the establishment in 1913. He died in penury in 1920, for 1913 was not an auspicious year for the opening of a luxury hotel. (In the First World War the hotel was used as a hospital.) But he would surely be proud of what his establishment has become under the ownership of Madame Jeanne Augier (pictured).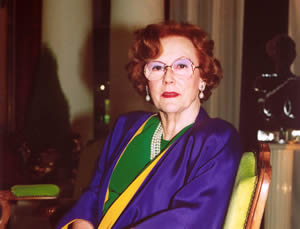 By the 1950s the magnificent edifice constructed for Mr Negrescu by the architect Edouard Niermans was in a sorry state. But then Madame Augier's family took over and the sun started to shine once more on this jewel of the Cote d'Azur. Soon French art of the highest quality began to appear throughout the building. An example of that quality can be seen in the Salon Royal (pictured), off the main entrance hall. It is a large painting of Louis XIV by Rigaud. Two other versions of this painting are known to exist: one is in the Louvre and the other is in the Palace at Versailles. You see what I mean about quality? There are modern pieces, too. Indeed, in a corridor I spotted a photograph of Madame Augier with one of her late friends, the Surrealist painter, Salvador Dali. And now ten million euros have just been spent to ensure that all remains pristine (and to create 'executive' rooms on the 5th floor.)
I was in room 227 on the second floor. This was a Junior Suite with Sea View, and was therefore 980-1180 euros a night for two, breakfast extra. This apartment was on the corner of the building, a location which enabled its four windows to sweep round the angle and provide me with views both directly out to sea and down the Promenade des Anglais (which can sometimes be busy with traffic). My small balcony also had a table and two chairs, for those moments when I wanted to partake of the sea air.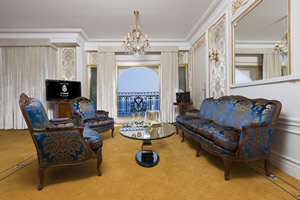 I liked this spacious and elegant apartment. Between the beds was an angel, carved in wood during the reign of Louis XIV. From the same period was a walnut chest of drawers. Slightly later (Louis XV) was the writing desk. The three-piece suite was upholstered in silk of blue and gold. On the wall hung a painting in the style of Boucher. A glass screen separated the bed-sitting room and the bathroom. The walls of the latter were covered with large slabs of pink marble. Two wash basins were provided, as well as a separate shower, a separate loo and a kidney-shaped bath tub.
Music was available via the television. Once I had worked out the system, I was able to select Gershwin and feel totally content. True, I was not 'An American In Paris'. But I was An Englishman In Nice, and that felt pretty good. I ordered a pot of Earl Grey tea, sat on my settee and thought about dinner.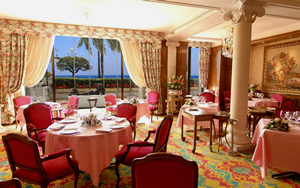 Anticipation is one of life's quiet pleasures. And at the Negresco, I had much to which I could look forward. My table for dinner was reserved at Le Chantecler (pictured) – an exquisite room, clad in 18th century panelling, on the ground floor. I had eaten there before, but not for many years. I remembered pink tablecloths, bright chandeliers and the careful replacement of napkins. These were still all there (with particularly correct and attentive service provided by the team under Restaurant Manager Olivier Novelli), together with good glassware (without a name) and canned music. This last – although I would always prefer silence – was not offensive, and included a piano rendition of 'Ain't she sweet'. Le Chantecler means 'The Cockerel'. This is the symbol of my college in Cambridge – for our founder, in 1496, was Bishop Alcock of Ely. Any Jesus man would therefore feel a warm glow of pleasure at contemplating a meal at Le Chantecler.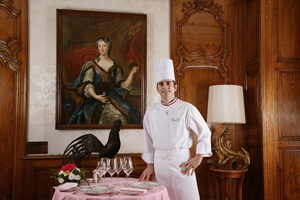 And a lovely meal it was. Chef Jean-Denis Rieubland (from Agen) likes to say that his cuisine is "inspired by Provence". He has a keen eye for presentation. Each of my dishes was exceptionally pretty to behold. Each also spoke of a kitchen full of culinary talent – not least from the Chef Pâtissier, Jean Charles Boucher. A five course set meal is offered for 90 euros, and you should allow around 150 euros for four courses from the carte. I began with roasted langoustines with pepper, crisp sautéed calf's head and rocket leaves. This was a superb combination of textures and flavours. The gnocchi which followed was simpler – the tiny gnocchi being the junior partner to vegetables which had been pan-fried with chervil butter. Here was the highlight of the meal – a burst of warm sunshine and joy. My meat was hare, its intense taste well highlighted by juniper berries, carrots, parsnips and hazel nut oil. I ended with crunchy cannelé with chestnuts, quince compote and a hint of vanilla.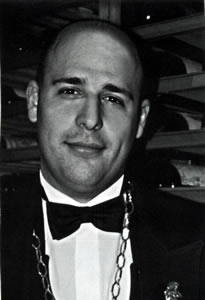 The wine list is a substantial volume and offers about 800 (nearly all French) bottles. Prices range from 30ε for a white vin de pays d'Oc to 7,200ε for 1982 Latour and 7,850ε for 1989 Pétrus. Other bottles to catch my eye were: 1961 Palmer (5,150ε), 1967 Yquem (5,800ε), 1970 Latour (900ε), 1982 Margaux (3,750ε) and 1995 Romanée-Conti (5,200ε). The excellent Sommelier Lionel Compan (pictured, in black and white) brought me two good Provençal wines: a light, elegant white (Chateau La Calisse, Cuvé Po, 2008 - 50ε) and a full-bodied red, packed with ripe black fruit (St Jeannet, 2008 -60ε). It is not necessary to spend a fortune at Le Chantecler to drink well.
Like many grand hotels, the Negresco has its eccentricities, but they are endearing ones. The lift (a little boudoir of buttoned red velvet) has a door which opens outwards, rather slowly, of its own accord; the ground floor loo for gentlemen is in the form of a campaign tent from the Napoleonic campaigns; and the 'English' bar is anything but, and has a cabinet of French military paraphernalia.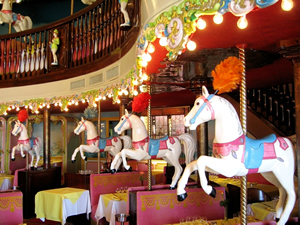 Perhaps most remarkable is La Rotonde (pictured), the all-day brasserie in which I had breakfast (30 euros). I had scarcely settled myself on the pink banquette, next to the tablecloth of bright yellow, when the fairground horses all around began to move up and down, a mannequin decided to turn a handle to play a barrel organ and a statue high on the balustrade started to strike the bell she was holding aloft. Even so, I can report that the comestibles – many of them from a generous buffet – were all of good quality. I enjoyed particularly the onion omelettes, the warm croissants, the slices of ham and the fresh fruit salad.
The Negresco is one of the most famous hotels in the world. It is a place of opulence, luxury, comfort, proper service, remarkable cuisine and fine art. It is also an establishment with its own highly distinctive character. Its guests are often to be seen smiling.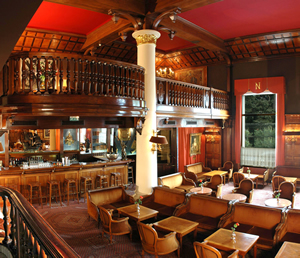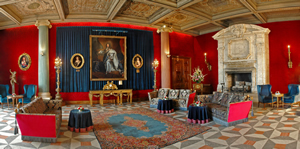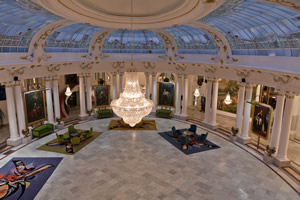 ---