FRANCE
SAINT-JEAN-CAP-FERRAT
HOTEL ROYAL-RIVIERA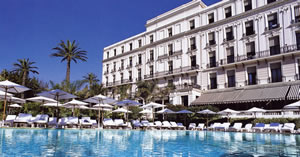 The Hotel Royal-Riviera is the gracious lady of Cap Ferrat. She stands guard at the entrance to what is probably the prettiest and is certainly the wealthiest peninsula on the French Riviera. Although it is not normally the thing to mention a lady's age, I think she will forgive me for mentioning the year of her birth – 1904 – because, for someone of her age, she looks remarkably well. Of course, she has changed her name (she was originally the Bedford Hotel), but that has not prevented her from entertaining the crowned heads of Europe and many of Hollywood's most famous film stars. Being of impeccable breeding and in possession of exquisite manners, naturally she treats all her guests, be they high or low, with the same kindness and courtesy. The members of her staff are helpful and polite, and her public rooms are as you would expect – comfortable, elegant and traditional. Being a careful hostess, she encourages her visitors to gaze with her out over the blue Mediterranean and enjoy the beauty all around.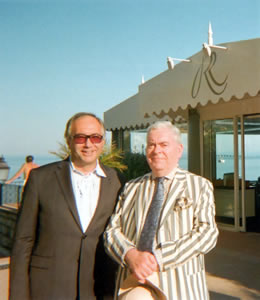 For this lovely view of the sea, you need to make sure that your room is at the back of the building. (This position also means that you will avoid any possible disturbance from the road at the front, which can be busy at times.) My own billet on the second floor was described accurately as a 'deluxe sea and garden view double' (600€-1,120€ a night, bed and breakfast for two, according to season). I entered through a hall corridor with wardrobes behind sliding, mirrored doors. The bedroom measured about 18 feet by 12 feet and was possessed of a bed which had been made wonderfully soft for me. The room's bright, modern décor – including the white bas-relief over the bed – had a nautical theme, with much use of ocean blue and with a thick rope appearing to hold up a large mirror over the desk. (I discovered later that the television was inside the mirror. Such are the miracles of modern technology.)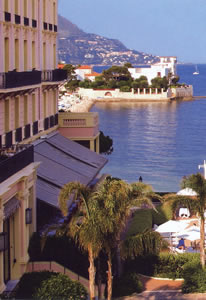 Two French windows with striped roller blinds opened onto my balcony with its view. The hotel has lovely gardens, dotted with wicker armchairs (in which I spent my mornings with Trollope and my afternoons with pots of Earl Grey tea), and the manicured greenery stretched out in gentle harmony before me. And to the left, beyond the swimming pool, was the gentle movement of the sea. It was a pleasing scene, and exactly what I want when I am on the Côte d'Azur. Back inside, with the coolness of impressively quiet and effective air conditioning, I could perform my ablutions in the modestly-sized bathroom. It contained a bath tub with a shower over, one wash basin and a separate loo with a bidet.
On one of my walks I bumped into the General Manager, Mr Bruno Mercadel. I bring you his photograph. (He deserves high praise, not just for ensuring the high level of service I encountered throughout the Royal Riviera, but also for insisting that not one suggestion of canned music sullies any of the hotel's grand salons. If all hotel managers followed his example, my life would be even happier.) These walks deserve special mention, for steps at the end of the hotel lead directly onto what must be one of the most beautiful promenades on the French Riviera. Even though I am averse to most physical exertion, I made it a daily habit to walk along this enchanted pathway to view the distant Villa Kerylos. This exotic building was erected in 1908, as an exact copy of a Greek villa of the 2nd century B.C. Strangely, it appears entirely appropriate to its setting.
And the food of Chef Bruno Le Bolch and menu consultant Alan Parodi is entirely appropriate to its setting, too – by which I mean it is both luxurious and elegant. The restaurant is called La Table du Royal, and it inhabits two high-ceilinged rooms and a long terrace on the ground floor. Settled for dinner at a table next to the stone balustrade, so that I had a view out to sea, I was pleased to find crisp white napery, good glassware (by Bormioli, Schott, Zwiesel and Riedel) and splendid white crockery. (I have said it before, and I will say it again: food looks best when it is served – as here – on plain white round plates.) The service, from Maitre d' Marc and from Chef Sommelier Thierry, was friendly and efficient.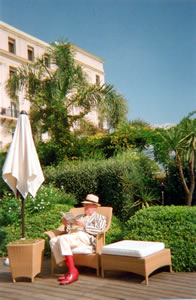 I began my evening repast with a dish which was subtle, well-balanced and carefully constructed. These stuffed zucchini flowers, with mushrooms, asparagus and sun-dried tomatoes, were topped with grated truffles, and the taste and the aroma of the divine fungus were fully present. Blue lobster with French beans and almonds was precisely cooked, but my palate found it slightly too dominated by the accompanying flat peaches. A whole sea bass in salt crust was served by the table, and was a straightforward, beautiful fish. I ended with a terrific combination: wild strawberries with white cheese sorbet and a truly scrumptious rum baba. Delicious. (These four courses were 137€.)
The wine list has 322 offerings. All (apart from one white from Tuscany) are French. They run in price from 30€ for a white Vin de Pays des Côtes de Gascogne to 1,900€ for the 2010 La Tâche. Other bottles to catch my eye were: Krug Grande Cuvée (250€), 1999 Mouton Rothschild (1,350€), 2001 Palmer (550€), 2001 Margaux (850€) and 2009 Vin de Pays de l'Hérault, Grange des Pères (150€).
I enjoyed my stay at Saint-Jean-Cap-Ferrat. It is easy to understand why the place attracts so many of the great and the good. Such folk demand elegance, luxury and style. And they find them at the Hotel Royal-Riviera, the gracious lady of Cap Ferrat.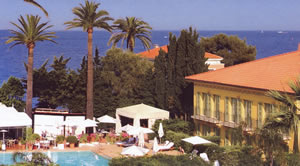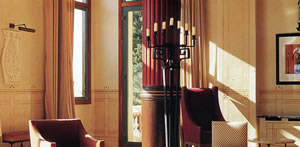 ---