ITALY
FLORENCE
HOTEL SAVOY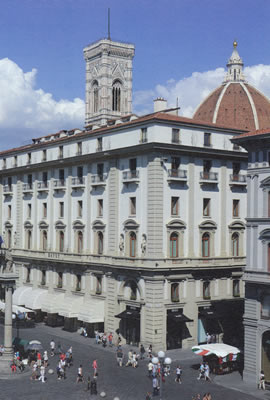 The Savoy Hotel occupies one of the best locations in Florence: mid-way between the Duomo and the piazza Vecchia, on the corner of the piazza della Repubblica. It is a handsome building, having been erected in 1893 in the Classicial style. Surrounded by shops of the très chic sort, within it is itself a temple of contemporary elegance. The Savoy is full of works of contemporary art, including paintings by Luca Pignatelli. But, as is the way with the hotels of Rocco Forte, its modernity is of the comfortable and welcoming kind. It can also boast a chef of prodigious talent. If you are thinking of visiting this most beautiful of cities, you will certainly not go wrong if you choose to stay at The Savoy.
A good hotel usually has a good manager, and the General Manager here is the charming Giancarlo Rizzi. I have encountered him in several locations in the many years of my travels, and when I have encountered him I have also encountered service of the highest quality. Thus it is here. The members of staff with whom I had to do were smart, courteous, friendly and efficient – and these are the characteristics I seek in those who look after me.
My billet was on the fourth floor. Room 410 was designated a 'Piazza View' (average rate of Euro 704 a night, breakfast extra, according to season). From its balcony there was, indeed, a pleasing view of the piazza. (You should note that, occasionally, the piazza can be a little noisy because of the enthusiasm of street-entertainers and their audiences, but – with my French window closed – not a solitary sound penetrated my apartment.) I liked the sophisticated colour scheme of cream, grey, white and light brown – the last from the oak of the parquet floor.
From the corridor I entered into a hallway and an area with a desk and a walk-in wardrobe (with a private safe). Further in I found the bedroom to be about 12 feet by 9 feet, with silvered bedside tables, two easy chairs and a television. On this last it was easy to find a selection of Classical music, so that I could relax to the strains of Gershwin or Vivaldi. The air conditioning was quiet, effective and controllable. The bathroom in brown marble was compact, but well-equipped – with one wash basin, a bath of proper size with a shower over, a loo, a bidet and toiletries by Lorenzo Villoresi. My ablutions and my dressing for dinner were achieved in comfort.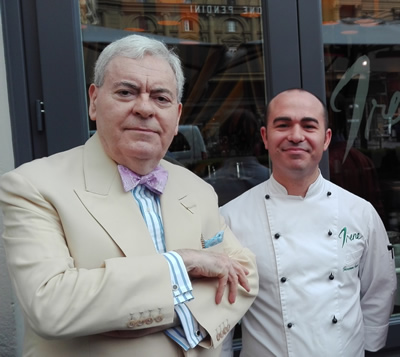 Downstairs that dinner was cooked by one of the best chefs in Florence. Giovanni Cosmai (pictured, with your correspondent) is not only a wizard at the stoves and the brother of Pasquale, one of the Great Men of The Ritz in London: he is also a jolly good fellow. As proof of the last, you need to know only that, having heard of my devotion to fresh peas, he presented me upon my departure with a handsome green box full of peas in their pods.
He sends his food into the hotel dining room, which looks out at the piazza at street level. It is named the Ristorante Irene, after the mother of Sir Rocco Forte. Here, along with the Director of Food, Chef Fulvio Pierangelini, Mr Cosmai has devised an attractive menu which is based upon Tuscan classics. The room itself has a contemporary feel, with discreet lighting, green leather armchairs and waiters in light blue shirts. There is canned music, but it is inoffensive, and I was pleased that the napery was white and that new napkins appeared for the pudding.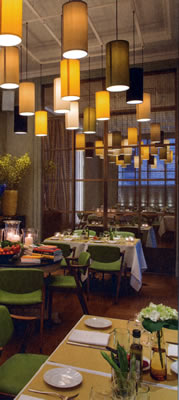 The four courses I ate here at dinner were all excellent. One was superb. I began with seared scallops, precisely cooked and served with broad bean cream and spring vegetables – a fine combination of tastes and textures. Then came the magnificent pinnacle of my meal: homemade 'pappa al pomodoro' ravioli. The pasta was thrillingly luscious and almost magical in its translucence, and the tomato and bread filling was gorgeous. The main course was carefully cooked monkfish, with asparagus, morel mushrooms and black truffle, made even better by the splendid roast potatoes with rosemary I had requested on the side. I can never resist rhubarb, so I had it for my pudding, with strawberries and some beautifully realised frozen yoghurt parfait. (You should think about 90€-100€ for four courses.) This was very good eating.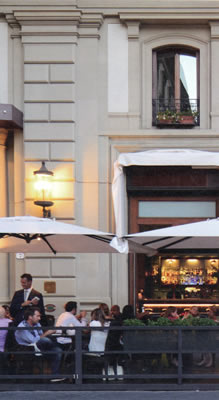 I drank properly as well, thanks to the recommendations of the keen young sommelier, Paolo. The wine list has 122 offerings, all Italian except the champagnes. Prices are friendly, and run from 20€ for half a bottle of chardonnay from the Alto Aldige to 750€ for the 2012 vintage of the best super-Tuscan, Masseto. Other super-Tuscans include 2012 Solaia (260€), 2013 Tignanello (130€) and 2013 Sassicaia (200€). Bubblies include 2007 Cristal (280€), Krug Grande Cuvée (280€) and my favourite Franciacorta, Anna Maria Clementi (Cà del Bosco), in its 2007 vintage (160€). Into the good Rona glasses on my table, Paolo poured the big and reliable Sicilian chardonnay by Planeta (2015 – 50€) and a crisp and vivacious Franciacorta from the house of Antinori (Cuvée Royale, Montenisa – 50€).
To break the fast, I returned to the Ristorante Irene, but this time I sat on the street terrace, the slight chill of the early morning dissipated by overhead heaters. Here I could look over at the 1895 triumphal arch on the other side of the square, as I tucked into high quality comestibles from the buffet – strawberries, melon, pineapple, cakes and cheese – as well as hot food done specially for me, like lovely mushroom omelettes. Alongside these treats, I recreated my grandfather's invariable breakfast of porridge made with water, sliced raw onion and brown bread and butter. Truly, my days at The Savoy started well.
And they went on well, too. For The Savoy is a fine hotel in a wonderful location, with comfortable accommodation, excellent service and a brilliant chef who sends me away with... peas.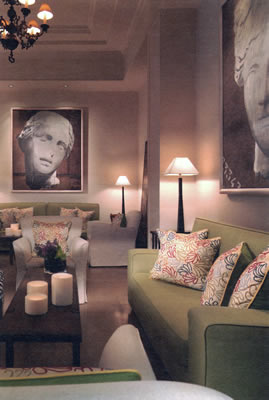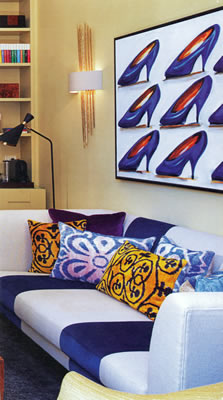 ---
ADDRESSES
HOTEL SAVOY
Piazza della Repubblica 7, 50123 Florence, Italy.
Telephone +39 055 27 351
Email: reservations.savoy@roccofortehotels.com
www.roccofortehotels.com
Average rate for a double room Euro 567, breakfast extra, according to season
Check the hotel website for specific dates and special offers