ITALY
ROME
HOTEL SPLENDIDE ROYAL & RESTAURANT LA MIRABELLE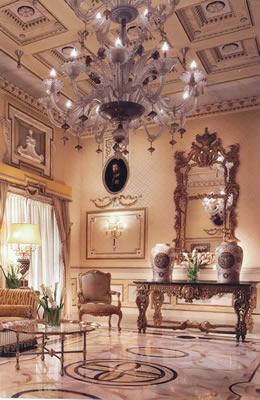 I like my décor on the sumptuous side, which is one of the reasons I really like the Hotel Splendide Royal in Rome. Another is that it is only a six minute taxi ride up the hill from the piazza del Popolo, and I tend to measure all my Roman journeys from what is my favourite square in the Eternal City. Inside this remarkable hotel, you will find surroundings nearly as rich as those of the churches for which Rome is so famous. Puritans – who must have a miserable time in the Italian capital – might consider it 'over the top'. But I am not a puritan. As soon as I walk into the Splendide Royal I feel that a time of jollity and indulgence is ahead. Remarkably, this 19th century palace was once the home of Rome's Maronite community (a Christian group from the Lebanon). I suspect in those days the 'ambiance' was rather more restrained. But nowadays I always feel entirely at home.
Notice, as you walk to the lift through all the gilt and marble, the large chandelier of Murano crystal. Have you seen it somewhere before? Why, of course – it was the chandelier used by Visconti for the ballroom scene of his famous film, The Leopard. I admired it again on the way to my room. Is its presence here not a marvel? Surrounded by such artefacts, it was hardly surprising that, as I stepped out at the 4th floor, I was in the happiest of moods.
Room 420 is one of the hotel's newly renovated Junior Suites (up to 880€ a night, bed and breakfast for two, according to season). I liked the very good woodwork throughout the apartment, particularly the panelled doors and attractive floor. Through the proper hall (with fitted wardrobes and a private safe) was a bed-sitting room of good size, with much white, yellow and gold. The reproduction period furniture was both practical and elegant. The heavy curtains were swagged and tailed, and the frames of the mirrors and pictures were gilt. The bed was large and deliciously soft, and the lighting from the table lamps was augmented by that concealed in the octagonal recess in the ceiling. For my ablutions I found a bathroom which was a bright chamber of grey and black marble – with two wash basins, a bath of decent size, a separate shower and, behind a sliding door, a loo and a bidet. This was accommodation which combined charm and comfort.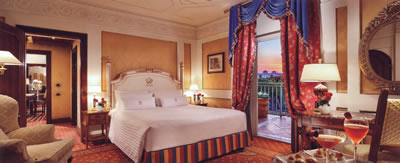 Breakfast at the Splendide Royal is served in the 'Crystal Lounge', a room on the top floor which is white, spotless, well-run and offers lovely views of Rome through its wall of plate-glass. Here I was looked after with exceptional kindness by waiter Gianmarco Panico. He brought to me lovely onion omelettes, white porcelain pots of coffee, supplies of ice cubes and, of course, my concluding cappuccino. From the buffet I secured other comestibles of high quality, including scrambled eggs, mushrooms, sausages, strawberries, melon and pineapple. Gianmarco's enthusiasm for providing me with good service typified the members of staff I encountered – a tribute to the excellent General Manager, Nicolino Grigio (pictured), a jovial gentleman I first encountered when he managed the Grand Hotel Excelsior Vittoria in Sorrento.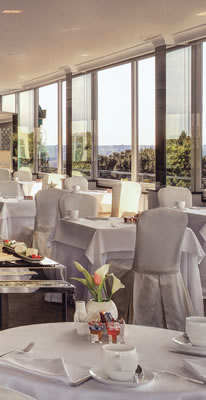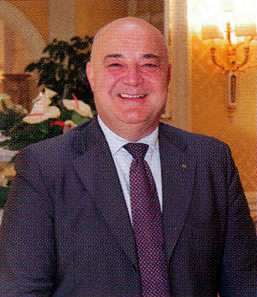 Apart from the excellent breakfasts, there is more food of the highest quality to be had at the Splendide Royal's other dining room. La Mirabelle has a Michelin star. Its fine cuisine – served in a truly luxurious setting – attracts gourmets from far and wide.
The weather being kind, I was fortunate to be able to dine on the restaurant terrace. And there before me was the loveliest panorama of Rome you will see. I think I must have been looking due east, for the top of the distant façade of St Peter's basilica was directly facing me. It took me a quite a while before I could drag my eyes away from this glorious vista.
On my table was a candle in a silver candlestick. Also standing on the heavy damask were glasses by Stölzle and porcelain by Villeroy and Boch. The Restaurant Manager, Luca Constazi ensures that standards in every department are tip-top. When I left the table for a moment my napkin was immediately re-folded. The canned music was turned down at my request and was soon replaced by delightful, live performances of songs which included 'What a wonderful world'. And wonderful it was, indeed, to be looked after by 1st Maitre Sandro Alessandrini and sommelier Luigi.
Stefano Marzetti is a very, very good chef and thoroughly deserves his Michelin star. His ingredients are of the finest, his dishes are highly appealing and his culinary technique is admirable. From his menu I could happily have chosen almost anything. Two set menus are offered at 130€ and 150€, but I decided upon 4 courses from the carte. I say I decided upon four courses, but Chef Marzetti is generous with his portions, so I had to say 'Enough!' before a pudding could arrive, for fear of over-indulgence.
My first course was terrine of foie gras. It came as a gorgeous, rich and stylish orange globe, for the liver was covered with tangerine. I will never tire of the combination of foie gras with fruit. Here it was a triumph, particularly with the accompanying coffee brioche. Next I ascended the gastronomic mountain even further, with luscious and yielding tagliolini, covered with shavings of Alba's greatest export – white truffle. If I had expired after eating this exceptional dish, I would have died a happy man. But I survived, to tuck into tasty and tender slices of beef fillet, with mushrooms, leeks, potatoes and a red wine sauce. This was a splendid meal (242€).
As befits a restaurant of this distinction, the wine list – presided over by Head Sommelier Fabrizio Colaianni – is impressive. Prices run from 55€ for a chardonnay from Puglia to 5,830€ for the 2011 vintage of Chateau Pétrus. Other bottles from its 520 offerings (which are mostly from Italy and France) to catch my eye were: 2015 Planeta chardonnay (80€), 2015 Cervaro della Sala (115€), 2001 Gaja barbaresco (640€), 2001 Tignanello (440€), 1982 Ducru Beaucaillou (1,000€), 2012 La Tâche (2,400€) and 2012 Masseto (1,400€).
There are so many reasons why I like the Hotel Splendide Royal and its famous Mirabelle Restaurant: its décor, its comfort, its location, its views, its service, its food and its wine. But let me sum them up in two words: unashamed luxury.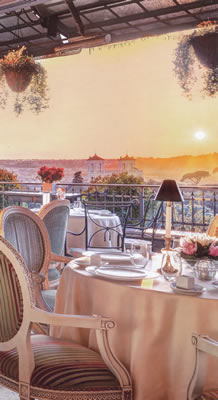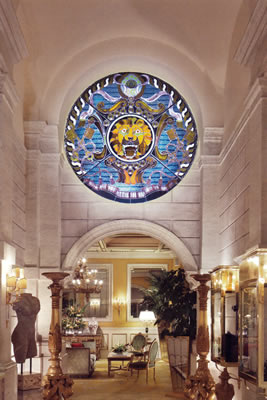 ---