ITALY
ROME
HOTEL SPLENDIDE ROYAL & RESTAURANT LA MIRABELLE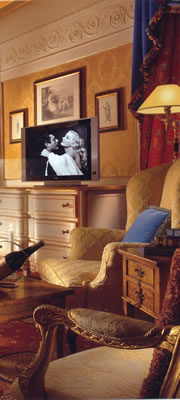 The Hotel Splendide Royal is but a six minute taxi ride up the hill from the piazza del Popolo. (I tend to measure all my Roman journeys from the Piazza del Popolo, as it is my favourite square in the Eternal City.) Inside the hotel, you will find a décor nearly as sumptuous as that of the churches for which Rome is so famous. Puritans – who must have a miserable time in the Italian capital - might consider it 'over the top'. But I am not a puritan. I love ostentatious extravagance. As soon as I walked in, I therefore felt that a time of jollity and indulgence was ahead. Remarkably, this 19th century palace was once the home of Rome's Maronite community (a Christian group from the Lebanon). I suspect in those days the 'ambiance' was rather more restrained. Now, if you like your furnishings on the lavish side, as I do, you will feel entirely at home.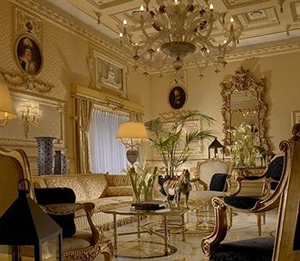 Notice, as you walk to the lift through all the gilt and marble, the large chandelier of Murano crystal. Have you seen it somewhere before? Why, of course – it was the chandelier used by Visconti for the ballroom scene of his famous film, The Leopard. I admired it again on the way to my room. Is its presence here not a marvel? Surrounded by such artefacts, it was hardly surprising that, as I stepped out at the 5th floor, I was in the happiest of moods.
Room 511 is a Junior Suite (450€-900€ a night, bed and breakfast for two, according to season). As I expected, it maintained the decorative theme of the public rooms, with much gilt and plasterwork, gold silk on the walls and swagged and tailed curtains to the windows. In the proper hallway was a wardrobe with a safe. Beyond the three French windows was my own private terrace, overlooking the gardens opposite the front of the hotel. My bed-sitting room was long, with plenty of space for two substantial wing chairs and a writing desk with pretty marquetry. An intriguing novelty was the recess in the ceiling, which – at the touch of a switch – glowed orange. The bathroom was a chamber of grey and black marble, with two wash basins, a bath with a jacuzzi facility, a loo, a bidet and a door leading to the separate shower room. This was comfortable accommodation.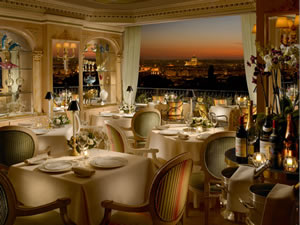 Breakfast at the Splendide Royal is of a high standard, and is served in the 'Crystal Lounge', a room on the top floor which is white, spotless, well-run and offers lovely views of Rome through its wall of plate-glass. I found the food here excellent. From the buffet I secured bacon, mushrooms, tomatoes, Corn Flakes, pineapple, melon, strawberries and crusty bread. All of these comestibles were tip-top. To my table were brought pots of coffee, buckets of ice and, of course, my concluding cappuccino. The only fault I could find was that there was an absence of small plates on the buffet table, but a kind waiter rushed off and found me one, so that this particular, pernickety English visitor would not be without his side plate. His enthusiasm to provide good service typified the members of staff I encountered – a tribute to the excellent General Manager, Nicolino Grigio, a jovial gentleman I first encountered when he managed the Grand Hotel Excelsior Vittoria in Sorrento.
The acclaimed restaurant at the Splendide Royal is La Mirabelle. It has a Michelin star and the fine cuisine served in its luxurious dining room attracts gourmets from far and wide.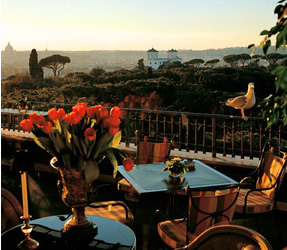 Before dinner I went out onto the terrace for a glass of champagne – protected from the evening chill by an awning and by overhead heaters. And there before me was another good reason for my high spirits: the loveliest panorama of Rome you will see. I think I must have been looking due east, for the top of the distant façade of St Peter's basilica was directly facing me. It took me a quite a while before I could drag my eyes away from this glorious vista.
When I did go inside, I was in a room of considerable luxury. Sensibly, with so much beauty outside, numerous mirrors have been placed at strategic points. The napery was beige, the glasses were by Riedel and the porcelain was by Villeroy & Boch. I sat back in the elegant fauteuil (supported by an extra cushion) and watched as the waiters in their black ties and white aprons lifted silver domes at nearby tables. The Restaurant Manager, the famous Bruno Borghesi, worked at The Ritz in London some years ago. On my visit I was looked after particularly well by maitre d' Marco Senesi. The service at La Mirabelle is formal, courteous and absolutely proper – just as it should be.
Chef Stefano Marzetti deserves all the praise which is heaped upon him. So permit me to add a little more. From his menu I could happily have chosen almost anything, such is its appeal. A 7 course tasting menu is offered for 130€, but I decided upon 3 courses (without a pudding) from the carte – for which you will need to allow around 150€. Each dish was beautiful in its presentation, was based on ingredients of the highest quality and was conceived and executed with precision and intelligence.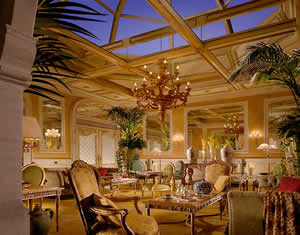 My first course was foie gras escalope with star anise pear, almond crumble and cocoa beans. I have always loved warm foie gras with fruit, and here the luscious, contrasting flavours were accompanied by carefully balanced textures. Next was a simpler dish, but one raised to the magical by the perfection of its two elements: tagliolini and white truffle. The soft, yielding pasta disappeared under a cascade of the divine fungus, as Marco performed his generous shaving. Gorgeous. And my main course was almost as good. Cod, with porcini mushrooms and more of the truffle, was light, delicate and delicious. I ordered fresh vegetables to go with it, and found the asparagus quite exceptional.
As befits a restaurant of this distinction, the wine list presided over by Head Sommelier Simone Feracci is long and impressive. Prices run from 55€ for a sauvignon blanc from Friuli Venezia to 4,800€ for the 2009 vintage of Chateau Pétrus. Other bottles from its 900 offerings to catch my eye were: Krug Grande Cuvée (350€), 2012 La Tâche (2,100€), 1985 Mouton Rothschild (1,800€), 1985 Haut Brion (1,800€), 1985 Cheval Blanc (1,600€), 2011 Ornellaia (280€) and 2012 Masseto (1,200€). 15 wines are available by the glass, and three tasting 'flights' are available at 85€ (5 glasses), 100€ (7 glasses) and 125€ (7 glasses).
The Hotel Splendide Royal and its famous Mirabelle Restaurant offer wonderful hospitality of a sort based upon tradition and unashamed luxury. Unless you are a puritan, you will find the combination irresistible.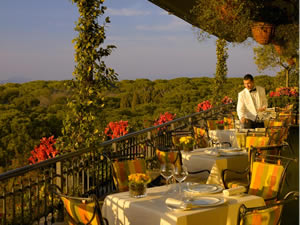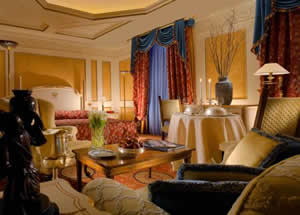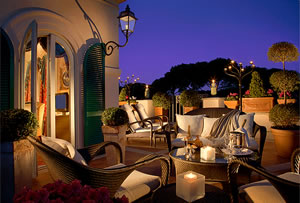 ---
ADDRESSES
HOTEL SPLENDIDE ROYAL & RESTAURANT LA MIRABELLE
Porta Pinciana 14, Rome 00187, Italy.
Telephone +39 06 4216 8838
Fax +39 06 4216 8870
Email: mirabelle@splendideroyal.com
www.splendideroyal.com
Double rooms from 275€-420€, breakfast included, according to season
Check the hotel website for special offers and for the rates for specific dates
Restaurant open for lunch and dinner daily