ITALY
ROME
HOTEL SPLENDIDE ROYAL & RESTAURANT LA MIRABELLE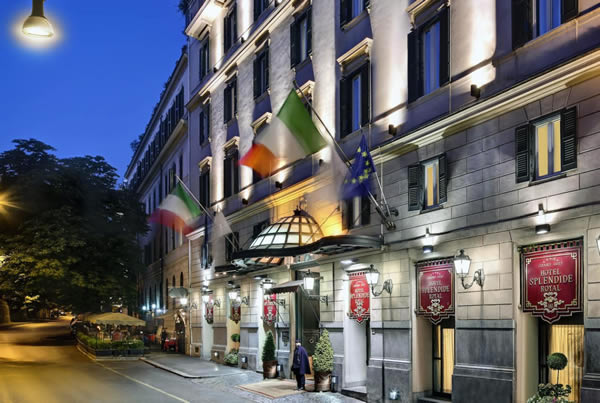 If you like your décor on the sumptuous side, you will love the Hotel Splendide Royal in Rome. And it is only a six minute taxi ride up the hill from the piazza del Popolo, my favourite square in the Eternal City. Inside this remarkable hotel, you will find surroundings nearly as rich as those of the churches for which Rome is so famous. Puritans – who must have a miserable time in the Italian capital – might consider it 'over the top'. But I am not a puritan. As soon as I walk into the Splendide Royal I feel that a time of jollity and indulgence is ahead. Remarkably, this 19th century palace was once the home of Rome's Maronite community (a Christian group from the Lebanon). I suspect in those days the 'ambiance' was rather more restrained. But nowadays I always feel entirely at home.
Notice, as you walk to the lift through all the gilt and marble, the large chandelier of Murano crystal. Have you seen it somewhere before? Why, of course – it was the chandelier used by Visconti for the ballroom scene of his famous film, The Leopard. I admired it again on the way to my room. Is its presence here not a marvel? Surrounded by such artefacts, it was hardly surprising that, as I stepped out at the 5th floor, I was in the happiest of moods.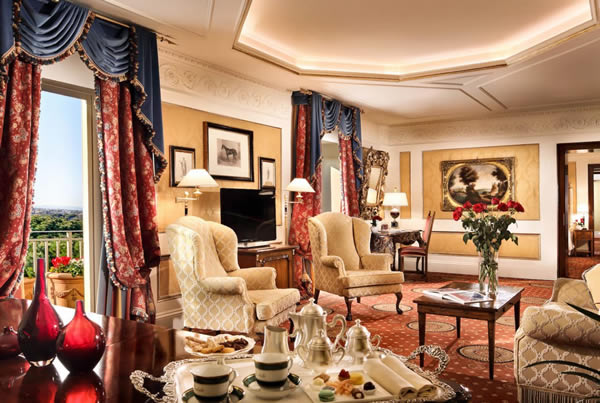 Room 511 is a 'Junior Suite with terrace' – and the terrace it has (reached through the three French windows) is properly large, with views over gardens. I liked this terrace, and I liked, too, the elegant plasterwork on the apartment's ceiling and the pieces of polished mahogany furniture. Through the proper hall (with fitted wardrobes and a private safe) was a bed-sitting room of good size, with tones of red and brown. The heavy curtains were swagged and tailed, and the frames of the mirrors and pictures were gilt. The bed was large and deliciously soft, and the lighting from the table and standard lamps was augmented by that concealed in the octagonal recess in the ceiling. For my ablutions I found a bathroom which was a bright chamber of black and white marble – with two wash basins and a bath of decent size. In the separate shower room was the loo and a bidet. This was accommodation which combined charm and comfort.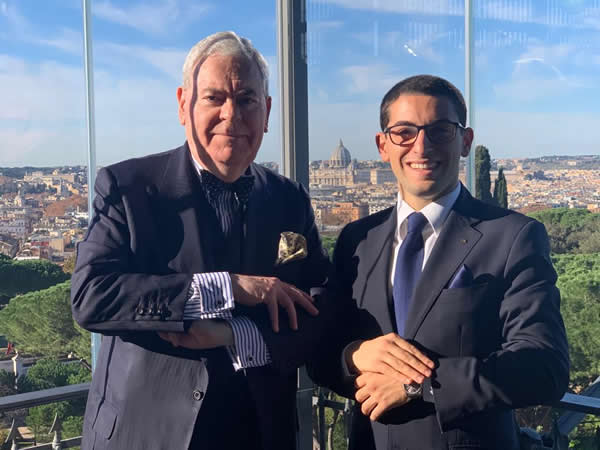 Breakfast at the Splendide Royal is served in the 'Crystal Lounge', a room on the top floor which is white, spotless, well-run and offers lovely views of Rome through its walls of plate-glass. Here I experienced the exceptional kindness by Gianmarco Panico (pictured with your correspondent). He brought to me lovely, freshly-cooked croissants (and I can never resists croissants when they are warm and yielding), white porcelain pots of coffee, supplies of ice cubes and, of course, my concluding cappuccino. From the buffet I secured other comestibles of high quality, including scrambled eggs, mushrooms, strawberries, pineapple and slices of crusty bread. Gianmarco's enthusiasm for providing me with good service typified the members of staff I encountered.
Apart from the excellent breakfasts, there is more food of high quality to be had at the Splendide Royal's other dining room, La Mirabelle, which attracts gourmets from far and wide.
The weather being kind, I was fortunate to be able to dine on the terrace of La Mirabelle. And there before me was the loveliest panorama of Rome you will see. I think I must have been looking due east, for the top of the distant façade of St Peter's basilica was directly facing me. It took me a quite a while before I could drag my eyes away from this glorious vista.
On my table was a candle in a silver candlestick. Also standing on the heavy white damask were glasses by Stölzle and porcelain by Villeroy and Boch. The Restaurant Manager, Luca Constazi ensures that standards in every department are tip-top. I was looked very well indeed by 3rd Maitre Laura Izzo and sommelière Ginger Moreiro, a most knowledgeable lady from Ecuador.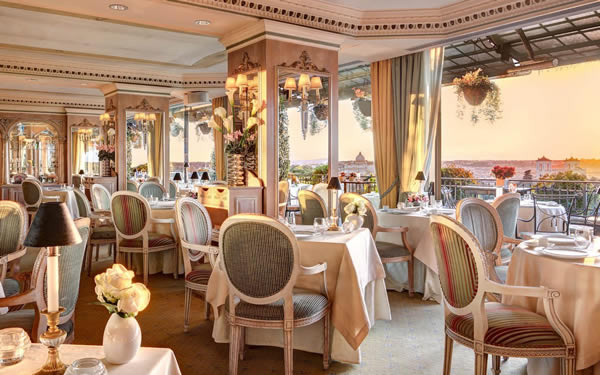 Chef Stefano Marzetti's ingredients are of the finest, his dishes are highly appealing and his culinary technique is admirable. From his menu I could happily have chosen almost anything. A tasting menu of seven courses was available for 180€, but – it being the season of the divine fungus – I went for the 4 course Alba truffle menu for 320€.
My first course was a subtle and delicate one – an oven-cooked egg with potato cream, violet, orange and, of course, truffle. Then came the dish we truffle-lovers adore: tagliolini with butter, parmesan and lots of slices of Alba's gastronomic gift to the world. Delicious. Veal medallions, tender and tasty, were also blessed by their luxury accompaniment, and then it was a triumphant finale of hazelnut parfait with honey and... truffle.
The wine list – presided over by Head Sommelier Fabrizio Colaianni – is impressive. Prices run from 55€ for a various Italian whites to 5,830€ for the 2011 vintage of Chateau Pétrus. Other bottles from its 542 offerings (which are mostly from Italy and France) to catch my eye were: Krug Grande Cuvée (350€), 2016 Cervaro della Sala (115€), 1999 Gaja barbaresco (900€), 1999 Solaia (1,100€), 2001 Mouton Rothschild (2,300€), 2016 La Tâche (3,250€) and 1996 Masseto (1,800€). Ginger Moreiro recommended a really good Barolo of intense black fruit, heady perfume and bold structure, which was a true joy with the truffle (Enrico VI, Cordero di Montez, 2013 – 210€).
There are so many reasons why I like the Hotel Splendide Royal and its famous Mirabelle Restaurant: its décor, its comfort, its location, its views, its service, its food and its wine. But let me sum them up in two words: sumptuous luxury.
---