United Kingdom
SCOTLAND
EDINBURGH
THE HOWARD HOTEL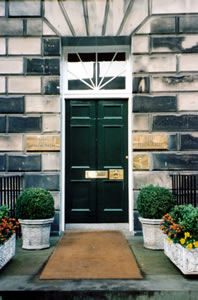 Any visit to Scotland's capital city is a treat for those of us who care about what is now called 'the built environment'. But that treat can be elevated to an occasion of sheer, unadulterated joy if we choose the correct hotel. I had done just that. I had arranged to stay right in the heart of what is acknowledged to be a masterpiece of European architecture. Edinburgh's New Town is a glory of Georgian style. And there in the midst of it was my destination – three houses on Great King Street, built in the 1820s. As my taxi sped past the terraces, I was full of anticipation – for even the driver had voiced his approval of my destination. Then I was there, before the dressed stone and the perfect proportions. I was at The Howard Hotel.
My immediate impression was of entering a wealthy and conservatively-appointed private house, and that was appropriate, for this is a small hotel – of just 18 bedrooms. But the property has been taking paying guests since the 1940s, so there has been plenty of time to develop experience in the art of hospitality. The Howard is proud of its butler service, and those who rejoice in that title are happy to unpack your tweeds and serve your afternoon tea. Indeed, the members of staff I encountered – Stuart deserves a special mention – were all particularly friendly and eager to help. Fiona McIlroy, the General Manager, is clearly doing a good job.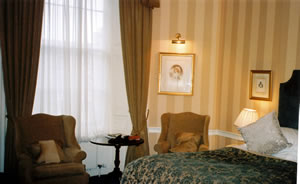 My room, named 'Hanover' (pictured), was on the ground floor, at the very quiet back of the building. (This was a 'standard double' and therefore £160-£295 a night, bed and breakfast for two, according to season.) The door from the hall opened straight into the bedroom, wherein was striped wallpaper, colours of beige and turquoise, two golden wing chairs and lots of cushions. At my request, the bed had been made wonderfully soft. Lighting was from three table lamps, two picture lamps (illuminating prints of 18th century ladies) and a six-light chandelier. Decent classical music was available via the television receiver, which I discovered could be tuned to Radio Three. This was not an over-large room, but its ten-foot high ceiling added a sense of spaciousness, and I found it comfortable, well-equipped and good value.
In the bathroom – a room of good size, with more striped wallpaper and a large casement window – I found Penhaligon's toiletries, Frette bathrobes, one wash basin, a tub of good length and a separate shower cabinet. Here my ablutions could be done in comfort. After a good soak, it was time for my taxi to St Mary's Cathedral (for Choral Evensong). Thereafter another taxi returned me to The Howard for tea.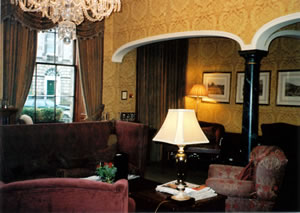 The afternoon ritual – which costs £16.95 per person – is usually performed in the dining room, but I thought I would prefer a corner of the sitting room (pictured) and the staff were happy to oblige – even moving some of the furniture to provide me with a chair which would better support my failing back. Thus settled, I felt pleased with my surroundings. Tea tastes better when one is beneath a crystal chandelier and surrounded by golden wallpaper and swagged curtains. Even the canned music – a gentle rendering of Panis Angelicus – added to the pleasure of the occasion. Although the ti guan yin tea tempted me – it means, as I am sure you know, 'Iron Goddess of Mercy' – I decided upon a pot of the normal breakfast variety, and with it consumed some exceptionally good scones, excellent cakes (I particularly liked that with spiced apple) and several dainty sandwiches. During the happy consumption of these comestibles, I was able to look across Great King Street at the Georgian terrace opposite. This was a civilized portion of the day.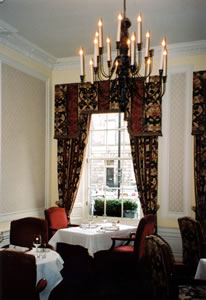 And so was dinner. The dining room, called The Atholl Restaurant (pictured), is small but elegant, with white tablecloths and supportive armchairs. Above its fireplace are some murals, contemporary with the house, by David Ramsey Hay in the style of Watteau. It seems that such paintings were common in these properties in the 1820s, but nearly all of them have been lost. They are charming.
I sat at a round table by the window, number two, and enjoyed he offerings of the French chef, William Poncelet. A tart of goat's cheese and roasted Jerusalem artichokes was prettily presented on a rectangular white plate and provided a subtle combination of flavours. The subsequent seared scallops also pleased the eye, and were accompanied by an intriguing smoked tomato coulis. My main course of pan-fried venison – although the plate was too hot – was certainly the high point of the meal, for the meat was gloriously tender and full of rich taste. I concluded – and why not? – with sticky toffee pudding, butterscotch sauce and vanilla ice cream. (Three courses are £32.)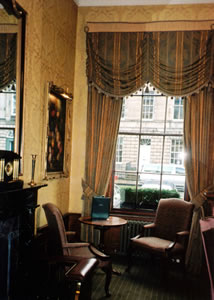 The cellar has about 80 offerings, with prices from £20 for a South African sauvignon blanc to £195 for the 1995 Pol Roger champagne Cuvée Winston Churchill. From a list which circumnavigates the globe, it seemed appropriate to choose a German white and a New Zealand red. The bottles of both wines, remarkably, had screw tops. Dr Loosen's 2007 riesling from the Mosel (£29) was described as having balance and harmony, with peach and citrus – words with which I am happy to concur. My red was the 2006 Cloudy Bay pinot noir (£69). I have never had a disappointing wine from Cloudy Bay, and this was splendid: full of spice and ripe red fruit.
I returned to the dining room for breakfast. And here is my tip for the morning: ask for your orange juice to be freshly squeezed for you. I did, and it was delicious. I also tucked into a bowl of porridge (made with water, of course), smoked haddock and mushrooms, pastries and a plate of fruit. All this was brought to me, as – I am pleased to report – there is no buffet. I even tried some haggis, but – not for the first time – I did not finish it. I suspect one needs Scottish blood to be a fan of the great dish.
But you do not need to be Scottish to be a fan of Edinburgh's New Town. Everyone of taste must acknowledge its beauty. And everyone of taste should acknowledge that to stay in the New Town is a true delight. So let us raise a glass to the splendid Howard Hotel.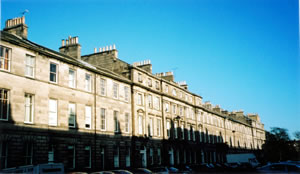 ---
ADDRESSES
THE HOWARD HOTEL
34 Great King Street, Edinburgh EH3 6QH, Scotland.
Telephone +44 (0)131 557 3500
Fax +44 (0)131 274 7405
Email: reserve@thehoward.com
www.thehoward.com
Double rooms from £160-£295, bed and breakfast, according to season
Ask about special offers