ITALY
NAPLES
RESTAURANT IL COMANDANTE, ROMEO HOTEL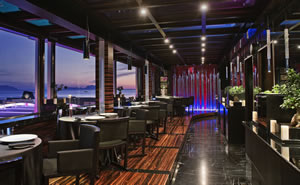 Naples is a remarkable city. But it does not have an abundance of great restaurants. That is why I am so pleased to be able to recommend to you a wonderful dining room right in the heart of things. Having a Michelin star in Italy does not always mean as much as it does elsewhere. But for this kitchen the star is thoroughly deserved. The reason is simple: the cooking done here is of a very high order indeed. Salvatore Bianco, who was born in 1978, is the Chef. His cuisine is full of imaginative combinations of flavours and textures, and much of it clearly demands both high levels of culinary skill and prodigious amounts of hard work. I found his dishes both impressive and enjoyable.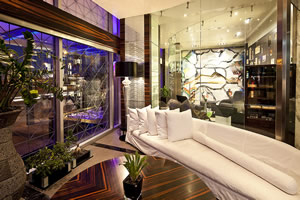 The eponymous 'Comandante' was Achille Lauro (1887-1982), a businessman and ship-owner, who was for some years the mayor of Naples. The restaurant named after him is located in the Romeo Hotel, a modernist building of glass and straight lines close to the sea. Full of art and antiquities, the hotel appeals to those who require a good deal of sophistication with their modern creature comforts. I went up in the lift to the restaurant with a feeling that a dinner in this place was, indeed, going to be a sophisticated affair. And I was right.
Black was much in evidence. Members of staff – including my excellent Neapolitan waiter, Giovanni Iannuzzi – were in black; the tablecloths were black; and the napkins were black. Overhead spotlights shone down on the gleaming glassware – a mixture of Riedel, Schott and Spiegelau. Through the wall of plate glass was a splendid view of the port and of the Bay of Naples. Next to my round table, ready to repel an attack, were a cannon and cannon balls. The maitre d' Carmine Renzulli told me that he used to work at Gidleigh Park in Devon, where I am sure they must have appreciated both his charm and his efficiency.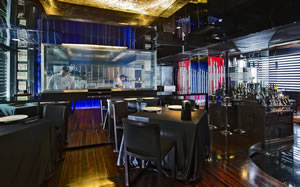 Mr Renzulli brought to me the wine list. It is a document which repays study, for it offers 700 interesting bottles. Prices range from 25€ for the fruity 2011 white which I tried (Aglianico, Kaianero) to 3,800€ for the 2002 vintage of one of the great red burgundies, La Tâche. Among the Italian wines, I noted 2006 Planeta merlot (50€) and 1997 Solaia (600€), but the strength of France on the list was what struck me most. Here are some of the offerings which caught my eye: 2002 Yquem (750€), 1999 La Mission Haut Brion (270€), 1996 Margaux (1,990€), 2000 Lafite (2,475€), 2001 Pétrus (3,090€) and 2001 Le Pin (3,650€).
And so to the lovely food. I began with a delicate and beautifully crafted dish: eggs from Paolo Parisi (a farmer in Tuscany) with milk curd, dark cafone bread and aromatic herbs. My pasta dish – Genovese with beef and dried tuna – continued to interest my palate, with its intriguing mixture of pesto with the meat and the fish. Then came the highlight of the meal – really tender, delicious braised lamb with parmesan, grilled tomatoes, mozzarella, sweet and sour garlic, almonds and onion cream. This was absolutely delicious, and so well executed. I ended with some good, straightforward ricotta mousse with pear. These four courses were 86€.
This restaurant is a fine asset for its home city. If you are in Naples and are looking for good food and interesting wine, served in a chic atmosphere, you should head for number 45 on the via Cristofóro Colombo. For Il Comandante is the finest restaurant in Naples.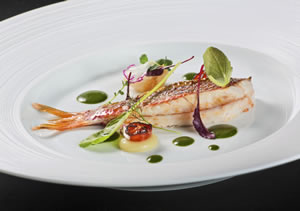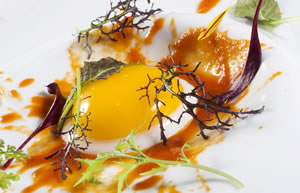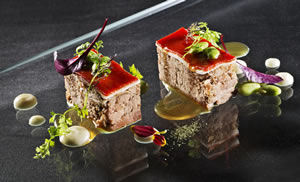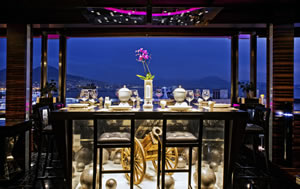 ---