ITALY
FLORENCE
IL SANTO BEVITORE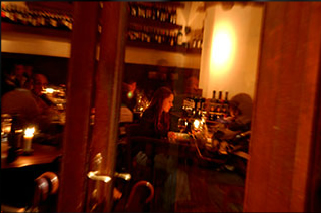 Popularity does not always denote a good restaurant. (Often I suspect that 'celebrities' and their devotees congregate in some dining rooms I know simply to keep each other warm. It cannot be for the food.) Occasionally, however, I enter a restaurant which is particularly busy and think at once, 'This place is full because it is good, and everyone here knows that it is good.' Thus it was at the Ristorante Il Santo Bevitore in Florence. Not far from Brunelleschi's great church of Santo Spirito and close to the River Arno, this is a restaurant which is both busy and buzzy. In its several rooms the chatter of contented diners combines with the canned music (traditional jazz – so quite acceptable) to create a youthful atmosphere which is both welcoming and stylish. You will gather that I liked it.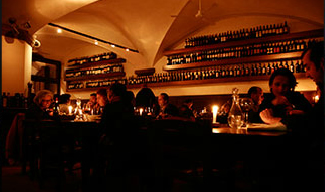 In my room, its large shop-windows looking out onto the corner of the street, I sat at a marble-topped table upon a metal chair under a beamed ceiling. My waitress, Serena, turned out to be very knowledgeable about both the food and the wine – and, since she combined all this knowledge with an appealing sense of humour and a robust charm, I was happy to award her ten out of ten for service. (And that is not something I do in every establishment.)
The menu was as appealing to me as the environment. I could have chosen quite happily almost any of the items offered by chefs Pierluigi Campi and Claudio Salvadori. They choose their ingredients well – with a proper emphasis on freshness and quality – cook them with skill and combine them with intelligence. Their dishes are therefore attractive to the eye and satisfying to the palate.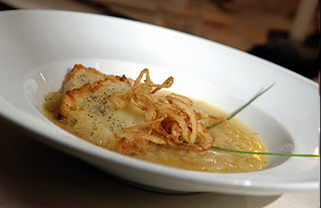 I began with beef carpaccio, with cream of rocket, tapenade and pecorino cheese. This was a generous, traditional start to my dinner, served – mirabile dictu! – on a proper, round, white plate. (This white plate confirmed my impression of Il Santo Bevitore as my sort of restaurant.) The lovely beef made an excellent start to my dinner. My pasta course was good, too. The pasta shells came with duck ragout and orange – with the orange candied, to give a very pleasing twist to this age-old combination. I enjoyed this enormously. I chose chicken for my main course, in the form of 'crispy rooster'. Accompanied by sautéed Swiss chard and lemon sauce, this was a tasty and well-cooked bird. I ended with mascarpone cream with strawberries and chocolate sauce. This was a deliciously self-indulgent way in which to conclude an admirable meal. The cost of these four courses was 44€, which I considered a bargain.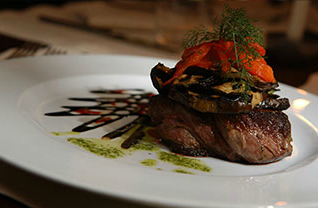 The wine list has 242 Italian and French offerings, running in price from 18€ for a prosecco to 140€ for the 2011 vintage of the highly regarded Le Pergole Torte from Tuscany. Many of the bottles are in the 25€-50€ price range. My own red super-Tuscan – recommended by Serena – was the brilliant Petruccino (Podere Forte, Val d'Orcia) in its 2011 vintage. The restaurant's name – 'Il Santo Bevitore' – means 'The Holy Drinker' and this bottle did, indeed, elevate my imbibing close to holiness. From the very first taste, I loved this wine. Its boldness and its startling depth of sweet, ripe blackcurrants were thrilling. A blend of sangiovese and merlot, it was wonderful drinking for only 48€.
Good food, good service and good value – Il Santo Bevitore is a genuinely good restaurant. Without doubt, it deserves its popularity.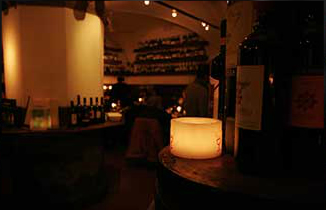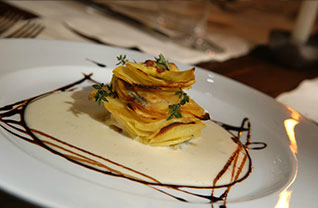 ---
ADDRESSES
IL SANTO BEVITORE
Via Santo Spirito 66R, Florence 50125, Italy.
Telephone +39 055 211 264
Email: info@ilsantobevitore.com
www.ilsantobevitore.com
Closed: Sunday lunch, 7-21 August