ITALY
FLORENCE
IL SANTO BEVITORE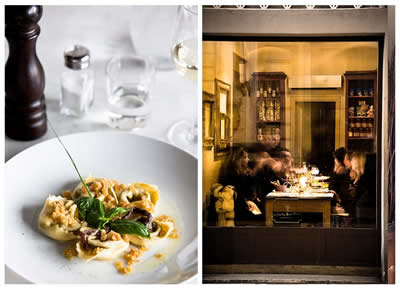 Occasionally I enter a restaurant which is particularly busy and think at once, 'This place is full because it is good, and everyone here knows that it is good.' Thus it was at the Ristorante Il Santo Bevitore in Florence. (It is hard, is it not, to resist the urge to enter an establishmnt called 'The Holy Drinker'?) Not far from Brunelleschi's great church of Santo Spirito and close to the River Arno, this is a restaurant which is popular and buzzy. In its several rooms the chatter of contented diners combines with the canned music (traditional jazz – so quite acceptable) to create a youthful atmosphere which is both welcoming and stylish. You will gather that I liked it.
In my room, its large shop-windows looking out onto the corner of the street, I sat at a marble-topped table upon a metal chair under a beamed ceiling. The manageress, Margherita Gigli, turned out to be very knowledgeable about both the food and the wine – and, since she combined all this knowledge with a charming personality, I was happy to award her ten out of ten for service. (And that is not something I do in every establishment.)
The menu was as appealing to me as the environment. I could have chosen quite happily almost any of the items offered by chef Luca Marin. He chooses his ingredients well – with a proper emphasis on freshness and quality – cooks them with skill and combines them with intelligence. His dishes are therefore attractive to the eye and satisfying to the palate.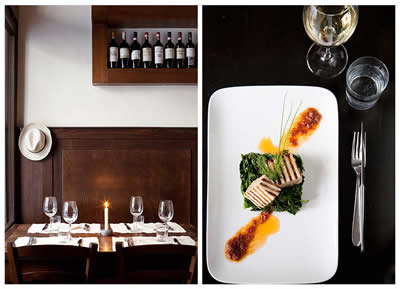 I began with chicken liver terrine, with brioche and a Vino Santo reduction. This was a rich, luscious and robust start to my meal. Then I plunged into another hearty plate – a big white plate, I am happy to report – of potato gnocchi, deer ragout and black cherry sauce. The ragout was gorgeous and the gnocchi was soft: this was a well-balanced dish. My main course was a tender, tasty lamb shank. This was an excellent piece of meat, but this time I was less enthusiastic about the accompaniments – pear and lemon custard and shallots. For my pudding I had intended to succumb to the temptation to indulge in a crème brûlée, but I felt rather full, and so went for a dish of ice cream. Both the mint and caramel versions were jolly good. (The cost of these four courses was 50€.)
Good wine glasses (by Schott) suggest an interesting cellar, and there is one. The wine list has 267 Italian, French and German offerings, running in price from 18€ for a white sangiovese to 178€ for a 2006 Amarone (Mazzano, Masi). 51 super-Tuscans are available, from 2011 Madiere (19€) to 2012 Le Pergole Torte (Radda – 150€). My own red super-Tuscan – recommended by Margherita – was the 2010 Sono Montenidoli (48€). Its depth of firm black fruit made it a fine partner for the lamb. Beforehand, I was glad to be introduced to a Franciacorta which was new to me. This Collina della Stella had a fine sparkle, and its chardonnay grapes gave it a lively, rounded, biscuity character (39€).
Good food, good service and good value – Il Santo Bevitore is a genuinely good restaurant. It is busy, and it deserves to be busy.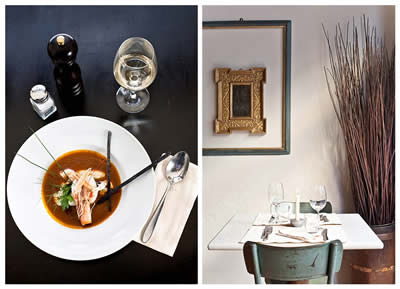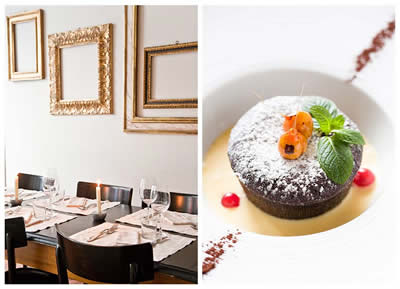 ---