ITALY
SORRENTO
IMPERIAL HOTEL TRAMONTANO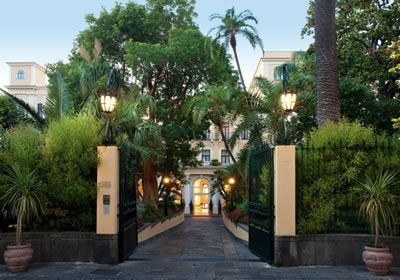 Whenever I think of the Grand Hotel Imperial Tramontano, I smile. I do so because the memories which come back to me – of beautiful views, gracious surroundings, good food and courteous service – put me in such a happy frame of mind. This large and expansive property has welcomed guests for over two hundred years. Indeed, parts of its building date back to the 16th Century. These include the Stella Maris Chapel, which is covered with colourful frescoes (restored, I fear, by a painter more to be admired for his enthusiasm than for his skill). The Tramontano's location – close to the Old Town and to the Cathedral, and atop Sorrento's famous cliffs – is a privileged one, affording a superb panorama of the Gulf of Naples. Whenever I approach the entrance portico through the hotel's shady gardens, I feel the most pleasing anticipation.
I like hotels to have good public areas. Those at the Tramontano are very good indeed, and include an impressive sitting room with a floor of Majolica and with charming frescoes (these are as good as new, and 'unrestored') by the Neapolitan artist Giambattista de Curtis. There is a grand piano here. When it was being played one afternoon (by another guest), an atmosphere of ethereal calm and well-being pervaded the whole of the ground floor. Indeed, the hotel is a place of calm contentment – a tribute, surely, to the genial General Manager, Luigi Guarracino, and to the members of staff he leads. In the photograph, Mr Guarracino is on the right, next to Chef Ciro Longobardi, and next to your correspondent is the Restaurant Manager, Luigi Morvillo.
I would urge you most strongly to secure a room with a sea view. Then you will understand why the hotel occupies this site. The vista, with the great Vesuvius forming the backdrop to the expansive waters, lifts the most jaded of spirits.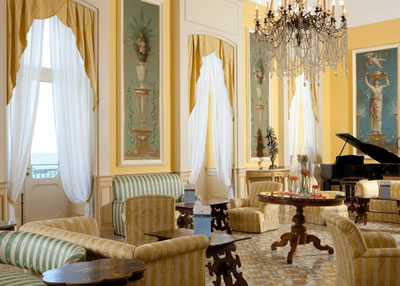 My room – number 319, a 'Junior Suite Sea View' (400€-700€ a night for two, according to season, including breakfast) – was on the third floor. This was elegant, well-planned and comfortable accommodation. The colour scheme of yellow and dark blue was jolly, and the local ceramic tiles on the floor and the satinwood furniture combined to create an effect which was stylish. There was plenty of room for a sofa and two easy chairs, as well as the supremely comfortable bed (made specially soft for my wretched back), a table, a wardrobe, a writing desk and a television. The last had the Sky channels and was therefore able to supply me with as much Classical music as I desired. On the walls were paintings in gilt frames and in the hallway – mirabile dictu! – were coat hooks for my hat and top coat. (I tire of having to complain about the absence of these essential items in lesser establishments.) Through the French window was my Juliet balcony and a view straight out to sea.
My bathroom pleased me almost as much as the bed-sitting room, for it was very large and clad with impressive blue marble – and blue marble is, I am told, a very costly marble indeed. Within were two wash basins, a large bath tub with a jacuzzi facility, a separate shower, a loo and a bidet.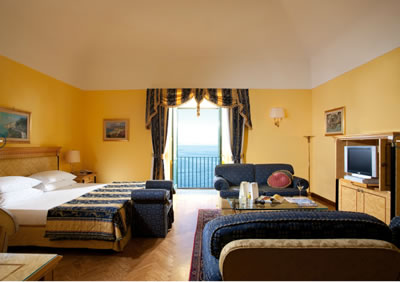 The hotel's Ristorante Belvedere is an attractive place for dinner, with its pink napery, Spiegelau glassware, silver domes, waiters in black tie and, of course, The View. Presiding over the room is the commanding presence of Luigi Morvillo, who has been at the Tramontano for more than 20 years. He sees all and directs all – to good purpose. The menu is supervised by Alfonso Iaccarino, le patron of the famous Don Alfonso 1890 a few miles away (see separate article). But present and running the kitchen is Chef Ciro Longobardi. Now, I do not always say this about every hotel restaurant, but it is essential that I say it here: the food of this talented young chef is so good that, even if you are not staying at the Tramontano but are in Sorrento, you should make sure you have at least one dinner here. You will not be disappointed.
Two set menus are offered, at 45€ and 60€. My four courses from the carte were 64€. I began with spectacularly good lobster – steamed and served with hollandaise sauce. The precision with which this had been cooked was thrilling. And the culinary standards remained sky high for my pasta. I had requested that it be not al dente, so this tagliatelle was precisely as I like it: soft and yielding. But, of course, it was the sauce that drew my applause. I have seldom had a carbonara to equal it, such was its intense creaminess. The rack of lamb which followed – tender, full of taste and beautifully set off with mint sauce and peas – was a joy for this enthusiastic carnivore. I ended with a pretty lemon crumble, and knew I had eaten well.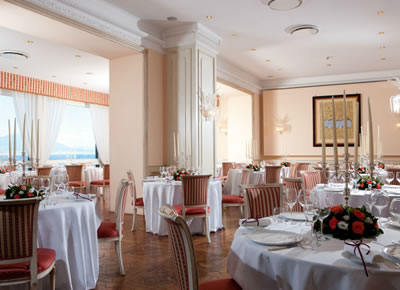 The wine list of contains much of interest among its 465 offerings, including 36 sweet wines by the glass (Yquem is 140€). Most bottles are either Italian or French, but a few other temptations appear – for example, the Canadian icewine, Inniskillin. Prices run from 22€ for a local white falanghina to 820€ for the 1997 vintage of Sassicaia. These also caught my eye: 2001 Cervaro della Sala (85€), 1998 Ornellaia (280€), 1998 Tignanello (150€), 1997 Solaia (780€), 2000 Puligny Montrachet, Regnard, and 2006 Chateau d'Angludet (80€). Mr Morvillo is a true enthusiast, and found for me a 2001 sangiovese which I would have thought was a fine claret. Its dense, ripe, black fruit, smooth elegance and intriguing nuttiness made it a captivating accompaniment for the lamb (Capatosta, Morellino di Sensano, Poggioargenteria).
Each morning I returned to the restaurant, the tables of which were still properly set with white napery, to tuck into a hearty breakfast. To my table were brought pots of coffee, buckets of ice, glasses of freshly-squeezed orange juice and my concluding cup of cappuccino, and from the extensive buffet I secured bacon, fried eggs, ham, courgettes, tomatoes, melon, strawberries, croissants and crusty bread rolls. I enjoy a good breakfast, and this was a good breakfast.
Indeed, my whole stay was good. The Imperial Tramontano is one of those hotels which make me smile. I suspect it will make you smile, too.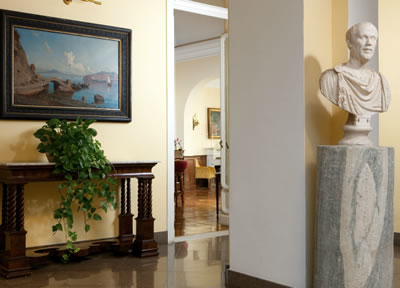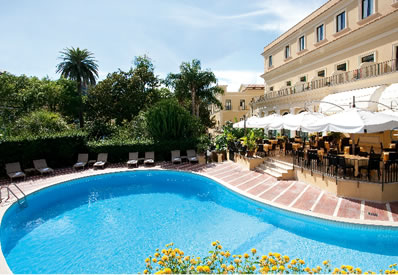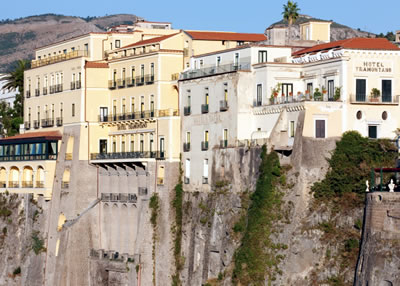 ---
ADDRESSES
IMPERIAL HOTEL TRAMONTANO
Via Vittorio Veneto 1, 80067 Sorrento, Italy.
Telephone +39 081 878 25 88
Fax +39 081 807 23 44
Email: info@hoteltramontano.it
www.hoteltramontano.it
Double rooms from 200€-330€, according to season, including breakfast
See the hotel website for the rates for specific dates and for special offers