ITALY
SORRENTO
IMPERIAL HOTEL TRAMONTANO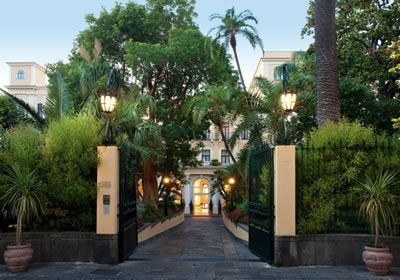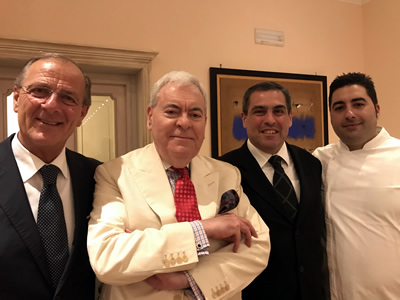 The Grand Hotel Imperial Tramontano is a large and expansive property which has welcomed guests for over two hundred years. Indeed, parts of its building date back to the 16th Century. These include the Stella Maris Chapel, which is covered with brightly coloured, 'restored' frescoes. The Tramontano's location – close to the Old Town and to the Cathedral, and atop Sorrento's famous cliffs – is a privileged one, affording a superb panorama of the Gulf of Naples. Whenever I approach the entrance portico through the hotel's shady gardens, I feel the most pleasing anticipation.
I like hotels to have good public areas. Those at the Tramontano are very good indeed, and include an impressive sitting room with a floor of Majolica and with charming frescoes (these are as good as new, and 'unrestored') by the Neapolitan artist Giambattista de Curtis. There is a grand piano here, which somehow conveys a sense of serenity. Indeed, the whole hotel is a place of calm contentment – a tribute, surely, to the genial General Manager, Luigi Guarracino, and to the members of staff he leads.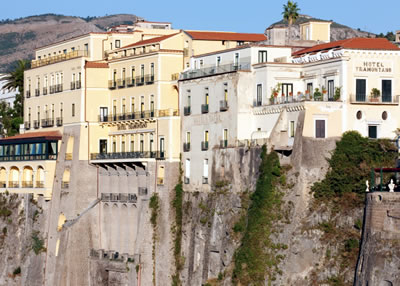 I would urge you most strongly to secure a room with a sea view. Then you will understand why the hotel occupies this site. The vista, with the great Vesuvius forming the backdrop to the expansive waters, lifts the most jaded of spirits. The hotel has some small rooms overlooking the gardens – like number 222 – but readers of Bown's Best will want to go for one of the comfortable Sea View Junior Suites. Typical of these is number 319 (400€-700€ a night for two, according to season, including breakfast) on the third floor. This is elegant, well-planned and comfortable accommodation. The colour scheme of yellow and dark blue is jolly, and the local ceramic tiles on the floor and the satinwood furniture combine to create an effect which is stylish. There is plenty of room for a sofa and two easy chairs, as well as the bed, a table, a wardrobe, a writing desk and a television. The last has the Sky channels, so there is Classical music on demand. On the walls are paintings in gilt frames. In the hallway are coat hooks. (I tire of having to complain about the absence of these essential items in lesser establishments.) Through the French window is a Juliet balcony and a view straight out to sea. The large bathroom is clad in blue marble and has two wash basins, a large bath tub with a jacuzzi facility, a separate shower, a loo and a bidet.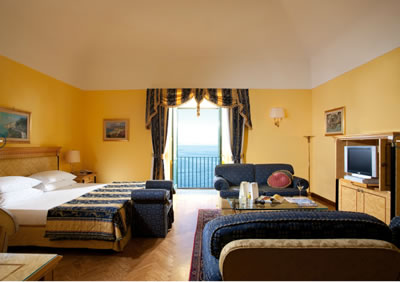 The hotel's Ristorante Belvedere is an attractive place for dinner, with its pink napery, Bormioli glassware, silver domes, lovely white crockery, waiters in black tie and, of course, The View. Presiding over the room is the commanding presence of Luigi Morvillo, who has been at the Tramontano for more than 20 years. He sees all and directs all – to good purpose – ably supported by the genial Assistant Restaurant Manager, Gioacchino Mastellone. The Chef is Pasquale Di Meglio, and the food of this talented young chef is so good that, even if you are not staying at the Tramontano but are in Sorrento, you should make sure you have at least one dinner here. You will not be disappointed. (The picture shows these fine gentlemen with your correspondent. Mr Morvillo is on the left.)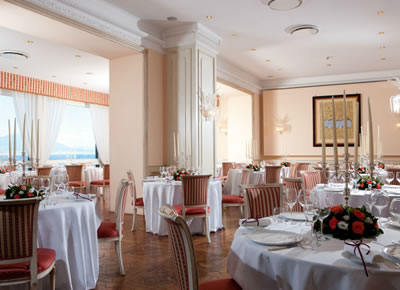 Two set menus are offered, at 45€ and 60€. I tended to choose four courses from the carte, for which you should allow 55€-60€. The highlights of my meals included a subtle and complex dish of marinated salmon and sea bass, excellent tagliolini with broad beans, peas and ginger, superb seared rack of lamb and magnificent fillet of beef with porcini mushrooms. This was very good eating, with courteous service in a delightful setting.
The wine list of contains much of interest among its 445 offerings, including 34 sweet wines by the glass (Yquem is 140€ and Inniskillin icewine is 40€). Most bottles are either Italian or French, but a few other temptations appear – for example, Austrian eiswein by Alois Kracher. Prices run from 20€ for a Campanian white to 1,200€ for the best 1990 clarets (Haut Brion, Mouton Rothschild and Lynch Bages). These also caught my eye: 2001 Cervaro della Sala (90€), 1996 Ornellaia (300€), 1999 Tignanello (150€), 1997 Solaia (780€), 1997 Sassicaia (820€) and Krug Grande Cuvée (320€). Mr Morvillo is a true enthusiast, and found for me, among other delights, a most interesting super-Tuscan. Petra is a blend of cabernet sauvignon and merlot. It has been made since 1997 at Suvereto, in a winery which itself is a piece of remarkable architecture. The wine is highly regarded. The 1999 vintage I drank is fully mature with soft tannins and delicate black fruit – refined, complex and utterly delicious.
Each morning I returned to the restaurant, the tables of which were still properly set with white napery, to tuck into a hearty breakfast. To my table were brought pots of coffee, buckets of ice, glasses of orange juice and my concluding cappuccini, and from the extensive buffet I secured bacon, fried eggs, ham, courgettes, tomatoes, melon, slices of wild strawberry tart and crusty bread rolls.
There is a reason the Imperial Tramontano has been welcoming guests for over two hundred years: it is a very good place to stay.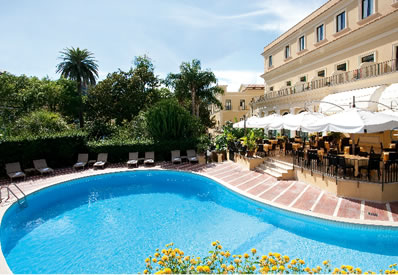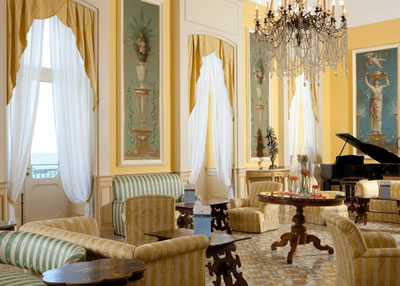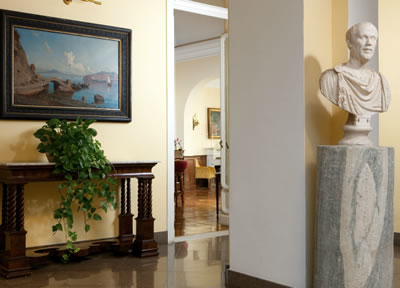 ---