POLAND
WARSAW
HOTEL INTERCONTINENTAL WARSAW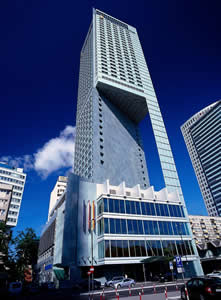 Some hotels exude an aura of comfort and efficiency. I knew even before I had walked into the impressive foyer of the Intercontinental Warsaw that I was about to stay in a place which knew how to look after its guests. It was partly the sleek modern exterior, for the Intercontinental is one of the highest buildings in the Polish capital and has a swagger about its unashamed modernism. But it was also the manner in which the doorman rushed to open the door of the Mercedes motor car, which had transported me to what many regard as the best hotel in the city. Doormen are important people, for they create the first impression of their hotel – and first impressions last. Smart, efficient doormen usually mean a smart, efficient hotel. And they did at the Intercontinental Warsaw.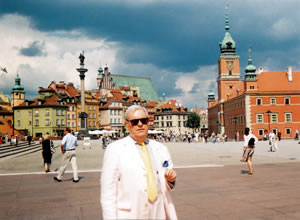 My admiration for Warsaw is boundless. It has endured so much at the hands of the Nazis and the Soviets, and yet now it is such a relaxed and charming place. And it is handsome, too – thanks to the reconstruction of so many of its mediaeval, 17th and 18th Century buildings – which is why I feel it appropriate to include a picture of your correspondent in one of its grand squares. Of course, there are reminders of the less happy times. None is more prominent than The Palace of Culture and Science, a truly vast pile, opposite the Intercontinental. It is widely despised among the locals, for it was the nasty Mr Stalin's "gift to the Polish people". Many would like to see it demolished. And yet, for all its ghastly associations and its towering dominance, it is a building with architectural merit. And at night, when it is floodlit with changing colours, it is impressive.
My billet looked directly at it. I was about to put 'looked directly over it', but nothing looks over The Palace. It is by far the tallest edifice in Poland. Still, on the 26th floor of the Intercontinental, I was certainly not going to be intimidated by my mighty neighbour. Room 2611 was a Deluxe double (check the hotel website for the prices for specific dates), and from its plate glass windows (on two sides of the building) I could survey much of the capital city. The hotel actually goes up much further, and on its 44th floor is what is probably the highest hotel swimming pool in Europe. I suppose that not all the hotel's 400 rooms (75 of which are 'residence suites', with kitchens) have this view of The Palace, so I would recommend that you ask for one with it. But all, I feel sure, will have the same top quality finish, with much use of polished wood and leather, and with restful neutral colours, off-set in my room by a red panel above the bed.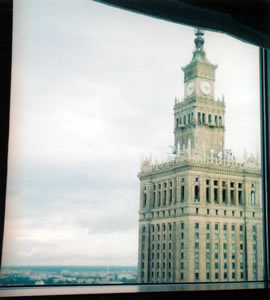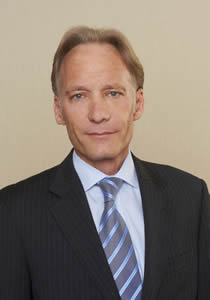 I liked particularly the large entrance hall and the provision therein of coat hooks (one of which provided a convenient peg for my panama). On the corridor to the bedroom was the fitted wardrobe, with a private safe and an iron and an ironing board. The bedroom itself was not huge, but it had plenty of space for the large bed, a writing desk and two armchairs. The air conditioning was quiet, efficient and controllable. My bed had been made extra soft for me and, when I asked for a dvd/cd player (so that I could bring Elgar to Warsaw), it was brought and installed within ten minutes. Such examples of good service reflect well upon the General Manager, Christian Henkemeier (pictured), and his staff.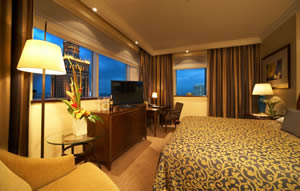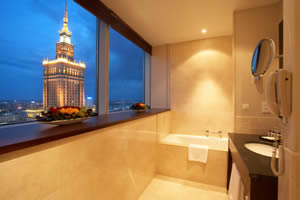 Bathrooms with views always cheer me up. Here the place of beige stone and spotlights provided for my ablutions shared the panorama enjoyed by my sleeping quarters. It contained one wash basin, a tub of good size, a separate shower and the loo. Lots of white towels, large and soft, assisted with my pre-prandial toilet.
Thus cleansed and 'cologned' I whizzed down each evening on one of the express lifts to the first floor for dinner in the Downtown Restaurant. (The hotel also has a second dining room – Platter by Karol Okrasa – but this was closed for its annual holiday during my visit.) Downtown is the under the control of the recently-arrived Chef Paolo Verzeni from Milan (pictured), who rejoices in the title of 'Director of Culinary Experience'. From my brief conversation with him, I gather that he has plans to change the character of this restaurant, which at present is essentially an up-market steak house.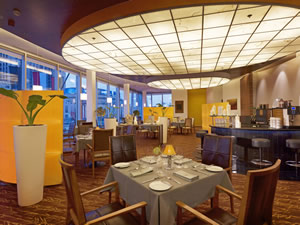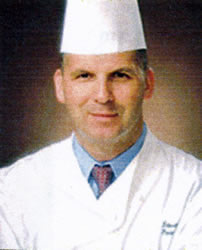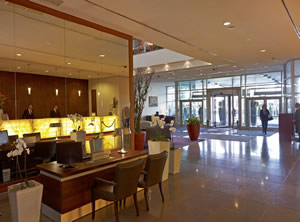 I must say that I rather liked its present incarnation. My table was next to the plate glass windows (with a chance to view The Palace from a lower vantage point). Its cloth was grey and upon it stood glassware by Stölzle. My leather armchair was supportive, the lighting was very red and the waiters' aprons were very green. The service from three excellent fellows – Sebastian, Igor and Przemyseław – was marked by friendliness and enthusiasm. Only one element grated – the awful canned music (which was turned down at my request). I was told there was usually a pianist, but that he was away.
The menu was full of straightforward and attractive offerings. I was in the mood for simplicity, so I asked for some of the dishes to be simplified for me, and it speaks well of both the serving and the kitchen staff that this was done without the slightest demur. I thus constructed for myself some first class meals, including dishes like sautéed chanterelle mushrooms on toast, grilled pike-perch with olive oil and lemon and grilled Baltic Sea salmon, again with just lemon. These plates were so good because the basic ingredients were first-class –the succulent, tender salmon, for example – and the kitchen knew how to treat them with respect.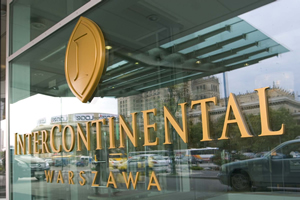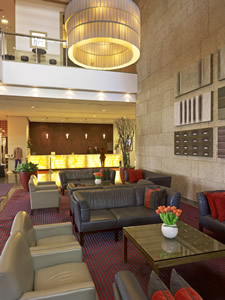 But towering above them all was the Longhorn tenderloin from the United States. Of course, a steak house should have decent steak. But this was far beyond my expectation. Quite simply, it was magnificent. Indeed, it was some of the finest beef ever to enter my mouth. Its remarkable tenderness was fully matched by the thrilling intensity of its meaty flavour. It was so good that I ate it each time I went to Downtown for dinner – indeed, if I had remained at the Intercontinental I would probably still be tucking into it on a daily basis, for I suspect it could become seriously addictive. With béarnaise sauce, boiled new potatoes, green beans and fried onions (all of them very good), this dish came to 221 PLN, making it easily the most expensive item on the menu (the salmon, for example, was 65 PLN), but, by golly, it was worth every penny. When you are at the Intercontinental, be sure to have it.
The wine list has just 40 offerings from the Old and New Worlds, with prices running from 99PLN for a Chilean cabernet to 490 PLN for a 2006 amarone from the Veneto. (The other restaurant has a grander list, with prices going up to 21,000 PLN for 1978 Pétrus.) But I can recommend three good bottles. A 2010 sauvignon blanc from Chile was bright and grassy, with hints of gooseberry (Vina Casablanca Cefiro – 130 PLN), a German Riesling with only 9% alcohol had that characteristic hint of petrol I like so much (Gruen, 2009 – 150 PLN) and a Chilean carmenere was superbly dense and sweet, with an abundance of blackcurrants and damsons (Ventisquero Grand Reserva, 2009 – 280PLN).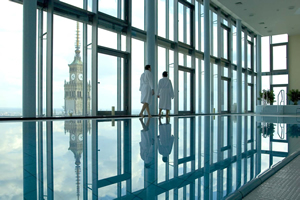 I returned each day to Downtown for breakfast. In the mornings it was a quite different room. It was busy, and the screens which had divided up the room in the evenings had gone. Still, I sat at the same table by the window (kindly reserved for me by the staff, with the cushion for my back in place on the chair). A lady harpist played, although her valiant efforts were frequently drowned out by the chatter of those breaking their fast. To my table were brought pots of coffee and dishes of ice cubes, and from the extensive buffet I secured onion omelettes, Corn Flakes and dishes of pineapple and melon. The best of the morning comestibles were the white pork sausages and a gorgeous version of bread and butter pudding with strawberry coulis. (Yes, I know, these last two do not exactly constitute the healthiest of breakfasts, but I am only young once – and at least I did not partake of the vodka on offer.)
My first impression of the Intercontinental Warsaw was right. It is modern, smart and efficient. And it serves some of the best beef in the world. For what more can you ask?
---