United States
CALIFORNIA
SAN FRANCISCO
JARDINIÈRE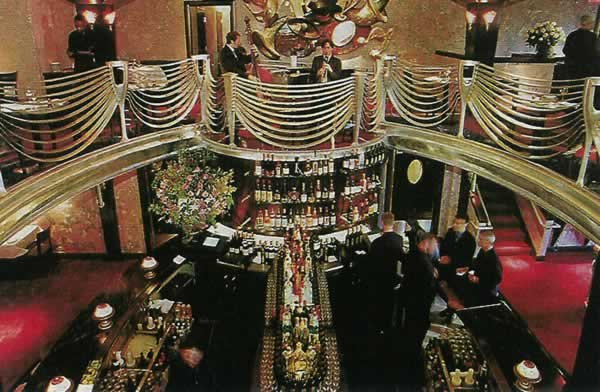 I am always open to enquiries from beautiful young ladies. Recently, at the end of a dinner in California, one such – who had been sitting at the next table – approached me with a question. Was I a fashion designer? No, I replied, sadly not, but she could find my views on sartorial matters at www.bownsbespoke.com. At this, she left – doubtless to seek out the nearest computer screen. I was in my pink suit and she was immaculately turned out in an evening dress. Perhaps we were both music lovers, for we were eating at the wonderful restaurant within cymbal-sound of the San Francisco Opera House – Jardinière.
Traci des Jardins (you will understand now the name of the establishment) opened this two-tiered dining room in 1997, and it has been showered with praise by the critics ever since. It is an impressive space, to which designer Pat Kuleto has given mahogany columns, a sweeping staircase and a golden dome. I liked its warm colours, gentle lighting and the presence of lots of other well-dressed people. Sitting at a table upstairs, I also approved of the white tablecloths and the good Spiegelau glasses. I was soon thoroughly comfortable, enjoying not only the attentions of the friendly waiters in their damson-coloured shirts, but also the melodious and subdued jazz from the piano trio.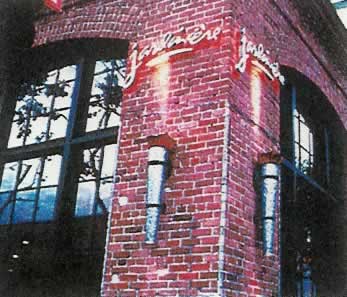 Yes, I thought, this is a civilized place. And it became more so with the arrival of the charming Assistant General Manager. Shana Dilworth knows a great deal about wine and I could easily have spent the rest of the evening conversing with her on the subject. Wine Director Eugenio Jardim (no, this is not a spelling mistake: he is unrelated to Miss des Jardins, and comes from Brazil) has compiled a most intelligent and refined list and from it, with Shana's help, I lighted upon two excellent bottles. I stayed in California for the white – a muscular and powerful viognier from the brilliant young winemaker Herman Story (Larner Vineyard, Santa Ynez, 2003). This was $40, which – as I had seen it in a shop for $23 – I judged a friendly mark-up. My Argentinian cabernet was even better, its massive depth of black fruit overlaid with enticing notes of caramel (Catena, Alta-Uxmal Vineyard, Mendoza - $71).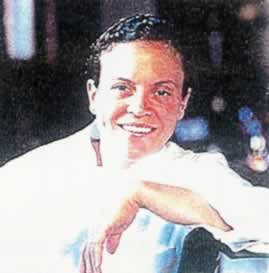 It was good to note a decent offering of half-bottles – with the excellent 2002 d'Arenberg Dead Arm shiraz from the McLaren Vale in Australia coming in at $65. In the range of whole bottles you will find both breadth and depth. From France, you might be tempted by 1961 Léoville Las Cases at $500 or – for the same price – the great red burgundy, 2000 La Tâche ( the latter rather a snip). For grand whites, from Italy there is the 2001 Gaja & Rey chardonnay for $200, or from Burgundy the 1989 Bâtard-Montrachet from Ramonet at $462. And, if you find such expenditure a bit daunting, you can always go for a 2002 sauvignon blanc from Mendocino County for $22.
Traci des Jardins has worked with some of France's greatest chefs, like Alain Ducasse and Alain Passard, so I fully expected her kitchen to send out some impressive dishes. It did not disappoint. Radish, cucumber and roasted beet salad with goat's cheese and toasted brioche was so pretty (with the cheese a gooey smear at its base) that I hesitated to eat it. But, when I did, I loved the sheer quality of its ingredients. And Sonoma quail, with creamy polenta, chanterelles, grapes, marsala jus and smoked bacon was a conceptual triumph – sweet, tender meat and delightfully complex combinations of tastes. This was superbly executed. The smoked bacon appeared again in the next dish, pork tenderloin. Again, there was lovely, flavoursome meat – but this time the bacon displayed its usual bullying self, and did slightly upset the balance of the dish, which included sage and almond. I ended this enjoyable meal with a good, old-fashioned, flat crème brûlée. ($73 for these four courses.)
After this excellent repast, the question from the beautiful young lady was a flattering coda. I left Jardinière humming a happy tune.
---
ADDRESSES
JARDINIÈRE
300 Grove Street (at Franklin), San Francisco, California 94102, U.S.A.
Telephone +1 415 861 5555
Fax +1 415 861 5580
Email: Jardin1997@aol.com
Open daily for dinner