ITALY
CAPRI
J K PLACE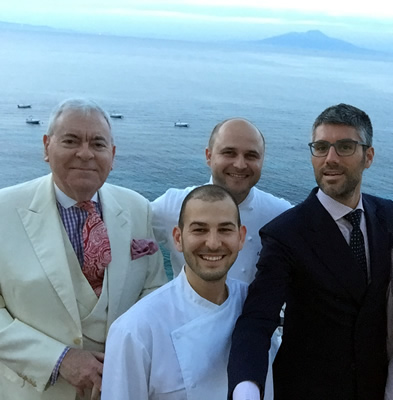 Long experience has taught me that the very best establishments, be they hotels or restaurants, always share one important characteristic: they welcome constructive suggestions. When I met the delightful General Manager of the J K Place on Capri – a young man who is as charming as he is efficient, and he is very efficient – I saw at once that he was without a tie. (As readers of Bown's Bespoke will know, the wearing of a collar and tie is one of my sartorial Ten Commandments.) Immediately, I expressed my alarm – to general amusement. The following day, the bearded Mr Martino Acampora – for it was he – appeared dressed properly (and very smartly). My picture shows him thus attired, alongside myself and the chefs from the restaurant. This modest tale of the triumph of Virtue takes us to the heart of why the J K Place is such a good hotel: nothing is too much trouble if it will please the guests.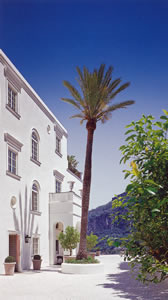 I had arrived on the island at the Marina Grande. There I had been met by a gentleman from the hotel and whisked up the hill in a swish little electric buggy. During the brief ride I recalled my memories of this building – a handsome 19th Century villa – in its previous incarnation as a less grand hotel. Then its exterior had been bright red. Today it is white and cream and discreet – and altogether more suggestive of the luxury which is now within. To turn it into the J K Place the interior was completed gutted and given to the interior designer Michele Bonan. His nautical theme – manifested in the sea blue of the walls and the foam white of the sofas – works well. The sense is of up-to-the-minute opulence and thoroughly traditional comfort. Carefully chosen objets d'art are all over the place. It is a style which is both welcoming and elevating of the spirit, and it is an entirely appropriate counterpoint to the views from the windows and from the terraces of the sea and of the beach below.
There are just 22 rooms. Mine, number eleven (1,000€ a night, bed and breakfast for two), was on the first floor. Its colours of cream and dark blue were certainly to my taste. In the small hall fitted wardrobes (with a private safe) were behind louvred doors. To the left was the bedroom, a chamber I judged to measure about 16 feet by 9 feet. Each of the two French windows led to a small balcony. Above the bed was a stylish canopy. Black and white photographs of sailing boats in competition (the Americas' Cup?) hung on the walls. Two easy chairs provided the seating. A leather topped writing desk was in the modern style. The air conditioning was quiet and effective.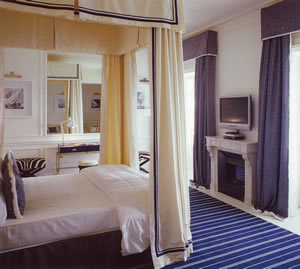 I really must remember that nowadays more and more hotels are responding to those people who express a preference for the vigorous shower over the old-fashioned, relaxing bathe. Then I would be sure always to ask for a tub. In this bathroom of grey, white and sparkling chromium, I found two wash basins, a loo, a bidet, a large walk-in shower and… no bath. The hotel certainly has tubs in some of its bathrooms, so if, like me, you like your ablutions to imitate a return to the maternal womb rather than a soaking in a thunderstorm, you need only to make your views known when you are making your reservation.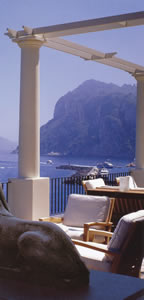 Eating at the hotel is done at the J K Kitchen – a rather inappropriate name for an intimate and comfortable dining room and its outdoor terrace. Its elegance is enhanced by a colour scheme of grey and white, crisp white napery, sparkling glassware by Bormioli, discreet lighting, formal service from waiters and waitresses in blue aprons (napkins are replaced) and two of the largest porcelain jars I have ever seen.
Here I enjoyed the kind attentions of the Restaurant Manager, Giuseppe Iacono, and the food of Chef Eduardo Estatico. Mr Estatico is from Naples and his cuisine derives from that city – although, as we shall see, it is not tied slavishly to it.
I began with a dish which was light, luscious, well-balanced, delicate and utterly delicious – and those are hard-won epithets. These poached organic eggs came with asparagus, burrata cheese, black truffles from Bagnoli Irpino, wild spinach, cafone bread and caviar. Each part was good, but the whole was magnificent. Then came the pasta. Some of you, I know, adore pasta when it is truly al dente. You would have loved this, with its green peas, chives, Parma ham and provolone cheese. But my effete palate would have preferred an altogether softer version. Still, then came a real treat, and the evidence that Chef Estatico is capable of going well beyond his Neapolitan background. This version of Beef Wellington – Manzo alla Wellington – was thrilling in its careful deconstruction of our beloved classic. The meat itself, a tournedos of Agerolese beef, was superb – tender, tasty and delightful with the puff pastry, mushrooms and Dijon mustard. I ended with a decent lemon soufflé. (Allow around 120€ for four courses.)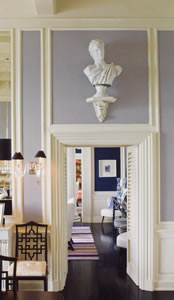 The wine list comprises 155 offerings. Most are Italian, but there some tempting bottles from France, like 2001 Latour (1,100€). Prices begin at 40€ for a 2011 syrah from Lazio (Tellus) and end at 1,300€ for the 2006 vintage of Margaux. Other bottles to catch my eye were: Cristal 2004 (400€), Dom Pérignon 2003 (320€), Planeta chardonnay 2010 (70€), Gaja barbaresco 2007 (300€), Sassicaia 2010 (290€) and Solaia 2009 (340€). My own drinking included a most lovely local white, which I must recommend to you. Made from ripoli, fenile and ginestra grapes, this 2011 Costa d'Amalfi Furore Fiorduva from Marisa Cuomo (85€) was smooth and complex, with an intriguing minerality and discreet fruit.
For breakfast, I thought it might be right to eat al fresco. But a few spots of rain sent me back into the dining room, there to order a plate of bacon, mushrooms and tomatoes – which turned out to be exceptionally good. While this was being prepared, I conveyed to my table some of the handsome comestibles from the buffet table. These included pineapple, melon, strawberries, sweet peppers in olive oil, apricot tart, muffins and All Bran. (As is my custom, I managed effectively to assuage my morning hunger.) From the kitchen the charming young waitress brought me pots of good coffee, dishes of ice cubes and, of course, my concluding cappuccino.
I will end this review of the J K Place as I began, with a sartorial note. Having observed that the members of staff at the Reception desk were all wearing jackets of blue-striped seersucker, I put on my three-piece suit made of the very same material. I hope my little tribute was appreciated. I certainly appreciated the J K Place. It is chic, stylish and wonderfully cosseting. But my helpful suggestion to the Manager stands: keep wearing the tie.
---
ADDRESSES
J K PLACE CAPRI
Via Provinciale Marina Grande 225, Capri 80073, Italy.
Telephone +39 0818 384001
Fax +39 0818 370438
Email: info@jkcapri.com
www.jkcapri.com
Double rooms from 900€, including breakfast
See the hotel website for special offers