ITALY
FLORENCE
J K PLACE FIRENZE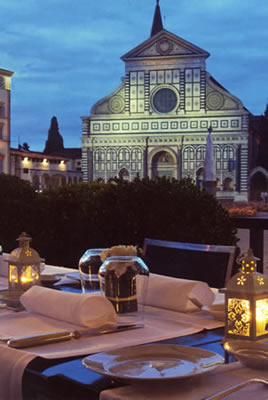 J K Place hotels appeal greatly to those of taste and discernment. They have a style which combines tradition and modernity with flashes of good humour. It is impossible not to be charmed. The Classical references, the sumptuous fabrics and the abundance of white are used with such a lightness of touch that an atmosphere is created which might best be described as both sophisticated and homely. It begins at once, with the registration process on arrival – which takes place in a leisurely fashion over complimentary drinks. The relaxed and friendly atmosphere continues throughout one's stay. In Florence, it obviously owes much to the charming Claudio Meli, the General Manager.
The J K Place Firenze occupies two houses on one of the most wonderful squares in this city of wonders. In the afternoons I sat on the ground floor terrace, outside the hotel's front entrance, sipped my Earl Grey and looked across the piazza at the façade of the Basilica of Santa Maria Novella, a perfect white confection created in 1470. It is good that Divine Providence affords us these delightful moments. As the J K Place has just 20 rooms, I felt rather privileged.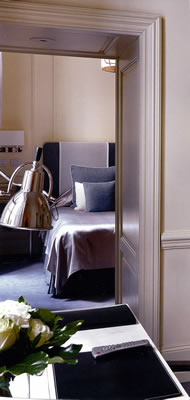 My billet was on the first floor, up a pretty staircase (although, of course, I used the lift). There are some large and fantastical apartments on this floor, which look out onto the piazza and which are much used by singers of popular music and the like. But room number 4 – a 'Double Deluxe' (650€ a night, bed and breakfast for two) – was more straightforward. Still, its colours of white and grey were relaxing, and its air-conditioning was effective. The pictures on the walls, including an engraving of the baldachino over the High Altar of St Peter's in Rome, displayed that particular decorative sense which is evident throughout the establishment and which can be attributed to the interior designer, Michele Bönan. Seating was provided by two armchairs. Behind louvred doors, there was sufficient hanging space next to the private safe. In the spacious bathroom (clad with lots of light stone) I found one wash basin, a separate loo and bidet and a decent bath tub with a shower above it. The toiletries – called "JK" – were by La Bottega.
Dining is done in the J K Lounge, which is open from eleven in the morning to 10.30 in the evening. As its name implies, it is a space of soft chairs and sofas. But when the weather is kind, the outside terrace can also be used, so I found myself again able to contemplate the piazza and its famous church. Here I was looked after with much kindness by the waitress, Lisa.
My dinner, as I had expected, was excellent. The ingredients were first-rate; the dishes were simple; and the cooking was precise. First came a generous portion of salmon tartare, with chopped pistachios, fennel and orange salad. The fennel, in particular, was highly effective with the fish. Then there was tagliatelle – the pasta soft and yielding, exactly as I like it – with a truly gorgeous pork ragout. The beef fillet which followed was fine meat indeed, and accompanied by tasty roast potatoes and superb sautéed onions. This filled me up, but I could not resist the siren call of the tramisù with strawberries, and I found myself pleased to have given way to temptation: it was delicious. (These four courses were 110€.)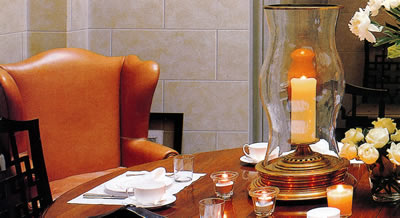 The wine list is very short – just 41 offerings, all Italian except the champagnes (Dom Pérignon 2004 is 280€). Prices run from 45€ for a white Tuscan vernaccia to 350€ for Krug Gande Cuvée champagne. That reliable white from Umbria, Cervaro della Sala, in its 2014 vintage, is 110€. Three super-Tuscans from the 2012 vintage caught my eye: Tignanello (150€), Ornellaia (350€) and Sassicaia (350€). From my own drinking, I can recommend to you a full-bodied red made with cabernet and merlot (Bruciato, Tenuta Guado al Tasso, 2015 – 80€).
Breakfast is served in a room which has been made from covering the building's central courtyard with a glass roof. Here there is one long wooden dining table. A feature I have not often encountered elsewhere was a display of food suitable for vegans. From this I obtained a plate of celery, corn, fennel and tomato. To a convinced carnivore such as myself, this does not sound very appealing, but – believe me – it was absolutely delicious. From the more conventional buffet, I tucked into dishes of melon, of pineapple and of strawberries and several of the good croissants. From the kitchen were brought plates of bacon, poached eggs and grilled tomatoes, cooked specially for me. These were gentle and civilised beginnings to my days.
Indeed, 'gentle' and 'civilised' are the words which sum up my stay. The JK Place Firenze is an hotel where everything is tip-top: from the quality of the sheets on its beds to the calibre of the art books in its library. As you can gather, I like it.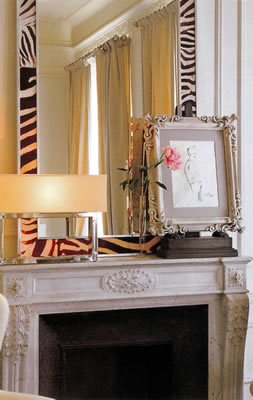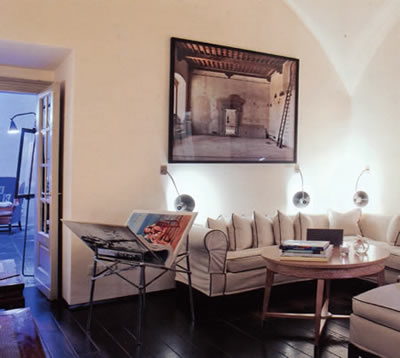 ---