ITALY
FLORENCE
J K PLACE FIRENZE
The popularity of the J K Place hotels does not surprise me. They have created a style which combines tradition and modernity with flashes of good humour. Even a grumpy old fellow like myself cannot but be charmed. The Classical references, the sumptuous fabrics and the abundance of white are combined with such a lightness of touch that an atmosphere is created which might best be described as 'homely'. It begins at once, with the registration process on arrival, which takes place in a leisurely fashion over complimentary drinks. And it continues when the Manager – in Florence, the charming Claudio Meli – comes over to say 'Hello'. The surroundings are elegant, the service is solicitous and the prevailing sense is one of relaxed informality.
The J K Place Firenze occupies two houses on one of the most wonderful squares in this city of wonders. In the afternoons I sat on the ground floor terrace, outside the hotel's front entrance, sipped my Earl Grey and looked across the piazza at the façade of the Basilica of Santa Maria Novella, a perfect white confection created in 1470. It is good that Divine Providence affords us these delightful moments. As the J K Place has just 20 rooms, I felt rather privileged.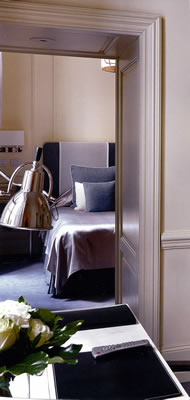 My billet was on the 3rd floor, up a pretty staircase (although, of course, I used the lift). There are some large and fantastical apartments on the first floor, which look out onto the piazza and which are much used by singers of popular music and the like, but room 20 – a 'Double Deluxe' – was more straightforward. Still, its colours of white, grey and brown were relaxing, and its air-conditioning was effective. The pictures on the walls, 18th century engravings of battle-plans, displayed that quirky decorative sense which is evident throughout the establishment and which can be attributed to the interior designer, Michele Bönan. Seating was provided by an upright chair and a white wing chair. The writing table was black. Within the walk-in wardrobe was a private safe. In the bathroom I found beige marble, chrome and spotlights, as well as a wash basin, a bidet, a loo and a bath tub with a shower above it.
Dining is done in the J K Lounge, which is open from eleven in the morning to 10.30 in the evening. As its name implies, it is a space of soft chairs and sofas. Sadly, my ailing back does not take kindly to my occasional attempts to scoff comestibles in the posture required by such furniture, so I wondered whether an alternative was available. Of course, 'bespoke' arrangements being exactly the sort of thing on which the J K Place prides itself, an excellent solution to my problem was found at once. I would have my dinner in the breakfast room – the central courtyard covered by a glass roof – wherein was a long wooden dining table with upright chairs.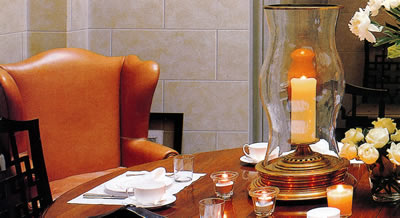 Thus installed, in the manner of a potentate, I was looked after with kindly courtesy by the excellent waiter, Ariel. To me he brought four dishes from the kitchen of the lady chef, Tamara Motroni. These began with an 'aromatic' salad of startling quality. This comprised green leaves, walnuts, pine nuts, Pecorino cheese, pear, tomatoes, mint, dill and chives. I was struck by the intelligent combination of ingredients, and even more by their excellence. If all salads were as good as this, I might join the herbivores. I moved on to tortelloni with pork ragout, and then to a plate which immediately confirmed my membership of the carnivores' club: fillet of beef, simply grilled, of exceptional tenderness and taste. I ended this enjoyable meal with a trio of little desserts: chocolate soufflé, ice cream and tiramisù. (These four courses were 75€.)
The wine list is very short – just 34 offerings, all Italian except the champagnes (Dom Pérignon 2004 is 280€). Prices run from 40€ for a chianti classico to 400€ for the 2000 vintage of Mr Gaja's Sorì Tildin nebbiolo. Tignanello 2011 is 150€ and that reliable white from Umbria, Cervaro della Sala, in its 2012 vintage, is 80€. From my own consumption, I can recommend to you an elegant franciacorta (Brut Satèn, Contadi Castaldi, 2008 – 80€) and a well-structured red Tuscan from Bolgheri (Il Bruciato, Antinori, 2012 – 60€). Each is available by the glass – at 16€ and 12€.
I returned to my comfortable seat each morning for breakfast. A feature I do not think I had encountered before was a table of food suitable for vegans. But I confined my attentions to the other buffet, and tucked into dishes of melon, of pineapple and of strawberries and several of the good croissants. From the kitchen were brought plates of mushrooms on toast and silver pots of coffee. For my customary, concluding cappuccino I retired to the soft sofas of the Lounge. These were gentle and civilized beginnings to my days.
And perhaps those two epithets capture the essence of what makes the J K Place hotels so popular. For they are, indeed, gentle and civilized.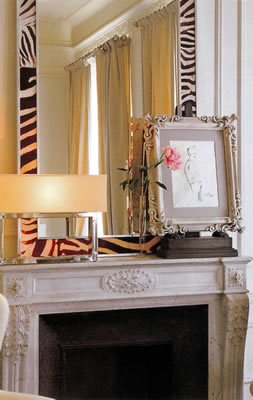 ---
ADDRESSES
J K PLACE FIRENZE
Piazza di Santa Maria Novella 7, 50123 Florence, Italy.
Telephone +39 055 2645 181
Fax +39 055 2658 387
Emal: info@jkplace.com
www.jkplace.com
Double rooms from 338€-450€, including breakfast, according to season
Check the hotel website for specific dates and for special offers