UNITED KINGDOM
LONDON
JUMEIRAH CARLTON TOWER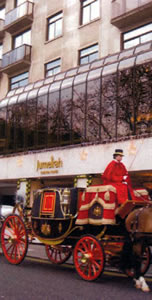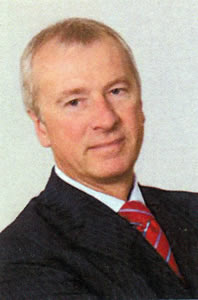 Both science and art are required in the running of a luxury hotel. The science involves those essential matters which we patrons take for granted: the air conditioning, the plumbing, the staffing levels, the cleaning rotas, and so on. But the art comes with those things which make up the 'soul' of the hotel: the details of the décor, the atmosphere of the public spaces and, most important of all, the attitude of the staff. No matter how much money is poured into an establishment, this last always makes the difference between a good and a great hotel. Guests do notice the manner in which a door is opened, a bottle is uncorked and an enquiry is answered. These interactions, however apparently insignificant in themselves, set the tone. A great hotel gets them all just right. I am happy to report that the Jumeirah Carlton Tower is a great hotel. And much of the credit must go to the General Manager, Derek Picot (pictured).
The hotel is at the Knightsbridge end of Sloane Street, and therefore in the midst of those emporia from which the more fashionable among us purchase clothes and jewellery of the expensive sort. Being an old fuddy-duddy, I am more Savile Row and Jermyn Street myself, but I do like to see what adventurous folk are up to, so I enjoy the sort of window-shopping which this location facilitates. The Carlton Tower occupies a prime corner site and rises impressively above its surroundings – hence, I suppose, the 'Tower' part of its name.
My accommodation was on the 17th floor, high enough to enjoy delightful views over the gardens of Cadogan Place. Indeed, from my windows and from my balcony I could see many miles over the South of London. I hope that my photograph will give you a sense of this interesting panorama. I recognised the spire of Saint Barnabas' Church in Pimlico and, of course, I knew the chimney-stacks of Battersea Power Station. (This great building by Sir Giles Gilbert Scott is now in a sad state and still seems not to have found a saviour. How glorious it could have been, if it had been restored with the funds wasted on the Millennium Dome… Yet still it manages to dominate and enrich the skyline.)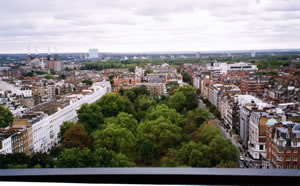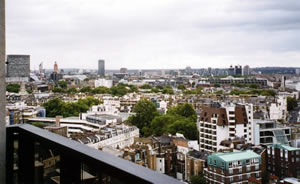 There are 220 rooms, with the prices for double rooms starting at £782. Mine was 1714. This was The Cadogan Suite and therefore £4,081 a night for two. This is, of course, a substantial sum, but for it I had what was, in effect, my own large and comfortable apartment in the most exclusive area of London. Off its L-shaped hallway was a door to the guest loo. Then the hall opened into the sitting room (pictured). I judged its size to be 20 feet by 12 feet, and the mirrored wall at one end made it seem even larger. It was dominated by a huge sofa, but there was still plenty of space for an easy chair, a round dining table and chairs and a writing table. From its two windows was the view I have described. The colours of brown, grey, purple and white were restful and harmonious.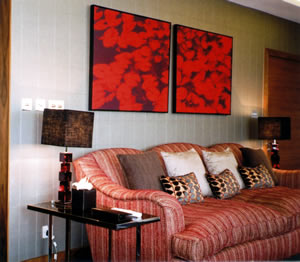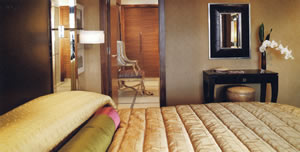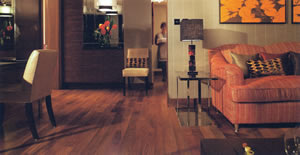 In the bedroom was the second television. On the walls were black-and-white photographs of Stonehenge, and through the French window was a balcony. I should here pay a passing tribute to the ladies of the Housekeeping department, who made my bed deliciously soft. They also kept me well supplied with 'Ren' toiletries in the bathroom. This was a handsome chamber in beige, brown and chrome with two wash basins, a large tub, a separate loo, a separate shower, fitted wardrobes and a private safe. It also boasted my third television receiver, strategically placed at the end of the bath – so that I could soak the body beautiful while watching the Six O'Clock News.
The ablutions having been performed so comfortably, I dressed for dinner with keen anticipation. For I was looking forward to some British food. London has only a few good restaurants serving British food, and the The Rib Room at the Jumeirah Carlton Tower (pictured) is one of the most famous. It is on the ground floor and it has just been completely refurbished. Its colours are now warm and welcoming. Its napery is white (napkins are re-folded for guests who leave the table), its glassware is by Spiegelau and its waiters wear white aprons. The service – orchestrated by the Italian Restaurant Manager, Michele Caggianese (pictured) – is properly attentive. I was pleased to be looked after by one of the Assistant Restaurants Managers, Paolo Quaranta, whom I last met when he was at the restaurant in The Ritz.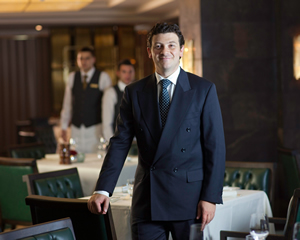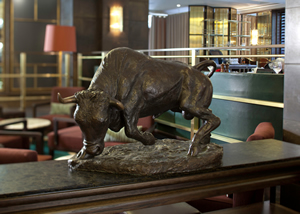 Head Chef Ian Rudge (pictured) knows what those who go to The Rib Room want – traditional British fare, based upon ingredients of the highest quality, full of robust flavours and served in generous portions. And that is precisely what comes from his kitchen. It provided me with a splendid and thoroughly enjoyable dinner. I began with smoked salmon. Now, we all know that smoked salmon can be watery and indifferent. But this oak-smoked salmon from Loch Fyne was first class, with a meaty texture and a satisfying taste. Next came scallops from Orkney, precisely cooked and served with butternut squash and a thick slice of pork belly – as handsome a combination as could be wished. Of course, there had to follow roast beef. This was roasted rib of Buccleuch Aberdeen Angus, with Yorkshire pudding, parsnips and brussel sprouts. As is my habit when eating roast beef, I had some over-done and some under-done. I finished with a luscious and delicious blackberry and chocolate soufflé with hot cassis sauce. (Expect to pay around £80 for four such courses from the carte.)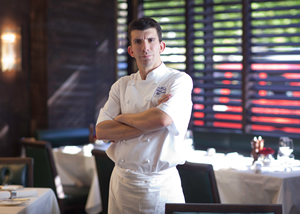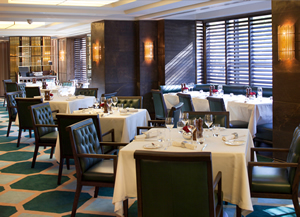 Sommelière Louise Gordon (pictured) has a list of 442 bottles, 13 halves and 13 magnums. (Yes, I did count them.) There are also 25 wines by the glass, with Dog Point sauvignon blanc from New Zealand for £13. Prices for bottles run from £23 for a 2010 Argentinian shiraz/bonarda to £1,600 for 1996 Margaux and £2,000 for 1986 Mouton Rothschild. The cellar is strongest in French wines, but there are also many eye-catching offerings from the rest of the world. These are a few which caught my own eye: Dom Pérignon 2002 (£260), 2002 Chateau Talbot (£145), 1985 Latour (£980), 1996 Cheval Blanc (£1,200), 2002 Yquem (£680), 2007 Leeuwin Art Series chardonnay (£162), 2007 Sassicaia (£490), 1995 Opus One (£780) and 1999 Penfolds Grange (£520).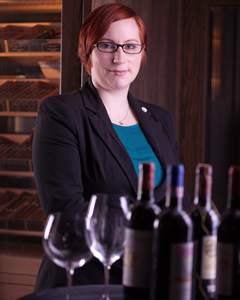 It was clear that Miss Gordon was both knowledgeable and enthusiastic, so I was entirely happy to follow her recommendations. And I was so pleased that I did. My white was quite superb. I am a real fan of low alcohol German rieslings. This one, from the Mosel, had exactly the features I love: an exquisite balance between fruit and acidity and the enticing aromas and density of kerosene (Wehlener Sonnenuhr, kabinett, Prum, 2004 - £128). And my red was nearly as pleasing – a big, muscular, fruit-laden Australian shiraz from the Barossa Valley (Entity, John Duval, 2007 - £67). These were jolly partners for my fish and my beef.
It was back to The Rib Room for breakfast (£38) the next morning, at the same large table. Now the waiters were in beige jackets. From the buffet I secured Rice Crispies, pineapple, melon, fruit salad and chocolate muffins, and brought to me was a plate of excellent smoked haddock and sautéed mushrooms, as well as pots of hot coffee. This was a fine start to my day.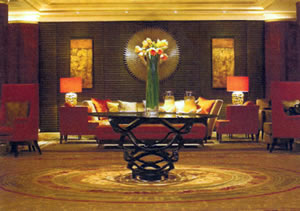 And the afternoon was made equally pleasant by tea. In my Cambridge days I was much devoted to the four o'clock ritual, and my rooms were often full of undergraduates and cucumber sandwiches. Nowadays I prefer a quieter form of tea-time. So I was in my element in the elegant, vaguely Oriental surroundings of the Chinoiserie (pictured), a room off the hotel lobby. Here, to the sounds of a harp, I imbibed pots of gunpowder tea and a glass of pink champagne and tucked into dainty sandwiches, warm scones with strawberry jam and clotted cream, a bowl of fresh strawberries and various cream pastries. (This champagne tea costs £40; without the champagne it is £35.) All these were brought to me by the charming Sofiane, a young waiter in a brown jacket. His kindnesses included noticing that I was particularly keen on the fruit cake, and he hurried away to put a few slices in a box for me to take home. This was a thoughtful touch.
Indeed, my experience could be summed up in that word, 'thoughtful'. It is the attention to the details which makes the difference, and such attention is born of thought. Luxury hotels require the application of both science and art if they are to be great. This establishment clearly benefits from both. That is why I have no hesitation in pronouncing the Jumeirah Carlton Tower one of London's great hotels.
---