FRANCE
THE FRENCH RIVIERA
ST TROPEZ
LA BASTIDE DE ST TROPEZ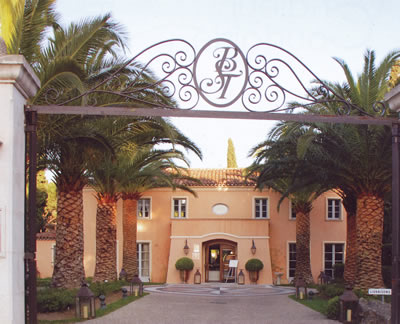 The word 'chic' is very St Tropez. That quality of being self-consciously stylish makes this little town the one I love above all others on the French Riviera. I did not know St Tropez when it was an undisturbed fishing village. Perhaps I would have been captivated by its innocent prettiness. I only came after it had become a magnet for film stars and the beautiful rich. Sadly, I fall into neither category. Still, it was immensely pleasurable to glide about its narrow streets in my beautiful Rolls-Royce, adding, as I hoped – and in my own modest manner – to the general gaiety and elegance of the place. Then the Royce 'declined to proceed' on one of my journeys to the South, and I decided that her age required her to stay in Blighty. And now, in any case, I fear the amount of traffic might upset her. But back I go – for the sunshine, for the beauty and for the wonderful hotels like La Bastide de St Tropez.
It comprises 26 rooms in villas, clustered around a swimming pool in the midst of lush tropical gardens. The sense is of a retreat, both pristine and luxurious, from the bustle of the world. I like to be pampered, and here I was – from the moment of my arrival, when a young man greeted me outside, took away my luggage, directed me to the Reception desk and drove away my hired car. Then I was escorted through the gardens and up some rustic outside steps to the first floor of one of the villas, to the apartment called 'Aurore' (490€-1,400€ a night for two, breakfast 30€ per person).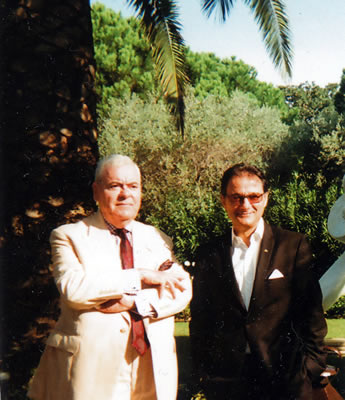 With white walls and stone floors, this was charming accommodation. I entered into the sitting room, which had much glass, in the manner of a conservatory. The 'natural' theme was reinforced by the painting of a tiger on the wall and the (faux) leopard-skin draped over the brown leather sofa. A black and gold rug, a white fauteuil and lighting from lamps both standard and table added to these comfortable and pleasing arrangements. The massive wooden beams in the open roof of the bedroom continued the feeling of being somewhere special. Here I slept comfortably. And in the bathroom – with its l'Occitane toiletries, 2 wash basins, decent bath tub and separate loo – I conducted my toiletries comfortably, too. And there was more. For outside was my own large terrace, overlooking the pool, with more than enough space for the chairs, tables and loungers provided.
Director Fabien Delaffon (pictured with your correspondent) is justifiably proud of the property over which he presides and of the members of staff who work under him. The latter certainly looked after me in a friendly and efficient manner.
Eating at La Bastide is done either in the Bistro or in the Restaurant l'Olivier. I liked the comfort and intimacy of the latter, and tried it for dinner. I settled myself into a good armchair, under a gilt chandelier, and surveyed the scene. The colour scheme was grey and white, the napery was crisp and white and the sparkling glassware was by C & S. I felt that the evening would be a good one. And it was. The crockery, incidentally, was white – a fact which prompts me to say yet again that white plates are by far the best for presenting good food. And the food of Chef Philippe Colinet was good.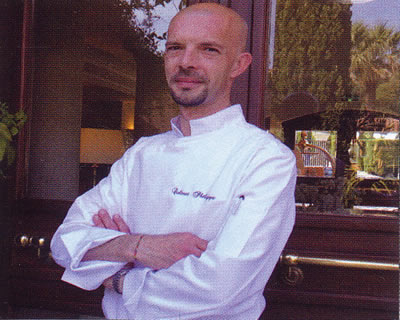 Chef Colinet offers a 6 course tasting menu for 68€, which is good value in these parts, but I decided upon three courses from the carte (65€). I began with ravioli of local cep mushrooms, a dish which was well-judged in its soft lusciousness. Then came the star of the show, roasted breast of Bresse chicken. This was full of wonderful taste, and was effectively set off by plum paste. A pudding of white peaches and raspberries concluded a thoroughly enjoyable meal.
The wine list has 280 offerings, including 49 half-bottles. All are French. Prices run from 20€ for a white Côtes de Provence (Dom. Bertrand Belieu, 2013) to 2,350€ for 1990 Margaux and 2,850€ for 1990 Cheval Blanc. Other bottles to catch my eye were: 2006 Palmer (480€), 2009 Giscours (190€), 1990 Ducru Beaucaillou (995€, magnum), 2008 La Tâche (1,540€), 1986 Yquem (700€) and Krug Grande Cuvée (460€). For my own drinking, I went for a Provençal semillon (Chateau Malherbe, 2014 – 54€).
I had breakfast at La Bastide in the garden, to the accompaniment of bird-song. This sounds idyllic, and it was. As I sat, protected from the rays of the sun by a shade, a friendly lady brought to me a basket of fruit (with strawberries, melon and pineapple), as well as boiled eggs, orange juice, cereals, brioche and pots of coffee. This was a good start to the day.
La Bastide exemplifies all that is best about St Tropez. Like the town itself, it is very chic.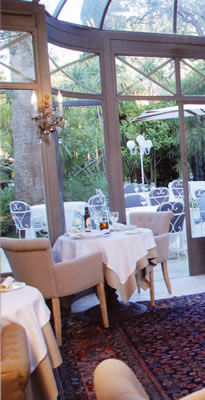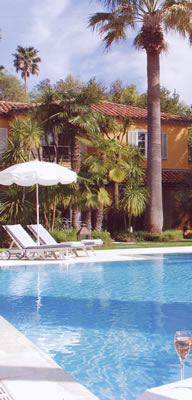 ---