Italy
AMALFI
RISTORANTE LA CARAVELLA & RISTORANTE (HOTEL LUNA CONVENTO)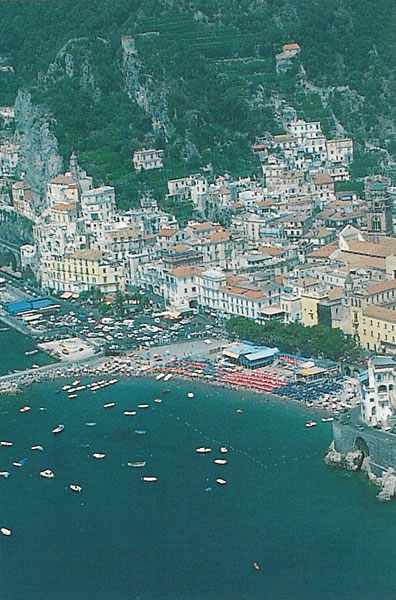 Amalfi gives its name to some of the most beautiful coastline in Europe. And it is itself a lovely little town. The sea snuggles up to its front, and picturesque rocks zoom up to protect its back. Here I thought I should pause for a few days, to admire the cathedral, to potter about the narrow alleyways and… to eat. Doubtless, you will wish to do the same. So you will want to know about the restaurant with the Michelin star, La Caravella, and about the dining room at one of Amalfi's prettiest hotels, the Luna Convento.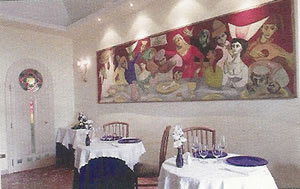 La Caravello was opened in 1959 and is close to the town's main square. Its buildings are ancient and its interior – with black wooden chairs, white tablecloths and white walls – is rustic. Paintings of Crusading knights adorn the three rooms. I felt comfortable at my round table and liked its candlestick, in the form of a ceramic elephant. I approved, too, of the Riedel glassware – which hinted at a good cellar.
When the wine list appeared – in the form of two volumes, one for red and one for white – the hint became a bold assertion. 1800 offerings were set out before me. And the prices were very friendly indeed. As soon as I saw 1998 Tignanello at 70 euros, I knew that good value for Italian bottles would be on every page. Here, indeed, was a monumental tribute to Italian wine. Although a local white could be had for 18 euros, my eyes were drawn to the grander and more expensive listings – like the 1979 Gaja Barbaresco Sori Tildin at 320 euros, the magnum of 1990 Amarone Classico (Quintavelli) at 800 euros and the 1982 Brunello di Montalcino (Tenuta Col D'Orcia) at 400 euros. A few great foreigners intruded (like '83 Pétrus at 1,500 euros), but this was essentially a list of Italians.
So for my two bottles I decided to stay in Italy, and in the local region of Campania. My white yielded an intriguing nose of hay and was possessed of a fine, firm structure (Pallagrello Terre Del Volturno, Le Serole, Terre De Principe, 2003 – 25 euros). My red was made from a grape unique to Campania, casavecchia. Highly perfumed and somewhat like an earthy cherry brandy, this put me in mind of a zinfandel (Vestini e Campagnano, 2000 – 35 euros). After dinner, the enthusiastic sommelier, Tonino, took me off, with evident pride, to one of the cellars. Here I was able to admire at first hand some of the greatest bottles on the list.
Antonio Dipino is the owner and the chef. I found his food straightforward and enjoyable. Anchovies came stuffed with smoked mozzarella and with an anchovy sauce, and were both luscious and tasty. Ziti pasta (tubular in shape) was al dente and was served with a rich meat and onion sauce. Veal escalope with garlic, onion, basil and tomato had all tastes present and correct. And a nut and nougat semi-freddo with chocolate sauce was a fitting conclusion. (About 70 euros for these four courses.) I liked my visit to La Caravella.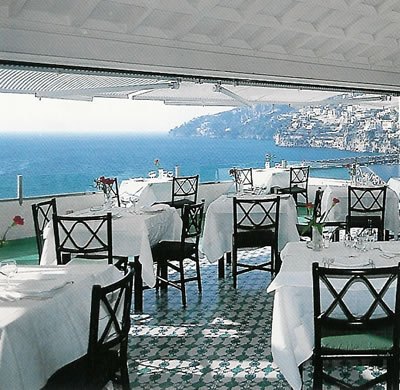 The following evening, on a sharp corner on the road going out of town towards Salerno, I found the entrance to the Hotel Luna Convento. A lift took me up to the hotel proper, perched atop a rocky promontory. This is a marvellously conspicuous spot, which is perhaps why St Francis chose to found a convent here in 1222. Today, the centre of the hotel is the former convent's superb 13 th century cloister. For 170 years the Barbaro family have dispensed hospitality here, to the likes of Richard Wagner and Henrik Ibsen. I asked to see the latter's room, in which he wrote The Doll's House. Admiring its handsome view, I was quite unable to understand why the Great Man was always so gloomy.
Certainly, there was no gloominess about as I settled at my corner table in the brightly-lit, vaulted dining room. My white-jacketed waiter, Roberto – a friendly chap – brought me four decent dishes from the hotel kitchen. Penne Sorrentina-style (with tomatoes, mozzarella and parmesan) was soft and tasty. Bresaola came with rocket, olive oil and big chunks of parmesan. Thinly-cut steak was served with wild fennel. And an ice cream cake concluded this happy repast.
Apart from the champagnes, the wine list is Italian. A page of grand bottles offers 2000 Tignanello at 150 euros, 1998 Ornellaia at 420 euros and the 1993 Gaja Sperss Barolo at 300 euros. My Sicilian chardonnay (Regaleali, 2003 – 20 euros) had the acidity to cope very well with the first two courses. And my local red (Vigna Cinque Quercie Taurasi, Salvatore Molettieri, 1998 – 52 euros), after decanting, provided lots of interest and complexity, including a nose of soaking oak.
When you go to stay in Amalfi, your days can be spent admiring beauty both natural and man-made. In the evenings you will have the appetite to do justice to the food on offer at La Caravella and at the dining room of the Hotel Luna Convento.
---