FRANCE
PARIS
RESTAURANT LA CUISINE
HOTEL LE ROYAL MONCEAU RAFFLES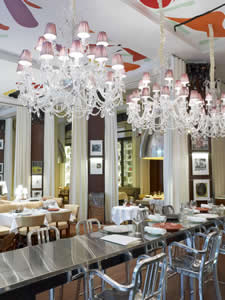 The maiden aunt of Parisian grand hotels has been transformed into the exciting young niece. Of all the palace hotels in Paris, one always used to strike me as being quieter and more reserved than the rest. No longer. The staid old Royal Monceau has become the flamboyant Raffles Royal Monceau. For the designer Philippe Starck has waved his magic wand, and the most traditional hostelry in Paris has become an Aladdin's Cave of modern art and design. I have not yet had the opportunity to stay at the hotel, but I have eaten dinner at its French restaurant – La Cuisine.
The Royal Monceau has been an adornment to the avenue Hoche since 1928. The Allied general staffs had the good sense to stay here in 1945, and three years later it was here that David Ben Gurion signed the proclamation creating the state of Israel. My own presence was perhaps of less historical significance, but I am sure that I appreciated my surroundings just as much as my distinguished predecessors. Mr Starck cares about details and he has a sense of humour. There is therefore much to occupy the eye in and around the restaurant.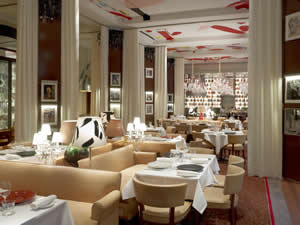 I settled myself into an armchair at a round table with good white napery and looked, as it is my habit to do, at the glassware. The Schott wine glasses were good, as they always are. But I blinked at the glass provided for the water. Surely, it could not be... I turned it over and looked at the maker's mark. Yes, it was. To my astonishment, here was an artefact from my childhood – a glass beaker made by Duralex. I asked my excellent waiter, Farin – smart, in his uniform of grey suit and grey tie – about it and he smiled: the Duralex glasses were, indeed, an arch 'retro' joke. This started the evening well.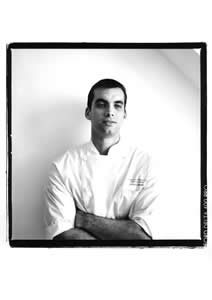 And it continued well. All the three senior chefs – Laurent André (Executive Chef), Julian Mercier (Assistant to the Executive Chef) and Gabriel Grapin, pictured (Chef of La Cuisine) – are from the stable of the great Alain Ducasse, and there cannot be a better stable from which to come. I looked at the wine list, and the impressive nature of the enterprise became even clearer. Chef Sommelier Manuel Peyrondet (pictured) presides over a cellar which offers 626 different bottles, 80 magnums and 4 Jeroboams (yes, I did count them), with prices ranging from 35€ for a white Bouzeron to 6,000€ for the 1983 vintage of Romanée-Conti. And the fact that, although the list is overwhelmingly French, there is room for an Austrian sweet wine by the glass (a 2005 beerenauslese - 16€) is a sign of real intelligence.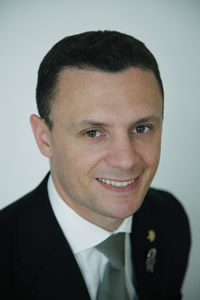 These were other attractive offerings to catch my eye: 2003 Montrachet, Lafon (1,500€), 1990 Yquem (850€), 1982 Lafite (4,800€), 1982 Latour (4,800€), 2008 Grange des Pères (230€), 1998 Margaux (1,250€) and 1988 Richebourg, DRC (2,500€). My own bottles were recommended by the helpful Assistant Sommelier, Gwilhern de Lavergne de Cerval. My white was an unusual white Bandol, a light wine, with plenty of minerals and an intriguing nuttiness (Ch. De Pibarnon, 2010), and my red was a really good claret – a Lalande de Pomerol, which, after decanting, yielded a gorgeous nose of ripe damsons but retained its firm tannins and tight structure (Ch. Grand Ormeau, 2002).
And so we arrive at the food – four courses of the prettiest comestibles ever to be set down before a hungry Englishman. For sure, the kitchen would earn a gold star from even the severest critic for its skills at presentation. I began with herring fillet, marinated in olive oil and served with potato salad and pickles. This came on a brown plate of rectangular form and proved a refreshing, satisfying and well-balanced start to the meal.
Then arrived a dish of sheer brilliance. It was a soft-boiled egg, which had been marinated in red wine. It was served with pork belly (think of slices of fatty bacon), golden croutons, red wine sauce and shavings of truffle. Quite frankly, this was magnificent, and I am struggling now (as I did then) to pluck from my feeble brain words which do it justice. This luscious and flattering complexity of flavours and textures was, without doubt, the highlight of the meal. It was followed by my meat course, for which I was able to choose a knife from a handsome selection. (I had not encountered this happy conceit before. I think I approve.) Again, the food looked wonderful, but this roasted rack of lamb was a bit of a disappointment. It just did not have the flavour for which I had hoped. But standards shot back up with the pudding. In fact, its description still brings back the pleasure with which I consumed it: hazelnut dacquoise, sautéed bananas with passion fruit, milk chocolate Chantilly cream and candied ginger. Delicious. (These four courses were 112 euros.)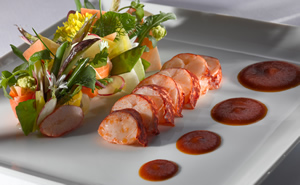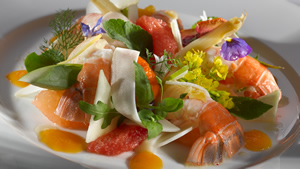 I left La Cuisine full of gastronomic joy and full, too, of admiration for the Royal Monceau. She has re-invented herself, and now has a twinkle in her eye. Paris has a bright new star among her palace hotels.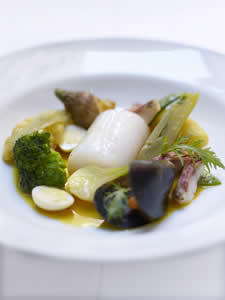 ---
ADDRESSES
RESTAURANT LA CUISINE
HOTEL LE ROYAL MONCEAU RAFFLES
37 avenue Hoche, Paris 75008, France.
Telephone +33 (0)1 42 99 88 00
Fax +33 (0)1 45 63 12 69
Email: dining.paris@raffles.com
www.leroyalmonceau.com