United Kingdom
ENGLAND
HAMPSHIRE
WINCHESTER
LAINSTON HOUSE HOTEL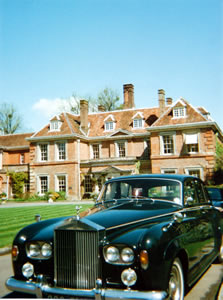 Winchester was once the capital of Wessex. Centuries later, Charles II had thoughts of building a magnificent royal palace nearby. Like many such grandiose schemes, it failed to materialize. But one beautiful part of the scheme was erected, and it remains to this day: the hunting lodge. This is Lainston House. With a multitude of sympathetically styled extensions, it is now a country house hotel of the best sort – traditional, comfortable and wonderfully welcoming. These aspects of its character, plus its proximity to so delightful a cathedral city, make Lainston House a popular place with those of us who value a couple of days away from the stress and noise of London. Thus did the Royce and I head to Hampshire for a rest. You can detect in the photograph, I fancy, the suggestion of a smile on the radiator of the Silver Cloud. Does she not look very much at home?
We had turned off a quiet road and passed high entrance columns of brick. As we purred up through the 63 acres of grounds, I noticed that the lawns on either side were well tended – always a good sign. Then it was through wrought iron gates and onto the oval drive in front of this house of exquisite proportions. Later, I was able to explore the grounds, and found the picturesque ruined chapel (which dates from the 12th century), the kitchen garden and the aviary (for the hotel promotes country pursuits, such as falconry).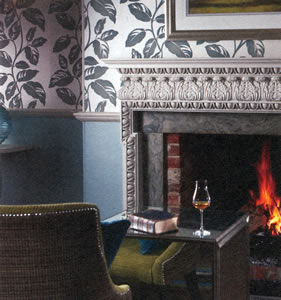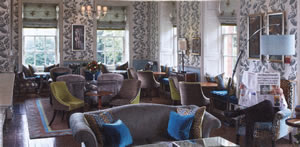 My room was called 'Heather'. This was a 'traditional junior suite', and therefore £437 a night, bed and breakfast for two. (Ask about the hotel's packages and special offers.) It was an apartment of warm colours, with much stained woodwork in oak and red for the wallpaper and for the carpeting. Its measurements were almost baronial. I judged the bed-sitting room to be about 25 feet by 16 feet, and the ceiling height to be 9 feet. Two of its three windows had full-length oak shutters. This was on the ground floor. Two wing chairs were provided, and the lighting was from two chandeliers and three table lamps. Within the fitted wardrobes were an iron and an ironing board, in case my striped shirts had been crumpled in the Globetrotter. And in a leather box bearing the legend, 'Service en chambre', I found a kettle and the other necessaries for making tea and coffee. A television and a dvd player were provided.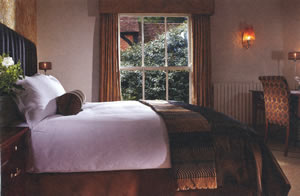 I particularly liked the door bell. Usually, this item is not worthy of comment, but here it was a proper, jangling bell – situated in the bathroom. It provoked more thoughts of the baronial sort – as did the column either side of the bath tub, and the huge walk-in shower. Large bathrooms in baronial castles tend to be cold. But this one was provided with heating under the marble floor, a feature my toes appreciated after my pre-prandial bathe.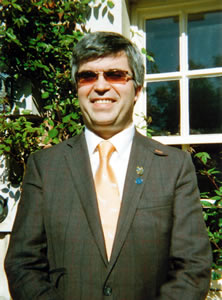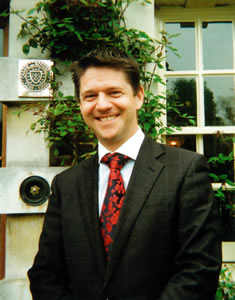 Thus washed and brushed, I made my way to the panelled dining room, called 'The Avenue'. Here I was looked after very well indeed by the Assistant Restaurant Manager, Alberto Almeida (pictured). Indeed, the memory of his courteous kindness prompts me to pay tribute to the service provided by all the members of staff I encountered at Lainston House. They are a credit to the efficient and affable General Manager, David Connell (pictured). Settled into a comfortable armchair, with crisp white napery and Riedel glasses before me, I had every confidence that I was going to enjoy a fine dinner.
And that confidence was not misplaced. I found the food from the kitchen of Executive Chef Andrew MacKenzie (pictured) and his Head Chef Phil Yeomans to be intelligently conceived and expertly cooked. It would be difficult, I fancy, not to enjoy eating here, with such bold, direct flavours and such intriguing combinations of textures. And Chef Mackenzie is to be congratulated for giving prominence on his menu to the names of local suppliers.
A tasting menu is offered at £70, and three courses from the carte are £55. I chose four courses from the carte. I began with salmon confit, with asparagus, rhubarb and liquorice gel. This was light, delicate, precisely cooked and utterly delicious. I am a great fan of rhubarb, but I had never supposed it would go so well with salmon. My next course was just as good – a straightforward chicken liver parfait, full of robust taste, with spiced pear, ginger and red wine. Again, the balance was well judged. My main course was even better and, indeed, must be considered the highlight of my meal. This fillet of beef was tender, pink and packed with flavour. But it was the addition of smoked bone marrow which lifted it to an altogether higher gastronomic plain. I ended with vanilla pannacotta, ginger ice cream and more rhubarb. (The rhubarb is grown is the hotel's kitchen garden.)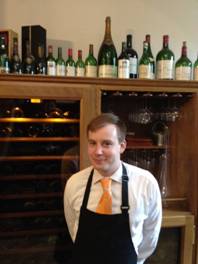 Sommelier Peter Foulds (pictured) deserves a gold star for one particular achievement of his list – the very high quality of its cheapest wines. Gone (I hope) are the days when lists would seek to punish those who dared to drink economically – by serving rank, nastily acidic rubbish as their cheapest offerings. But the three wines I drank here – each the cheapest in its category – were truly splendid. The sparkling wine – English, and proud of it – was fresh, bright and suggestive of green apples (Nyetimber, Sussex - £9.50 glass); the Sicilian white was beautifully grassy and aromatic (Mandra Rossa Fiano, 2010 - £7 glass); and the Sicilian shiraz was plummy, sweet and caressingly soft (Feudo del Venti, 2009 - £24.50 bottle).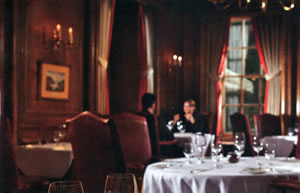 Among the nearly 300 bottles on the rest of the list were plenty of the grand names to tempt those with deep pockets. Prices, though, are fair and range from £24.50 for my Sicilian shiraz to £999 for 1982 Margaux and £1,400 for the 2000 Cheval Blanc. Other bottles to catch my eye were: Krug Grande Cuvée (£195), Bâtard-Montrachet, Leflaive, 2000 (£450), Cloudy Bay chardonnay, 2007 (£69), Mouton-Rothschild, 1996 (£675), Bonnes Mares, Comte de Vogüé, 1996 (£555) and Solaia 1997 (£625).
I sat at the same table in the dining room for breakfast the following morning. This maintained the high standards I had come to expect. Cold food was secured from the buffet and hot food was brought by the waiters and waitresses. Rice Crispies, mushrooms on toast, crisp bacon, chunks of pineapple, stewed pears, coffee – all were truly excellent. And there was one thing – Laus Deo! – which was missing: canned music. Indeed, there is no canned music at all at Lainston House, for which absence I say, Three Cheers!
Fully rested, the Royce and I trundled back towards London in a happy frame of mind. We had enjoyed ourselves. Lainston House Hotel offers a lovely old building, glorious grounds, elegant rooms, charming service, good food and excellent wine.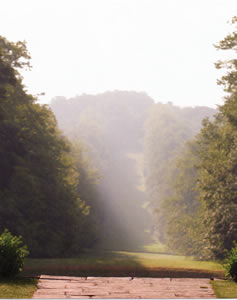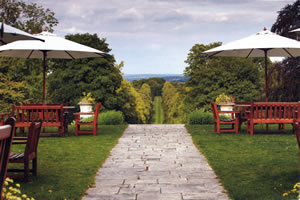 ---