FRANCE
VILLEFRANCHE-SUR-MER
RESTAURANT LA MÈRE GERMAINE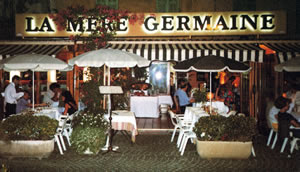 Villefranche-sur-Mer is one of the prettiest little seaside villages of the French Riviera. It attracts all sorts of folk, many of them artists and film stars. In 1925 its spell brought Germaine Halap to settle here. In 1938, with her husband Louis Brau, she opened a restaurant right on the waterfront. Almost immediately, it became a popular destination for members of the United States Navy, whose mighty ships anchored nearby. Indeed, the lady chef and her food became so popular with the American sailors that Germaine became known as 'The Mother of the Sixth Fleet'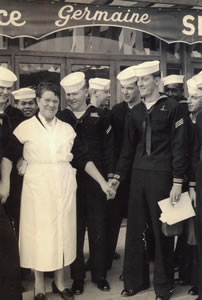 – and a book about her with that very title was published in 1959. You will see from the photograph that a jolly time seems to have been had by all. And you will observe in another picture that her friends were not only of the nautical type, for the gentleman with her is the writer, Jean Cocteau.
Today, the Restaurant La Mère Germaine is still in the eponymous lady's family and it is still renowned along the Côte d'Azure. It is now run by Rémy Blouin. On the evening of my visit, I was looked after with charm and professionalism by his son, Thierry Blouin, although Rémy called by – as he always does – to say 'hello' to each table. That the restaurant still attracts the famous from all over the world is evidenced by another of my photographs, showing Rémy Blouin with President Boris Yeltsin. Indeed, such is the appeal of the kitchen to those who moor their large yachts nearby that the restaurant has its own boat, to ferry customers to and from their floating palaces.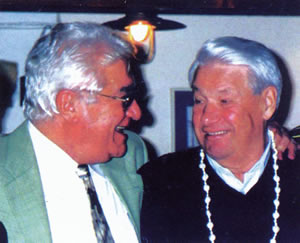 I sat at a table within a yard of the harbour's edge and thought this a most delightful setting for a meal. Perhaps 'operatic' would be a more suitable epithet. Certainly, there was plenty of glamour in these surroundings. I liked the white damask napery, and my back liked the supportive armchair. The menu was long and tempting, but it seemed right to go for the traditional delights: salmon, lobster, lamb and soufflé. The most famous dish is the bouillabaisse – repeatedly voted one of the best on the coast – but, culinary heretic that I am, I am not a fan of fish stew. My companion, however, tucked in and pronounced it 'remarkable'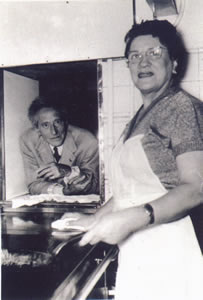 My salmon had been marinated in dill, and was served with excellent crisp toast. This was good, straightforward and well done. And so was the lobster, warm and accompanied by a salad, carefully dressed with a balsamic vinaigrette. My roasted rack of lamb with fresh thyme and a gingerbread crust was full of robust flavour. This was lovely meat. And my crêpe soufflé with Cointreau was a model of its kind – light, luscious and delicious. (These four courses were 117€.)
The wine list has around 70 offerings, all French apart from a trio of Italians. Prices run from 25€ for a 2011 Beaujolais Villages to 420€ for the 2003 vintage of Dom Pérignon champagne and 325€ for the 1986 vintage of Château Léoville Poyferré. Those of you who like grand white burgundy with your fish will certainly be interested in the 2006 Corton Charlemagne from Louis Latour at 205€. I drank perhaps the next best thing – a bottle of white from Nice with the burgundian qualities I like (fullness in the body, elegance in the structure and discretion in the fruit). This was 2011 Château De Bellet. It was good drinking for 56€.
The Restaurant La Mère Germaine has a fascinating history and an enticing present. It deserves its fame.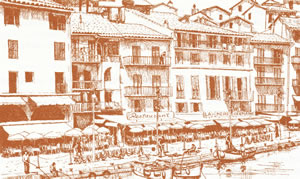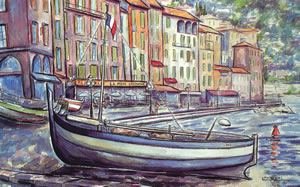 ---