ITALY
GARLENDA
LA MERIDIANA RESORT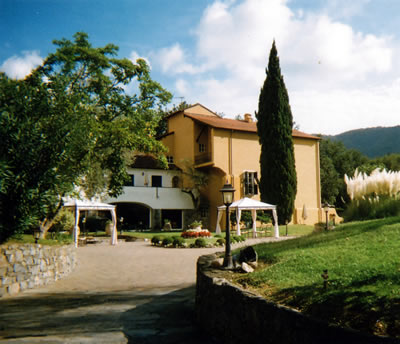 Driving eastwards along the motorway which skirts the Ligurian Coast, away from Genoa, you will come to an exit marked 'Albenga'. The turning is about 80 miles from Nice airport. It seems unexceptional. But, in fact, it is the way to one of the most charming small hotels (and its wonderful restaurant) you will encounter. La Meridiana is just four miles from the motorway exit, but the change in surroundings and atmosphere suggests you might be on another planet. Within immaculate gardens, the house is full of paintings, objets d'art, enticing sofas and plump velvet cushions. A grand piano stands in the main sitting room, and a friendly dog of the terrier variety pads about the place in a proprietorial manner. This verdant hideaway, designed by Luisa Berto de Segre in the 1970s and surrounded by green hills, is very much a place for relaxation and retreat.
Since 1983, Alessandra and Edmondo Segre have worked tirelessly to ensure that their establishment – with its outdoor swimming pool and adjacent golf course – offers to its guests a comfortable retreat from the cares of the world. Of course, the area has much of interest, not least the famous Byzantine baptistery in Garlenda down the road, but it was the sense of seclusion which appealed most to me. I took a photograph of my hosts, together with their canine friend, and I present it to you. It conveys, I think, something of the atmosphere of the place.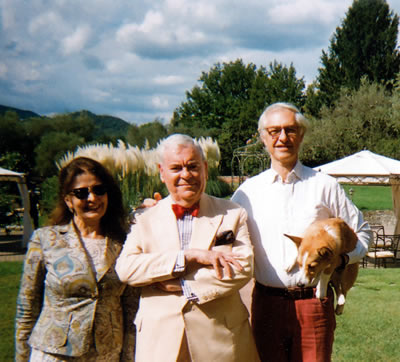 Of the 25 bedrooms, mine was on the second floor. Number 76 was an Executive Suite, and had the spaciousness suggested by its designation. Its prevailing colour was yellow. The sitting room was certainly large, and easily accommodated two sofas, a writing desk and a bar. Through a French window was a balcony, with a table and chairs, overlooking the front of the hotel. Fitted wardrobes by the entrance contained a private safe, and a door allowed entrance to a cloakroom and shower room. The television and dvd player enabled me to play Elgar's stirring In the South, a concert overture composed while the great man was on holiday in nearby Alassio. The main bathroom – with two wash basins, a circular bath and a separate loo – was reached from the bedroom. My bed was initially too hard for my ailing back, but the addition of numerous soft blankets beneath the bottom sheet soon ensured that I could sleep in comfort.
La Meridiana is rightly famous for the food in its dinner restaurant, Il Rosmarino. (Lunches and snacks are available in the Bistrot.) The cuisine is that of Edmondo Serge himself, assisted by his Chef de Cuisine, Anton Blas. Arriving in the evening at this inviting dining room, off the main sitting room, I liked the ambiance created by the parquet floor, the Persian rugs and the cabinets of porcelain. I was pleased that there was no canned music – which sometimes, alas! was turned on in the sitting room. White napery, good C & S glassware and the single candles on each table created the right atmosphere of proper formality. (The napkins of those who left the table for a moment were changed discreetly.) Presiding over the service was the charming Franco, who has been here for 26 years.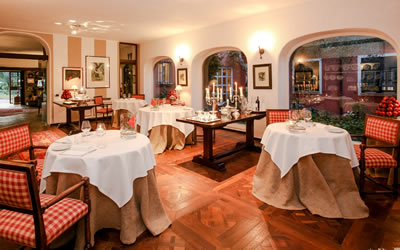 The menu offers three choices for each course (3 courses and dessert are 80€. 2 courses and dessert are 65€). Unusually, the menu changes completely each day. This is because, quite rightly, the cuisine is market driven. Such an approach, together with the obvious talent of the chefs, meant that my dinner was exceptionally good. I began with Carnaroli rice – beautifully soft and creamy – with sweet and tender oven-roasted quail, Parmesan cheese and a red wine reduction. Each element was entirely right, and the whole was exemplary in its balance of tastes and textures. My main course was as interesting as it was pretty, and as pretty as it was delicious. Tasty, baked loin of lamb came with white chocolate, lime and eggplant very subtly flavoured with curry. The dessert came on a black plate. I am not a fan of any deviation from white crockery, but I confess that the darkness provided a startling contrast to the vanilla nougat, lemon cream, flambéed meringue and strawberry sorbet. This was a splendid meal. And the bread deserves a special mention, for its exceptional foccacia.
The wine list is impressive. Its 571 offerings are all Italian, apart from the champagnes and two French pudding wines. Prices run from 24€ for a Ligurian rosé to 4,500€ for a magnum of 1985 Sassicaia. Other super-Tuscans are available in abundance. Thus, from the great 1997 vintage, I noted Tignanello (155€), Solaia (450€), Sassicaia (220€) and Ornellaia (250€). Mr Gaja's wines are also much in evidence, and include his 1990 barbaresco (450€) and his 1985 barolo"Sperss" (320€). My own drinking included a superb local red. I am unfamiliar with Ligurian wines, but this example – long, lingering and velvety, with ripe black fruit and soft tannins – convinced me that I should seek them out more often (Bricco Arcagna, Terre Bianche, 2012 – 42€ ).
Breakfast in the light, pretty Breakfast Room was another treat. Very good bacon and eggs were brought from the kitchen, and from the buffet I secured other comestibles of high quality: hot coffee, fruit salad, cakes, poached pears, crusty bread, homemade jams, honey, ham, cheeses and warm croissants. All this seemed quite a snip for 22€.
In fact, I think the whole of La Meridiana was quite a snip. Next time you are planning to be in Italy and are wondering whether to yield to the temptations of Liguria, seek out the motorway exit for 'Albenga' and treat yourself to a few days of good food, comfort and restorative rest at La Meridiana. I think you will enjoy it. I know I did.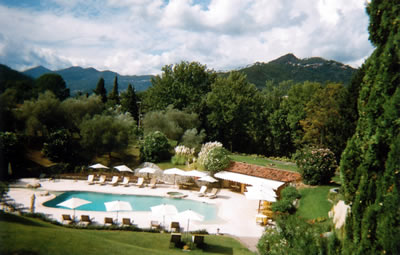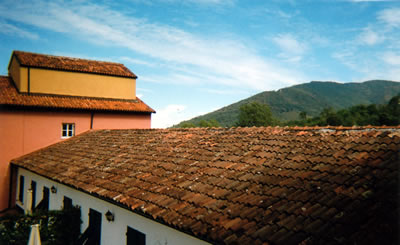 ---