France
Beaulieu
LA RÉSERVE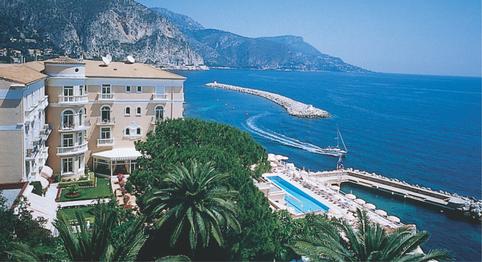 Where do you find the best-dressed diners on the French Riviera? Before I answer this important question, let me ask another. Why are old ladies so courageous? I have puzzled over this ever since, as a small boy, I witnessed my Auntie Maud – a lady of diminutive stature, not much taller than I was myself at the time – wipe the floor with a pompous local bureaucrat who thought he could lord it over 'a little old lady'. Recently, at a performance of Handel's Messiah, I suddenly realized, to my horror, that the conductor did not want the audience to follow the tradition of standing for the Alleluia chorus. I wanted to spring to my feet, but instead remained rigidly in my seat as the first few bars went by, fearful of making myself conspicuous. So who took the lead? Two old ladies, of course. And soon the whole audience was standing – better late than never.
Now what does all this have to do with fine dining?
The scene is the terrace of a very grand restaurant overlooking the Mediterranean. It is the evening, a time to sit back and enjoy the sound of the lapping water and the sight of the distant lights on Cap Ferrat. But the wind has risen. Candles are being blown out, awnings are flapping and tablecloths are starting to imitate sails. The diners, including your correspondent, cling to their menus and pretend that nothing is happening. Then one of the two elderly American ladies at the next table gets to her feet and declaims (it is most certainly a declamation, for we can all hear it), "Just because it's the South of France, I'm not eating in a gale." With that she motions to her companion and they both march inside – to be followed shortly afterwards (and somewhat sheepishly) by the rest of us.
The lady in question was most beautifully attired, in the highest of haute couture. And so now I will answer my opening question. Where do you find the best-dressed diners on the French Riviera? At La Réserve de Beaulieu.
This pink palace in the Florentine Renaissance style was opened in 1880 and has been one of the places to be seen ever since. Now, I am pleased to say, it is at its very peak and has been showered with awards by the guides – including two stars for its Restaurant des Rois from the Michelin men. I hope to be able to report on the hotel side of La Réserve in the future. For now, let me commend to you Chef Christophe Cussac's food, which is disarmingly simple and spectacularly good. It is entirely appropriate that it is eaten by those who, clearly, go to great pains to appear elegant.
Safely installed in a corner of the light and pretty dining room, I began to purr at the quality of my meal. Marinated tuna with peppers made a dramatic plate of pink fish, red slices of pepper and yellow pepper coulis. And, more important, the flavours in the mouth were robust and superbly balanced. Red mullet with crispy red onion was delicate in comparison, but was beautifully realized. My main course showed how successfully a peasant dish can be served in a palace – as long as it prepared by a master. Broiled piglet, with crackling, aubergines and courgettes is a Provençal recipe of rich, luscious tastes. I loved it. The concluding Grand Marnier soufflé (of the individual sort, served with an excellent sorbet) was enjoyable and of a decent size – but was slightly over-cooked, and therefore collapsed in upon itself. (From the carte these four courses cost £90, but they were all available on one or other of the set menus at £52, £68 and £85.)
I liked the pleasant formality of the service, from waiters in black tie. They added considerably to the aura of luxury. In such an atmosphere you would not expect the wine list to be full of cheap offerings. Nor is it, although a Provençal rosé can be had for £24. More typical is the page of DRC burgundies (1964 Romanée-Conti is £2,500) and the fine vintages of first growth clarets (1955 Haut Brion is £1,000, 1970 Margaux £670). Still, you can drink well without heart tremors.
Sommelier Jean Louis Valla, a gentleman of impressive presence, brought me the 1999 version of one of Provence's best regarded whites – Château de Bellet, De Charnacé - £50 (with a buttery nose and reminiscent of a good Côte de Beaune), and a well-balanced Lalande de Pomerol with a cabbage nose (Ch. Haut Surget, 1996 - £70).
If you like to wear good clothes and you like to eat delicious food, I recommend you join the best-dressed diners on the French Riviera at Beaulieu. La Réserve awaits.
And while we are in this part of the world, it would be a pity to overlook the restaurant at the Hotel Belles Rives in Juan-les-Pins – also on the coast, but on the other side of Nice. The joy of this Art Deco villa is the view from its terrace. And here you must have clement weather, for then you can dine – as I did – next to a white balustrade, with the water below and a whole bay of flickering lights set out before you. The pianist played 'Stranger in Paradise' and it seemed appropriate.
This is not the place for two-star food, but Chef Thierry Grattarola takes care over the dishes which the waiters in black and white striped waistcoats bring to your table. Expect to pay about £60 for 4 courses of hearty fare from the carte. I tucked into lobster ravioli, risotto with sausage and mushrooms and beef fillet with foie gras and crisp potato slices. From a list of modest length, I drank a smooth, medium-bodied red burgundy with a slightly vegetal nose (Chambolle Musigny, J. Drouhin, 1997 - £49). Here, too, my fellow diners had made an effort to look smart for dinner. The world would be a better place if everyone would do the same.
---