ITALY
PUGLIA
OSTUNI (BRINDISI)
LA SOMMITÀ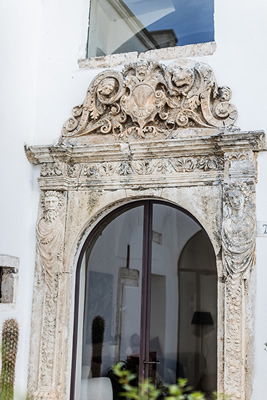 Hidden away, a few steps from the tourist trail, in the pretty jewel of a town which is Ostuni, is an oasis of cool chic called La Sommità. Ostuni is known as 'the White City', and much paint and hard work is expended each year in ensuring that it is worthy of its title. Buildings in this ancient and albino place are pristine, and the 16th Century residence which has been converted into an hotel and restaurant is no exception. La Sommità is a marvel: an air-conditioned retreat of luxury and good taste. Its restaurant has a Michelin star and its fifteen rooms (all air-conditioned, of course) are sought out by those who want to enjoy their history in comfort and style.
My own room was on the first floor, a duplex suite called La Cattedrale – a name which reminds its occupants of the beautiful seat of the local bishop next door. (Indeed, it is one of the real treats of staying in this hotel, to be able to take a post-prandial stroll around the corner and pass a few minutes sitting before the floodlit east end of the cathedral. The harmony and beauty of the 15th Century façade make the perfect after-dinner digestif.)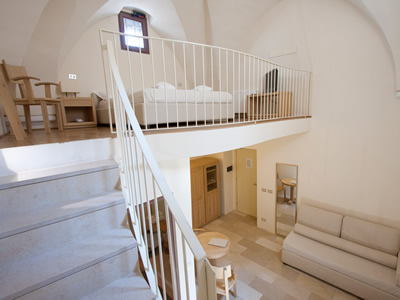 Now this duplex was not an ideal arrangement for your ageing correspondent, for – with the fitted wardrobes on the lower floor and the bedroom on the upper – it suggested that I would have to clamber up and down a flight of stairs when I needed to change my clothes (dress for dinner &c.). But it was entirely typical of the kindness and efficiency of the young members of staff that, when I explained the problem, they rushed hither and thither and found a portable clothes rail which was promptly installed in my bedchamber.
The bed itself was deliciously comfortable, but the gem of this apartment was the bathroom. Within this grand, vaulted chamber were a pair of wash basins, a good bath tub, a walk-in shower, a loo, toiletries by Bulgari and lots of large, soft, white towels. My ablutions at La Sommità were done in some style.
I should mention the arrangements for getting to the hotel, for the ancient heart of Ostuni is forbidden to most motor cars. My driver therefore took me to a car park in the lower part of town. From here a telephone call brought a young fellow in a small car, who packed my luggage in the boot, settled me in a seat and sped your correspondent and his chattels up to about twenty yards from the front door of the hotel. Of course, my cases were then transported to my suite by others.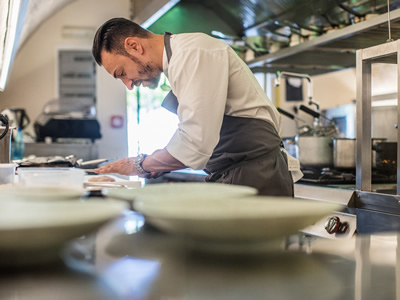 The hotel restaurant is called Cielo ('sky' or 'heaven'). It offers a swish, well-lit and sophisticated setting for the cuisine of Chef Andrea Cannalire. The waiters dress in black, the napery is white and the glasses are by Riedel. My fellow diners, I am pleased to report, had all made an effort to dress well. Immediately, I sensed the purpose and ability at work in the kitchen, for out came impressive nibbles of considerable complexity, including a little ball of water melon full of liquid and a green pepper stuffed with a mousse of fava beans. Both were delicious. These were brought to me by the excellent maitre d', Tommaso Nitti, whose expertise extends to Cielo's extensive wine list.
I counted upon that list 417 offerings. Most are Italian, some are French and a few are from the rest of the world. Prices – which are reasonable – run from 21€ for a local rosé to 1,825€ for the 2011 vintage of Chateau Latour. Other bottles to catch my eye included 2010 Tignanello (290€), 2011 Gaja barbaresco (285€), 2013 Cervaro della Sala (90€) and Krug Grande Cuvée (250€). Mr Nitti selected some interesting glasses for me, including a beautifully elegant and well-structured Nero di Troia and a big, earthy Primitivo. If you are not already familiar with these red wines from Puglia, I recommend that you make their acquaintance.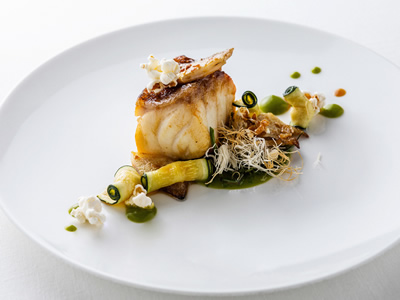 The food at Cielo is modern in both conception and presentation. My four course set meal (95€) came in a variety of pretty bowls and mugs. I chose three courses from the sea (the 'Acqua' menu) and my pasta from the land (the 'Fuoco' menu). My first dish was an exercise in lightness and subtlety: scallops, with peas, tomato, green apple and vanilla. The meaty pasta was more robust in its tastes. I found this fragottini – with braised lamb, giblet sauce and celeriac – deeply satisfying. I was most intrigued by the prospect of the main course, for it promised a combination new to me: lobster with iced foie gras. In the event, I found the frozen, powdery liver added less to the crustacean than the lovely peach chutney and pieces of fresh peach. I concluded this interesting meal with a confection of passion fruit, coconut and coffee.
At breakfast I found, as I expected, that all the food – both on the buffet and brought from the kitchen – was of high quality. Indeed, it included the finest burrata cheese I have ever tasted. I sat at a table on the enclosed terrace, with the sky above and a stone floor below, and tucked into an omelette, bacon, fresh melon, pineapple and kiwi, chocolate tart and brioche. In the morning, as in the evening, the service was both friendly and efficient.
La Sommità offers high standards of food, accommodation and service in a delightful setting. It is the ideal base from which to explore the White City of Ostuni and the surrounding area of Puglia.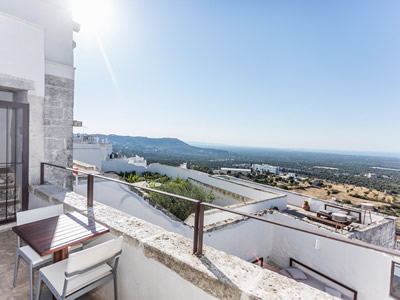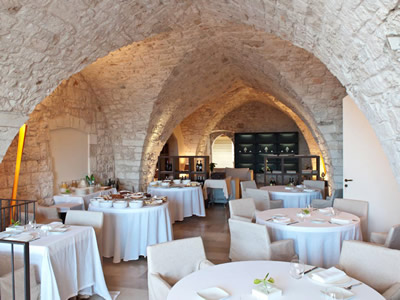 ---