France
PARIS
LA TABLE DU LANCASTER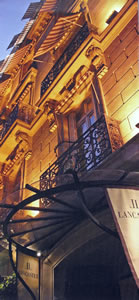 In a late 19th Century mansion near the Champs Élysées I was transported to Heaven, there to feast upon the nectar of the gods. I exaggerate, of course – but only slightly. Gastronomic ecstasy sometimes prompts me to dabble in hyperbole. Had you been with me, your taste-buds would have prompted you to similar flights of enthusiasm, I am sure. The dish which so impressed me sounds pretty good, too: venison canon with hazelnuts and ranfio cino (a sweet white wine). It was served in the restaurant of the Hotel Lancaster, now known as La Table du Lancaster.
It was raining heavily as my taxi approached the discreet entrance. I did my best to imitate the gazelle for the brief distance from car to building, but I was still a little soggy by the time I reached the threshold. I wondered whether I should seek out the hotel's interior courtyard and restore my composure in its Zen garden retreat. But the moment passed, and I was soon entering the intimate warmth of the ground floor dining room. Well-lit by discreet spotlights and a crystal chandelier, this was a small chamber – afforded considerable elegance by grey pilasters and colours of dark brown and old gold. It took me a few moments to realise that there was not a second room: these interior decorators can do clever things with mirrors.
I settled myself before the off-white tablecloth, examined the good Spiegelau glasses, noticed that the friendly waitresses were careful to re-fold the napkin of a fellow diner who had left the table for a moment and thought that this was a good setting for food which attracts one Michelin star. My back began to complain, but the 2nd Maitre d' quickly brought me a cushion, and comfort was restored. I learnt that Gianluca Faustini had come from Milan. He looked after me with considerable courtesy and kindness throughout the evening.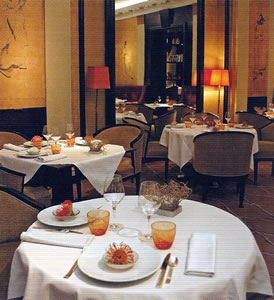 The menu at La Table du Lancaster is overseen by Michel Troisgros, the famous chef of Roanne. "Fresh produce and tangy notes have been my inspiration for this menu," he tells us. The dishes are divided into categories, such as 'Sour', 'Piquant' and 'Bright', and main courses are differentiated from starters by a small symbol next to their descriptions on the card. I suppose that such a system appeals to young people. Being of the old duffer School, I found it a bit confusing. Still, I did manage to order a jolly good meal. (A seven course tasting menu is offered at 120 euros. My four courses from the carte were 157 euros.)
My opening course was 'Zesty' – a fair enough description, as it contained the zest of a Yuzu orange. This melba of scallops was Japanese in its exquisite presentation and entirely to my liking in its robust flavours. Here was the essence of scallops. Standards dipped slightly with my second course. These steamed autumn vegetables with parsley sauce were prettily presented and offered an interesting variety of tastes, but they were cold – chilled, even. Had they been warm, they would have constituted a much better and a much more enjoyable dish.
Then came the brilliant, the extraordinary venison. I have eaten venison many times, but never has it been better than this. The combination, with hazelnuts and a sauce of sweet wine, was intelligent and effective. But it was the stunning quality of the meat – so tender and so full of flavour – which made me gasp. I decided that the person in the kitchen who had prepared and cooked this meat deserved the Légion d'Honneur. After such magnificence, I feared the pudding might disappoint. It did not. I had been unable to resist the lure of so tantalising a conceit on the menu – carrot soufflé. With carrot sorbet spooned into its fluffy centre at the table, this was a fine ending to a fine dinner.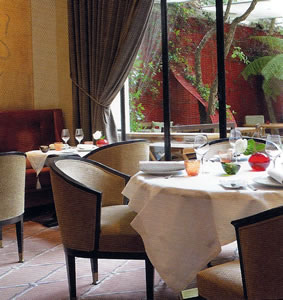 The wine list, brought to me by a sommelier in a proper sommelier's uniform, contained many French offerings of high quality – including the first vintage of Pétrus produced after Christian Moueix had taken charge of the chateau, 1971 (1,800 euros), which I had the pleasure of drinking in California at a tasting conducted by the great man himself a few years ago. Other bottles to catch my eye were 1995 Bollinger champage (310 euros), 1985 Margaux (1,250 euros) and 1990 La Mission Haut Brion (980 euros).
I decided to go to Burgundy for my white and to the Rhône for my red, and found some excellent drinking. The 2005 Chassagne Montrachet from J.M.Boillot (82 euros) was nutty and gravely – blind, I would have said a top quality Chablis. The 2004 Cornas (Les Terres brûlées, J.L.Colombo – 72 euros) was full of spice and damsons, with charming hints of caramel.
When I left the Lancaster the rain had stopped, but the damp pavement still glistened under the street lamps. I walked on the earth, but the venison at La Table du Lancaster had given me a glimpse of Heaven. For that it has my eternal thanks.
---
ADDRESSES
LA TABLE DU LANCASTER
Hospes Lancaster, 7 rue du Berri, 75008 Paris, France.
Telephone +39 (0)1 40 76 40 18
Fax +39 (0)1 40 76 40 00
Email: hospes.lancaster@hospes.es
www.hospes.es
Closed: August