FRANCE
FRENCH RIVIERA
ST TROPEZ
LA TABLE DU MAS, MAS DE CHASTELAS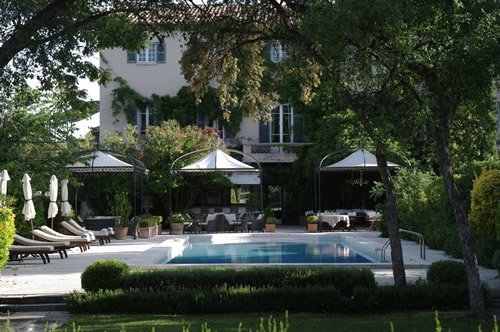 Within the exclusive surroundings of the Mas de Chastelas (see separate review) is a fine restaurant which is worth a visit in its own right. In fine weather, it occupies the terrace by the hotel's swimming pool, surrounded by some of the loveliest gardens in the area. On the evening on which I dined I was soothed into pleasant contentment by the plucking of a harpist. It seemed appropriate to the context to be listening to 'Amazing Grace', as candles flickered in their silver sticks, for standards here are high – the glassware is by C & S and the cutlery is by Guy Degrenne.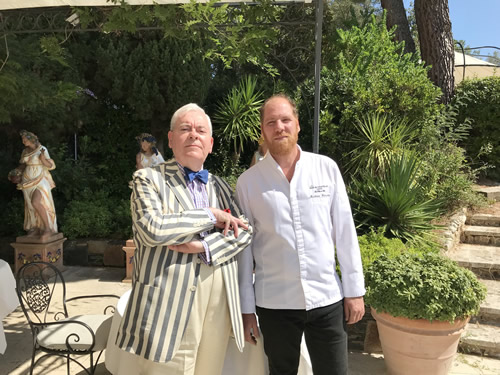 Chef Matthieu Hericotte (pictured, with your correspondent) hails from Amiens. He offers three set menus: a three-course vegetarian menu (60€), a four-course menu (65€) and a tasting menu (120€). I chose three courses from the carte (for which you should allow around 90€. Service is friendly, and the pace is unhurried.
I began with fried foie gras and grilled cèpe mushrooms, a tasty combination enlivened by a juice of Lambrusco. My main course was roasted duckling. This piece of breast was a delicious piece of tender meat. It was served with caramelised and poached mirabelles, which created just the right balance in the dish. I finished with millefeuille with vanilla, fruit compote and sorbet.
Apart from the champagnes, all the wines in the cellar (just 33 offerings) are local – although the list contains a promise that if you want a particular wine not made on the St Tropez peninsula (and, presumably, can give sufficient notice) "we shall do our best to get it for you". Prices run from 39€ to 95€ for the still wines, and up to 380€ for 2006 Cristal champagne. 2005 Dom Pérignon is 370€ and Charles Heidsieck rosé is 175€. I drank a cabernet sauvignon with a dash of syrah, which reminded me of a very decent claret (Artus, Domaine de la Pertuade, 2015).
This was a pleasant evening in lovely surroundings.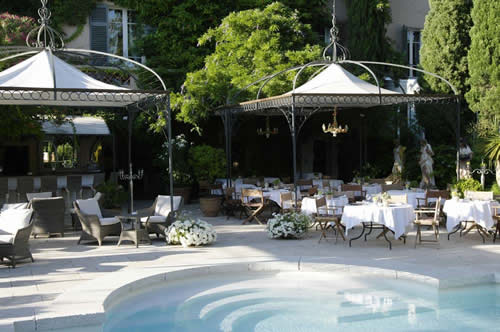 ---
ADDRESSES
LA TABLE DU MAS
Mas de Chasteas, 2 chemin du Chastelas, 83580 Gassin, St Tropez, France.
Telephone +33 (0)4 94 56 71 71.
Email: info@chastelas.com
www.chastelas.com
Open for dinner