UNITED STATES
CALIFORNIA
CARMEL-BY-THE-SEA
L'AUBERGE CARMEL & RESTAURANT AUBERGINE
CANTINETTA LUCA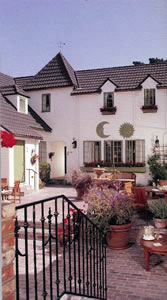 Friendship need not compromise objectivity. Travelling as much as I do, I meet many wonderful people. Some of them become friends. Let me therefore open this review with a declaration of interest. The proprietor of L'Auberge Carmel and of the Cantinetta Luca is a friend of mine. But I should stress that our friendship began precisely because he is an hotelier and restaurateur of the very finest sort. Indeed, I first met David Fink (pictured, with your correspondent) years ago when he was the General Manager of the Highlands Inn, near Carmel. There he was the brilliant moving-spirit behind the magnificent annual Masters of Food and Wine event. (I still have the fondest memories of tastings led by Monsieur Engerer of Chateau Latour, by Monsieur Moueix of Chateau Pétrus and by Signore Gaja, and of dinners prepared by teams of top chefs from France.) Now it is a joy to see him as the proprietor of his very own establishments. Indeed, I now like to call him – without offence to those who live in the Republic – The King of Carmel. One of those establishments, housed in a handsome building of 1929, is L'Auberge Carmel. It has rapidly matured into one of the finest small hotels in California. With its white and green colours, abundance of flowers and complicated roof-line, externally L'Auberge is reminiscent of a village inn in Alsace. Inside, however, all is sophistication and pampering.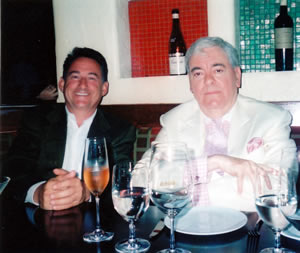 I found room 15 on the ground floor (check the rates for specific dates), overlooking the fountain and the stone elephant, both of which reside in the building's pretty inner courtyard. This apartment was very much to my taste. Its tones of grey and brown were soothing and its armchair was comfortable. I soon discovered, too, that my huge mahogany bed was wonderfully soft and that its sheets were silkily smooth. The black and white photographs on the walls depicted the countryside and the sea, for I was only four blocks from Carmel beach and the Pacific Ocean. In the wardrobe were a private safe, an iron and ironing board and my hanging space. Quirky decorative pieces – like ancient keys in a picture frame – created an atmosphere both interesting and welcoming. And my bathroom was pleasing, too – with its copper wash basin, large oval tub, separate shower and abundance of fluffy white towels.
It was a delight to sit in my apartment in the mornings, with the wireless tuned to 103.9fm (the classical music station), and enjoy a bit of Haydn, as a soft breeze wafted through the open windows. (The rooms at L'Auberge do not have air conditioning, but the gentle climate of Carmel has never allowed me to regret its absence.) At L'Auberge the breaking of the fast takes place in the small dining room. Perhaps it was the exquisite presentation of the finest produce, or perhaps it was the Haydn. But I was prompted into a little gastronomic nostalgia. My paternal grandfather – a wonderful Victorian, born in 1870, whom I never remember without a heavy watch chain across his black waistcoat – had the same breakfast every day. It consisted of porridge, with brown bread and butter and slices of raw onion. I have known no other person who so breakfasted. I decided to re-create this breakfast at L'Auberge. And it was... magnificent. Of course, I added a few extras, like fresh fruit, orange juice, bacon and grilled tomatoes and wholemeal toast (you don't want a boy to fade away, do you?), but the essential breakfast of grandpapa was at its heart. I commend it to you.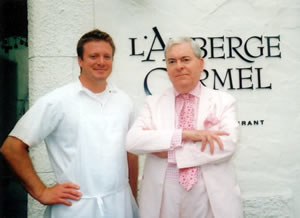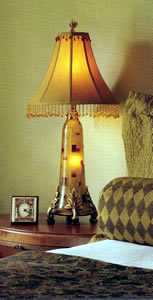 This lovely meal was eaten in Restaurant L'Aubergine, which has just twelve tables. It is the domain of Executive Chef Justin Cogley (pictured, with your correspondent). Mr Cogley was once a successful professional ice skater. Fortunately for the gourmets of California, he has abandoned the rink for the stove. Before arriving in Carmel he was Chef de Cuisine at the famous Charlie Trotter's in Chicago. He is a chef of outstanding skill and invention, and his dishes are presented with a theatrical flourish which I shall choose to attribute to his years in show business.
Four courses are offered at $89. I had the tasting menu for $125. First came lobster and white corn mousse, an interesting combination, new to me. Then there was certainly a bit of theatre on the plate, with white (yes, white) smoked salmon with tomatoes and saffron – the tomatoes being of quite astonishing quality and taste. Next was another new experience, kampachi – a meaty fish, which reminded me a little of turbot. This was, without doubt, the highlight of the meal, for Mr Cogley knows how to cook fish with perfect precision. Guinea hen with peas and charred onion provided the overture to a magnificent piece of Wagyu beef from Australia. This ribeye was exquisitely marbled and was served with a cherry sauce, a combination which worked surprisingly well. The finale was a plate of melon sorbet and white chocolate. The Michelin inspectors have not yet ventured as far south in California as Carmel. If they did, I suspect they would be reaching in their bags for stars after their visit to L'Aubergine.
The restaurant has an impressive wine. I counted 459 wines offered by the bottle, 21 by the half-bottle and 15 by the glass. Prices range from $45 for a Greek cabernet to $6,750 for a magnum of 1945 Lafite. You will appreciate that this is the list of an enthusiast when I tell you that it includes 13 German rieslings (including three from the great Hermann Dönnhoff). Other wonders of the wine world to catch my eye were: 1961 Mouton-Rothschild ($3,660), 1971 La Tâche ($6,495), 1982 Latour ($3,525), 1982 Margaux ($2,125) and 2008 DRC Montrachet ($4,400). The glassware is by Schott and by Stölzle. I enjoyed a highly perfumed 2003 Brunello di Montalcino, which was still tannic but was bursting with ripe black cherries (Casanuova della Cerbaie - $85).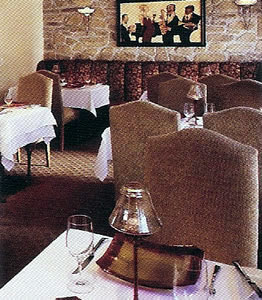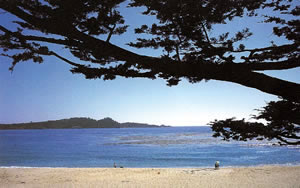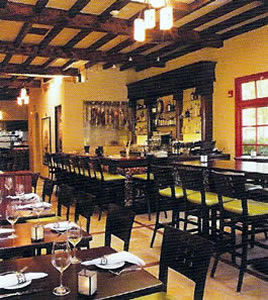 Less formal wining and dining is be found at Cantinetta Luca, Mr Fink's Italian restaurant in Dolores Street. Here the emphasis is on rustic presentation. The décor makes much use of wooden beams, stone, brick and glass. This is a very popular place indeed, and the sound from all the enthusiastic diners and the canned music can take the noise level rather high. But do not be put off, for the eating is of a high order and the service from Manager William Harris and his team is friendly and efficient.
From the open kitchen Executive Chef Jason Balestrieri sent to my table some really impressive dishes, offering superb ingredients, simply prepared to emphasize their bold, direct flavours. I began with excellent bresaola, served with lemon and parmesan. Cantinetta Luca offers some really good prepared meats, which are cured in-house. To re-emphasize the point, the brilliant tagliolini carbonara came with the house pancetta, as well as peas and shallots. The main course was roasted salmon from the Colombia River, with cherry tomatoes, green beans and lemon. The conclusion was a pretty and delicious vanilla semifreddo. (Allow around $65 or 4 courses.)
The wine list is a dazzling array of 181 Italian bottles (and 19 offerings by the glass). Prices run from $40 for a Sicilian white to $2,640 for the 1955 Brunello di Montalcino from Biondi Santi. Of the 'super Tuscans', I noticed 1998 Ornellaia ($600), 1997 Sassicaia ($2,100) and 1985 Solaia ($825).
I do not think my friendship with David Fink has compromised the objectivity of this review. Carmel-by-the-Sea is one of California's gems, and its charms rightly attract many visitors. But it is thanks to the talents of David Fink that those visitors can enjoy hospitality of the very highest order – at L'Auberge Carmel, Restaurant L'Aubergine and Cantinetta Luca. Go to them and you, too, will admire the talents of this fine man.
---