FRANCE
PARIS
RESTAURANT LE CINQ, HOTEL FOUR SEASONS GEORGE V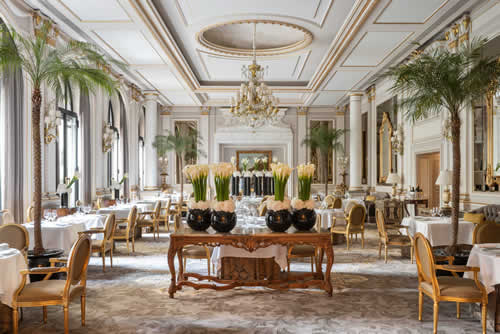 I like my grand restaurants to be grand. That is one of the reasons I love Le Cinq in Paris. It occupies one of the loftiest chambers in the marvellous Hotel George V. In the fashionable 8th arrondissement, surrounded by the most exclusive shops and within a short walk of the Champs Elysées, the white stone exterior of this 1928 Art Déco masterpiece is a joy to behold, particularly when it is floodlit at night. Looking from without, you sense immediately that the revolving doors lead to luxury, good taste and the infinite possibilities of unbridled pleasure. Small wonder, then, that I had made the effort to wear black tie for dinner.

You will see me dressed thus in the photograph. I am with the presiding genius of Le Cinq, Mr Eric Beaumard. Mr Beaumard has won so many prizes and accolades for his remarkable knowledge of wine that I can only bow my head in admiration. We first met many years ago at a fine restaurant in Montrond-les-Bains. I am happy to report that he is as charming and affable now as he was then. But now, surrounded by the gilt candlesticks, potted palms and Classical pilasters of this magnificent dining room, of which he is the Manager, he is truly in his element. Under his direction, the service is impeccable. Silver domes are lifted, damask napkins are replaced and all is exactly as it should be. If ever you find yourself tiring of all those places which have been ruined by the inanities of modern 'designers', head straight for Le Cinq: your spirits will be uplifted and your trust in mankind will be restored. Vive La Tradition!
But the greatness of this place does not depend only on the magnificence of its setting and the superlative standard of its service. Its kitchen is remarkable.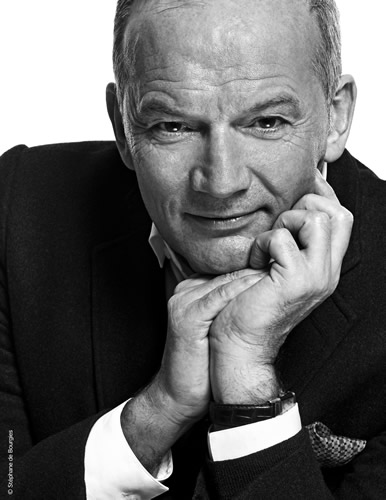 Of course, three Michelin stars twinkle overhead, as is only right. Presiding over the stoves is a man we must describe as a culinary genius. Chef Christian Le Squer (pictured) has held that magical trio of stars since 2016. His food is as near perfection as you will find this side of the Pearly Gates. Indeed, I fervently hope that Heaven will be very much like dinner at Le Cinq.
I began with langoustines (pictured), with warm mayonnaise and crunchy buckwheat pancakes. Astonishing. Normally, I am acutely averse to having any shell set before me on my plate, but the tastes and textures of this dish swept all my objections aside. Luscious, sweet, tender – and exquisitely partnered by their accompaniments – these were, sans doute, the finest prawns ever to enter my mouth. Now I knew that this was one of the finest kitchens in the world. Next came an enticing conceit – a slightly cooked egg with black truffle, served with a glass of very decent port. And then, mirabile dictu, the venison (pictured) ascended to the gastronomic heights achieved by the prawns. This was meat of rare intensity of flavour. Its taste captured my palate and its tenderness made me catch my breath. Glory be to the powers which permit mere mortals to feast on such food. My meal ended with a model of delicious delicacy: blackberries cooked in their own juice with crunchy coffee mousse. (You should allow around 370€ for four such courses from the carte. A set lunch is offered for 150€, and an eight course 'Epicurian Escape' is available for 350€.)
As you would expect with Monsieur Beaumard in charge, the cellar is a treasure trove of œnological gems from around the world. It is not necessary to spend a fortune to have good wine poured into the Zalto glasses, for there are various bottles (like a white Spanish Rueda) for just 35€. However, should your pockets be deep, the following might tempt you: 1998 Sassicaia (1,400€), 1998 Masseto (4,500€), 1964 La Tâche (17,200€), 1997 Romanée-Conti (15,000€), 1982 Margaux (5,950€), 1982 Lafite (9,500€), 1982 Latour (16,000€), 1961 Mouton-Rothschild (18,000€) and 1990 Pétrus (21,000€).

Le Cinq is – in its setting, in its service and in its food – as grand as grand can be. I can offer no higher accolade.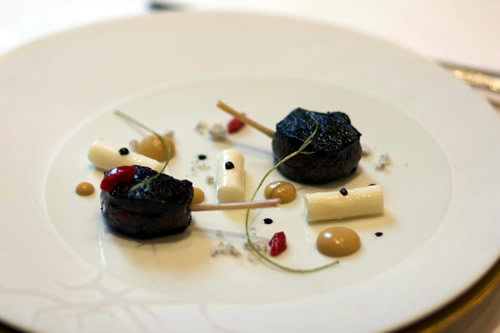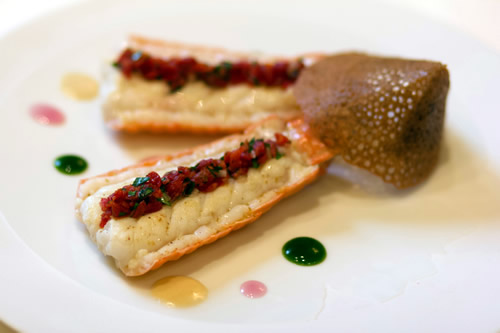 ---