Switzerland
GENEVA
RESTAURANT LE GRAND QUAI
SWISSÔTEL MÊTROPOLE GENÈVE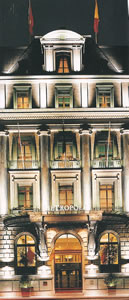 If you know where a chef has worked previously, it is often possible to hazard a reasonable guess about the standards you can expect from his (or her) current kitchen. Before I ventured into the only five star hotel on the Left Bank of Lake Geneva, for dinner at a restaurant of which I had been hearing lots of good things, I looked up the Curriculum Vitae of the man who has been its Executive Chef since 2008. Two names caught my eye, and raised my expectations: Pic and Eaux-Vives. Both are lit with multiple stars from the Michelin inspectors. The first is the famous restaurant in Valence, in the Rhone Valley, which has given me many wonderful evenings. The second is the establishment in Geneva, the Hôtel Restaurant du Parc des Eaux-Vives, which has also afforded me enormous gastronomic pleasure. The chef who would be cooking my meal had worked at both – and, indeed, had been the head chef of the Brasserie at the latter. I was therefore greatly looking forward to the cuisine of Chef Pascal Lavenu (pictured).
The Swissôtel Métropole is a substantial Nineteenth Century pile, in the manner of a Classical palace. The road outside is quite busy, but all is quiet within. It is also modern, for the building has been furnished recently in a manner which, I am sure, appeals to those with a taste for up-to-date sophistication. I turned right at the top of the steps and walked along to the dining room, called Le Grand Quai. At its entrance, I was met by Boris Vachon, the young gentleman from Marseilles who is the Restaurant Manager. From his initial greeting until his final farewell, Monsieur Vachon proved to be an excellent host – charming, solicitous and efficient.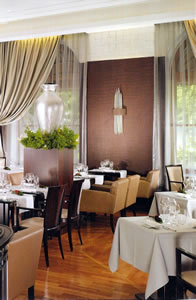 From the picture, I hope that you will gather some sense of the room. It is the work of the designer Fiona Pont. From its high ceiling, spotlights shine down on large silver vases, which are raised on pedestals. The floor is wooden, the tablecloths are light grey and the armchairs are upholstered with leather. I felt comfortable here, although I was pleased when the rather dismal canned music was replaced by the tinkling of a pianist, which drifted in from the adjacent bar. The waiters looked smart in their dark waistcoats and aprons. As always, I inspected the glassware. It was of good quality, although the makers – 'Mikasa' and 'C & S' – were new to me. Still, I am open to new experiences.
Another one came in the form of the menu. Actually, that is probably not true. I am sure I must have encountered menus which look like little books before. It is just that I have forgotten where. This one had four 'chapters', and here are their names: 'Prélude', 'Dans l'Eau', 'Sur Terre' and 'Plaisirs'. Even I did not require any explanation of these categories. From them I chose a four-course meal which cost 135 francs. Three of these courses were good: one was magnificent.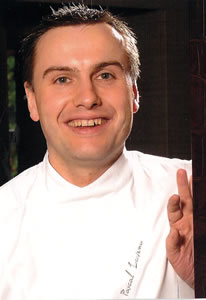 Chef Lavenu likes to describe his cuisine as "authentic and contemporary". As soon as my first course arrived, three characteristics of his approach were apparent. He uses first class ingredients; he loves precise and careful presentation; and he is not afraid of hard work and complexity. This Charente melon with basil, pieces of cereal bread, dried beef from the Valais and Gruyère cheese, pleased both my eye and my palate, and made a subtle and refreshing opening to my meal. Next, on a white square of porcelain, came terrine of duck foie gras, with salt and pepper, melon, duck fillet 'gravlax', port and peppermint. This was an effective combination, with intriguing combinations of tastes and a fine balance. And then it was the undoubted star of the evening's show. Admittedly, the plate was too hot (so that a skin began to form on the sauce), but even this could not diminish the brilliance of this Simmental beef. The fillet had been seared, and was served with potatoes with almonds, chanterelle mushrooms and Swiss chard. In conception, execution and presentation this was glorious. The tenderness and depth of flavour of the meat were thrilling. For this dish alone, you should hurry to this restaurant. Inevitably, it was down to earth again for the pudding, an enjoyable confection of raspberry mousse, candied peach and almond tart.
About 350 offerings make up the wine list. Prices range from 40 francs for a local white to 5,400 francs for the 1990 Pétrus. Its strengths are to be found in the Swiss and French sections. From the latter come some very fine clarets – like 2000 Mouton Rothschild (2,900 frs), 1999 Margaux (590 frs), 1995 Cheval Blanc (745 frs) and 1999 La Mission Haut Brion (340 frs). You will need to keep your wits about you, with regard to the prices. For example, the Haut Brion from the highly regarded 1999 vintage seems a snip at 475 francs, when compared to that from the difficult vintage of 1997 at 425 francs.
I drank to the lists strengths, and drank well. The white from Geneva – a mixture of sauvignon blanc, chardonnay and viognier – suggested Granny Smith apples in the nose and was plump and round in the mouth (Assemblage Blanc, Stéphane Gros – 75 frs). My red from Bordeaux was a joy. The 1999 Ducru-Beaucaillou (199 frs) is still young and its tannins are a bit fierce, but this bottle was packed with ripe damsons, blackberries and blackcurrants and possessed that elegance of structure which makes us love the best clarets. This was lovely drinking.
Chef Pascal Lavenu has an impressive background. As I expected, he is doing good things at the Restaurant Le Grand Quai. When you are in Geneva, you should certainly go and see for yourself.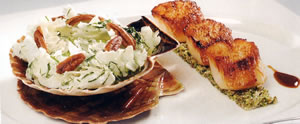 ---