FRANCE
PARIS
LE GRAND VÉFOUR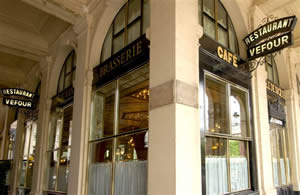 It is among the happy daydreams of the gourmet to try to construct in his mind, from memories of his experiences of the food prepared in the world's great kitchens, the perfect meal. For my own part, such pleasant musings always include dishes from my favourite restaurant in Paris, Le Grand Véfour. In its exquisite dining room I have experienced such moments of gastronomic delight that my spirits have seemed to soar to a higher plane. On such occasions it has occurred to me that only the Beatific Vision itself could bring me more intense joy. My most recent dinner served to reinforce my belief that at Le Grand Véfour can be found the Pure Essence of High Gastronomy. Even as I call to mind that evening, when I dined in black tie, I am filled with contentment.
But first, allow me to take you back for a few seconds – to 1784. We are in the capital of France. Monsieur Aubertot decides to open an eatery in the arcade at the bottom of the Palais Royal gardens. He calls it the Café de Chartres. Eventually, it is bought by Jean Véfour and before long – Mr Véfour not being one to stand in the way of a little self-aggrandisement – the name of the dining room is Le Grand Véfour. And thus it is today. In this place Napoleon discussed tactics with Josephine, Victor Hugo thought about the miserable ones and Jean-Paul Sartre pondered the mystery of existence. As a destination for dinner, there is no better.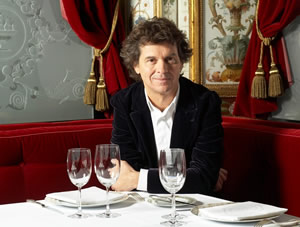 I was met at the door by the Chef himself (pictured). Mr Guy Martin is a man of culinary genius, perfect charm and astonishingly youthful looks. It is almost impossible to believe that he has passed six decades on this earth. Perhaps part of the explanation lies in the fact that, after cooking, he lists his interests as mountains and horses – both of which, I suspect, tend to promote fitness. Mr Martin arrived at Le Grand Véfour in 1991 and bought the restaurant in 2011. It is, as the saying goes, in good hands.
Mr Martin led me into the dining room and took me to the table of the aforementioned Emperor Napoleon Bonaparte. I hesitated for a moment when he announced our destination, for I am not a passionate fan of the Corsican. But, of course, it occurred to me that the table of the Emperor would be a good table, and so it was. (My scruples are easily overcome in such matters.) So many famous persons in the worlds of French art, literature and politics have made Le Grand Véfour their gastronomic home that their favourite tables now bear little plaques – discreetly positioned, of course – with their names. Previously, my table had usually been that of Jean Cocteau. But Bonaparte's table suited me very well. From it I could see out of the windows and glimpse some of the Classical stonework which makes the Palais Royal so admired by those who appreciate beautiful architecture.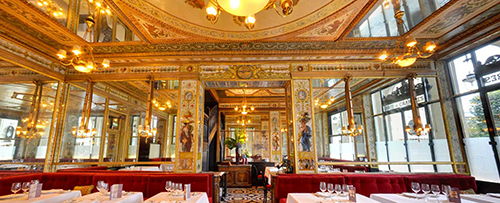 I perched on the crimson velvet banquette, a white tablecloth before me, and sipped from a flute of pink champagne. On the table were red roses in a silver vase and butter (salted and unsalted) in a tiny silver commode. Such delicious butter and such delicious bread! I could easily have eaten far too much of both. Only my iron discipline allowed me to resist. Everything was now right and in its proper place. I looked about and admired once again this exquisite jewel box of a room. Few spaces can boast such a delightful mixture of black and gold, of red and white. It is a confection which both pleases and relaxes, for it is the product of refinement and good taste. Nothing jars. As the tables filled, an atmosphere of easy enjoyment filled the air and the waiters, in black tie (and there were many of them), began to bring forth the kitchen's splendours. That kitchen is vast and is located beneath the dining rooms.
I must say a word about the service, for it is exactly as it should be: formal, correct and courteous. But where were my two friends – the maitre d' Christian David and the sommelier Patrick Tamisier? Both, I was told, had retired. I wish them both much happiness. Each has deserved a well-earned rest. But their replacements – maitre d' Flavien Develet and chef sommelier Romain Alzy – are maintaining the high standards for which Le Grand Véfour is renowned.
It was the season for black truffles, so I really could not do other than start with perhaps the simplest offering on the menu: salade de pommes de terre ratte et truffes. How can I convey to you the pleasure of eating one of the most sublime dishes it has ever been my privilege to consume? Words seem inadequate, but let me try these: delicate, harmonious, flattering, ravishing... The slices of boiled potato (the very, very finest potato) were covered with many, many slices of the divine fungus. "He who has not feasted on truffles has not truly lived." In my Schott glass was the perfect accompaniment, a fine white burgundy selected by Mr Alzy – a 2014 Rully 1er Cru of low acidity, discreet fruit, smooth refinement and perfect balance.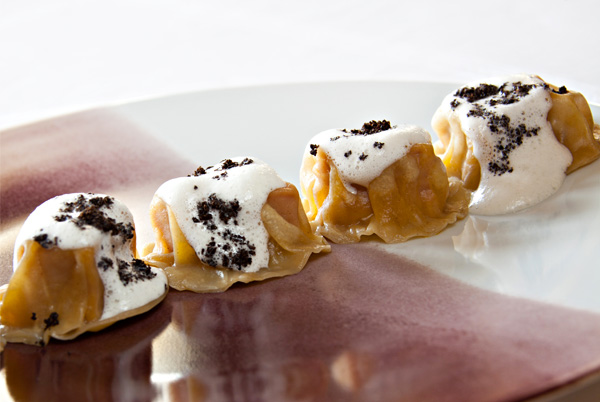 Next came another temptation to which I yielded eagerly: les ravioles de foie gras à l'émulsion de crème truffée. On each visit to Le Grand Véfour I have eaten the foie gras ravioli with truffled cream, for I regard it as one of the great dishes of the world. The exquisite pleasure yielded by the translucent pasta and the warm, luscious liver within approaches the miraculous. Like a pussy cat I purred with pleasure, and thought how clever the splendid sommelier had been to recommend exactly the right white burgundy, for again it glided elegantly up to the food and kissed it gently on the cheek.
My main course showed – as if I needed any evidence – that the kitchen is not afraid of Tradition. Mr Martin's predecessor in the kitchen, the famous Raymond Oliver, created for the ruler of Monaco an offering of heart-warming richness and opulence. Those characteristics are still fully present in Guy Martin's reinterpretation. A pigeon – of the highest quality – is de-boned, stuffed with black truffles, foie gras and veal, roasted and served with a rich truffle sauce. Can there be a dish more flattering to the palate this side of Paradise than the Pigeon Prince Rainier III? I tucked into this marvel with the gusto of the heartiest of trenchermen.
Thereafter my capacity was approaching its limit, but I could not resist another wonder: milk chocolate mousse on hazelnut pastry, with caramel ice cream and salt. (These four classics cost 442€. At lunch time a set meal of three courses plus cheese is available for 115€.)
You would expect the wine list to be French and to be full of gems, and it is. But modestly-priced bottles are available, and the advice you will receive about them will be of the best. Still, if your pockets are exceptionally deep, you might want Mr Alzy to open a bottle of the 2001 vintage of the finest red burgundy, Romanée-Conti, for 21,000€, or – for the same price – a first growth red Bordeaux from a century earlier, 1902 Lafite.
In the far off days when I read Divinity at Oxford, my studies in Modern Theology obliged me to consider the concept of the 'disclosure moment' – a moment when something happened which, as it were, held back the curtain between us and the Divine and, for a brief instant, showed us a profound Truth. Well, there are disclosure moments with food, too. My dinner at Le Grand Véfour was one – enabling me to glimpse the life-enhancing quality of High Gastronomy. When next my daydreams turn to the perfect meal, they will also turn to Le Grand Véfour.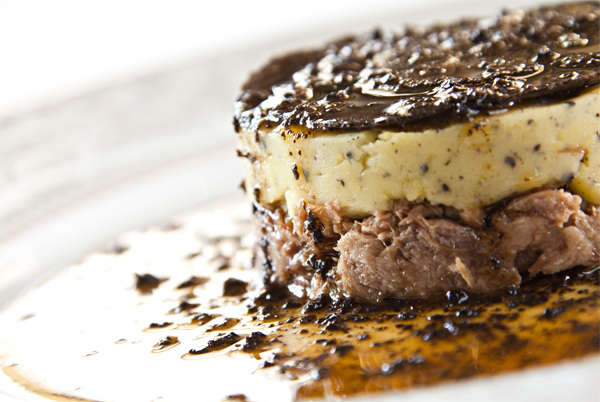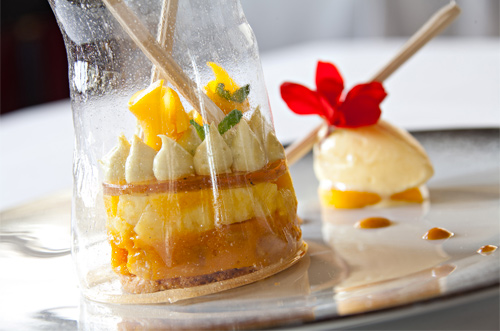 ---