FRANCE
PARIS
LE GRAND VÉFOUR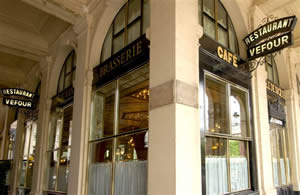 In my extensive travels, moments occur when exquisite food, ravishing wine, beautiful surroundings and solicitous service come together to create an occasion which reveals the Pure Essence of High Gastronomy. Such occasions are rare indeed, and they cannot be predicted with certainty. But, if you press me, I could compose a short list of the handful of dining rooms at which the chances of this magical combination occurring are high. Without doubt, one of the names on that list would be my favourite restaurant in Paris – Le Grand Véfour.
Allow me to take you back for a few seconds – to 1784. We are in the capital of France. Monsieur Aubertot decides to open an eatery in the arcade at the bottom of the Palais Royal gardens. He calls it the Café de Chartres. Eventually, it is bought by Jean Véfour and before long – Mr Véfour not being one to stand in the way of a little self-aggrandizement – the name of the dining room is Le Grand Véfour. And thus it is today. In this place Napoleon discussed tactics with Josephine, Victor Hugo thought about the miserable ones and Jean-Paul Sartre pondered the mystery of existence. As a destination for lunch, there is no better. And it is for lunch I arrived on my most recent visit.
I was met at the door by the maitre d' Christian David (pictured). Mr David is tall and elegant and full of charm. In fact, he is exactly what the maitre d' of one of France's most famous restaurants should be. He welcomed me back, for I have had the privilege of eating at Le Grand Véfour on a number of occasions over the past 18 years. Then he led me into the dining room and took me to the table of Jean Cocteau. (So many famous luminaries of French art and literature have made Le Grand Véfour their gastronomic home that their favourite tables now bear little plaques – discreetly positioned, of course – with their names.) From this corner position I could see out of the windows and glimpse some of the Classical stonework which makes the Palais Royal so admired by those who appreciate beautiful architecture.
I perched on the crimson velvet banquette, a white tablecloth before me, and sipped from a flute of pink Taittinger champagne. On the table were red roses in a silver vase and butter (salted and unsalted) in a tiny silver commode. Such delicious butter and such delicious bread! I could easily have eaten far too much of both. Only my iron discipline allowed me to resist. Everything was now right and in its proper place. I looked about and admired once again this exquisite jewel box of a room. Few spaces can boast such a delightful mixture of black and gold, of red and white. It is a confection which both pleases and relaxes, for it is the product of refinement and good taste. Nothing jars. As the tables filled, an atmosphere of easy enjoyment filled the air and the waiters, in black tie (and there were many of them), began to bring forth the kitchen's splendours.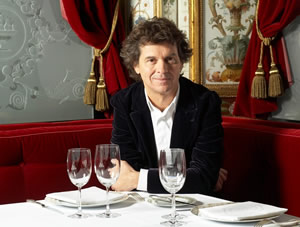 Those splendours are created by a brilliant and inspired chef. Guy Martin (pictured) comes from the Savoy region and was born in 1957. I mention the year of his birth, because Mr Martin always looks much younger than his age. (It is a characteristic I wish I shared.) Indeed, so resolutely does he refuse to age, that I am beginning to think seriously that he has a portrait in oils in his attic... His kitchen, which I have visited, is vast and is located beneath the dining rooms. From here come some of the finest dishes known to mankind. The anticipation I felt as I waited for my food was itself worth the journey from London.
It was the season for black truffles, so I really could not do other than start with perhaps the simplest offering on the menu: salade de pommes de terre ratte et truffes. How can I convey to you the pleasure of eating one of the most sublime dishes it has ever been my privilege to consume? Words seem inadequate, but let me try these: delicate, harmonious, flattering, ravishing... The slices of boiled potato (the very, very finest potato) were covered with slices of the divine fungus. "He who has not feasted on truffles has not truly lived." In my glass was the perfect accompaniment, a Rully of low acidity, discreet fruit, smooth refinement and perfect balance. Sometimes life is good.
Next came another temptation to which I yielded eagerly: les ravioles de foie gras à l'émulsion de crème truffée. On each visit to Le Grand Véfour I have eaten the foie gras ravioli with truffled cream, for I regard it as one of the great dishes of the world. Its presentation has changed from time to time, and now it appears on a black, oblong plate. But the exquisite pleasure yielded by the translucent pasta and the warm, luscious liver within is immutable. Like a pussy cat I purred with pleasure, and thought how clever the splendid Chef Sommelier, Patrick Tamisier (pictured), had been to recommend the white burgundy, for again it glided elegantly up to the food and kissed it gently on the cheek.
My main course showed – as if I needed any evidence – that the kitchen is not afraid of complexity and hard work. This gorgeous wild duck came with more truffle and with a sliver of toast topped with the pigeon's liver. (With this I enjoyed Mr Tamisier's red recommendation – a well-balanced Pommard.) I ended with some outrageous indulgence, for I am not really supposed to tuck into chocolate. But temptation is given to us to direct our appetites, and I could not regret having set before me a pudding of such perfect conception and execution. If the cube Manjari, banane, emulsion grenade, sorbet faisselle is on the menu when you visit, you should certainly choose it. (These four courses from the carte were a little over 300 euros. A set lunch is available for 96 euros.)
You would expect the wine list to be French and to be full of gems, and it is. But modestly-priced bottles are available. There is, for example, a white from the Jura at 49ε. Still, you might want Mr Tamisier to pour something rather grander into the Schott glasses, so here are a few bottles of claret which caught my eye: 1902 Lafite (13,000ε), 1910 Lafite (9,500€), 2000 Haut Brion (1,550€) and 2004 Pétrus (2,400€). There are also many half bottles – for example, 2005 Les Ormes de Pez (81€).
In the far off days when I read Divinity at Oxford, my studies in Modern Theology obliged me to consider the concept of the 'disclosure moment' – a moment when something happened which, as it were, held back the curtain between us and the Divine and, for a brief instant, showed us a profound Truth. Well, there are disclosure moments with food, too. My lunch at Le Grand Véfour was one – enabling me to glimpse the life-enhancing quality of High Gastronomy.
---
ADDRESSES
LE GRAND VÉFOUR
17 rue Beaujolais, 75001, Paris, France.
Telephone +33 1 42 96 56 27
Fax +33 1 42 86 80 71
Email: grand.vefour@wanadoo.fr
www.grand-vefour.com
Closed: August, Saturday, Sunday
Set lunch: 96 euros